Search
Property detail & price proposal
Reserve
Thank you
Fairway Villa #2002 - Deluxe one bedroom with kitchen, washer/dryer, WiFi, parking
1 Bedrooms for 2 guests (max. 2) • 2345 Ala Wai Blvd., Honolulu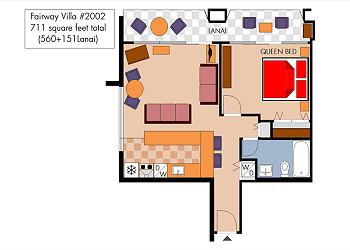 (4-night minimum) Gentle island breezes flow through the tropical décor of this one-bedroom condo (560 sq. ft. plus 151 sq. ft. lanai) in the heart of Waikiki with views of the mountains and Ala Wai Canal. Cooled by AC or fan, this condo has cherry wood floors, 32" flat screen TV and DVD player, full kitchen with dishwasher, washer/dryer, and a full bathroom with tub, safety grab bars, and a hand-held shower wand. Just off the bedroom with its queen bed AND 32" flat screen TV is an enclosed private sitting area.

The rooftop recreation area includes pool, Jacuzzi and sauna, gas grills and a sweeping view over Waikiki, the mountains and Pacific Ocean. It's a great place to kick back and view the sunset. All this within an easy walk to the beach, shops and restaurants.

INCLUDED WITH YOUR RENTAL: FREE covered parking, WiFi, local calls, and long distance to the U.S. Mainland, and Canada. This non-smoking accommodation sleeps a maximum of 2.

During our Holiday Season (12/20-1/4) there may be a 7 night minimum. Please check with our Reservation Department for details.

(10% discount for 30+ night stays!)

(Hawaii Tax ID: W11207059-01)

Captain Cook Resorts will never ask you to wire funds via Western Union, Moneygram or PayPal.
Address

2345 Ala Wai Blvd.,

Parking

See unit description and icons

Floor

20

Elevator

Yes
Bathroom

1

Area

560 ft2

Beds

1 Queen
recommended by
Trip Advisor
--
Waikiki Information
Waikiki Guide
Reviews for this property
GREAT HOLIDAY!

Karel H. from Benowa Australia, 17. June 2015

Stayed for 9 days in May, 2015

This is the first time my husband and I have stayed in a condo when we have gone on holidays and after doing it I don't think we could go back to staying in hotels Captain Cook Real Estate made the whole process very easy when you get a bit older you can become a bit skeptical about booking and paying for accommodation on line particularly when it is thousands of miles away but we couldn't have been more pleased with everything the apartment was spotless the position was excellent and there was everything you could possibly want in the condo, if I hade to give any negative feed back the only thing I could say would be that the shower that is in the bath could do with a grab rail to make it easier to get in and out of the shower but in saying that, that probably only applies if you are like me and over 60! Staying where we did made a good holiday great. Thanks again Captain Cook.

Response from Captain Cook Real Estate

19. June 2015

Mahalo for the great review and recommendation! We enjoyed having you stay with us, too! Hope you're able to return for another visit!

Great Vacation

Rebecca L. from Mebane United States, 05. May 2015

Stayed for 5 days in April, 2015

This property was exactly what we expected and needed for our Hawaii vacation. Location was great and within walking distance to many restaurants and bars, shopping, and of course the beach. Captain Cook staff representative was prompt and very helpful upon check in making our arrival to the island less stressful. Only complaint about the property was it was a little warm for our taste with just the window unit A/C. Would have loved a fan in the bedroom. Would highly recommend this property to anyone looking for a low key, budget friendly place to stay in Waikiki. Felt more like home than a hotel would have been. Thank you for a great vacation we will always remember!

Response from Captain Cook Real Estate

06. May 2015

Mahalo for the positive review and recommendation! We're sorry you didn't realize that a quick call to your property manager would have quickly resolved your fan issue. Our property managers main goal is to make sure our guests are taken care of! We hope to see you again on your next visit!

A great find!

Frederic C. from Toronto Canada, 13. March 2015

Stayed for 14 days in February, 2015

This is the 2nd year in a row that we stay at this Waikiki condo. And as before, the place is just perfect for us. It has everything one would want. Plus, the staff at Captain Cook are super efficient, responsive, professional and friendly. They are just the BEST from start to finish! Would not hesitate one second renting this unit again and again or any other that Captain Cook manages. Highly recommended! Go with the best! Glad we did... ;-)

Response from Captain Cook Real Estate

16. March 2015

Mahalo for the positive comments and recommendation! We work hard to offer great accommodations and service, and we're so glad your second stay was as enjoyable as the first! We look forward to seeing you again on your next visit!

Great Location!

Teresa K. from Milton United States, 26. February 2015

Stayed for 15 days in February, 2015

Just a couple of blocks from beach, near grocery store and lots of restaurants. We really enjoyed our stay at this location and hope to be able to go back. Very relaxing. Has everything that anyone would need for a comfortable vacation.

Response from Captain Cook Real Estate

27. February 2015

Mahalo for the great review and recommendation! We look forward to your next visit!

MOst enjoyable stay of many times

Frank & Barbara S. from Bellingham United States, 05. February 2015

Stayed for 49 days in December, 2014

The unit had antiques, a well stocked bookshelf, many beautiful dishes, and items not usually found in a rental unit. The rooftop pool, hot tub, sauna, and BBQ areas were excellent.

Response from Captain Cook Real Estate

06. February 2015

Mahalo for the positive comments and recommendation! We appreciate your feedback.

Enjoyed our stay

El Dorado Hills United States, 16. October 2014

Stayed for 5 days in October, 2014

We enjoyed our stay at this property. Very clean and had everything we needed. So nice to have a washer and dryer in the unit!

Response from Captain Cook Real Estate

20. October 2014

Mahalo for the review! So glad you enjoyed your stay. Hope you can return for another visit soon! Your friends at Captain Cook Resorts

Must Rent

Chino Hills United States, 26. August 2014

Stayed for 8 days in August, 2014

This place was very good. It had all the amenities and a few extra things we didn't expect. All the kitchen ware, linens, towels, beach towels and umbrella, easy parking, wifi, A/C, Roof Pool, Mailbox, Great Location (next to International Marketplace and 5 blocks from the beach), the little things like washing and dryer starter kit and ice chest and trays made it like being on vacation from home.

Captain Cook Real Estate

Oakland Park United States, 07. July 2014

Stayed for 9 days in June, 2014

Excellent Location, great hospitality by property management.

Response from Captain Cook Real Estate

07. July 2014

Mahalo for the great review! We're glad you enjoyed your stay! Your friends at Captain Cook Resorts

A good choice

Frederic C. from Toronto Canada, 29. March 2014

Stayed for 25 days in February, 2014

This rental met or exceeded all my expectations. Yes, the area is noisy but all of Waikiki is (except may be in you are right next to the ocean's edge). The unit is well equiped with about everything you need (a boogie board would be a nice addition). The views are nice (you even get a slice of blue ocean). I would not hesitate to rent this unit again, and hopefully I will.

Charming but showing a little wear

Patrick K. from Edmonton Canada, 09. February 2014

Stayed for 31 days in January, 2014

This was our second stay in this unit. It is charming and has an open airy feel. The upholstry and carpets were not as clean as last year. The kitchen counters need a new surface. We are used to a more cushioned bed. We loved to have the windows open to get the cross breeze but the street noises (garbage trucks, sirens) were annoying. Close to Food Pantry. 3 blocks to beach.

Great value

Bob M. from Atlanta United States, 03. October 2013

Stayed for 31 days in August, 2013

I've been staying in various hotels/apartments around Honolulu/Waikiki for past 6 months, and this was among my top 5 experiences. Great value, clean, smart decor, parking included. Couldn't ask for more. Also, mgmt was very responsive with the only minor problem (one of two A/C units needed repair--and they replaced with brand new one in timely manner). Thumbs up!

Great Condo - Great Location - WiFi issues

Seattle United States, 27. August 2013

Stayed for 6 days in August, 2013

My daughter and I really loved this condo, however there were some issues. We stayed for 6 days beginning August 19. First the goodness. It was spotless, cheerfully decorated and well appointed. We loved the location as it was close to the action and the beach, 1 - 2 block walk - but far enough removed to be peaceful and quiet. Unfortunately we did have a problem with the internet connection beginning on day 2 and it was not resolved for the rest of our stay despite my repeated calls for help. This did present a pretty big issue for me, as I needed to stay connected with my office. I specifically chose this Condo because it had internet and parking. Captain Cook Real Estate did offer a small discount after the fact. I really hope it was a fluke as I would like to go back next year. I'll keep my eye on future reviews.

Response from Captain Cook Real Estate

27. August 2013

We are very sorry about the trouble with the WiFi. The internet provider has taken care of the problem and the connection is now working properly.

Great condo

Surfside Beach United States, 05. April 2013

Stayed for 34 days in February, 2013

Was really disappointed that we do not get to stay there next year. 2014 We have stayed there for 2 years and like it a lot.

Pleasant experience and would recommend highly to anyone

Menifee United States, 25. January 2013

Stayed for 30 days in December, 2012

Condo unit 2002 was more than I anticipated - it lacked nothing. Beautiful corner unit with great views which made my experience even more pleasurable.

Lovely condo Top location

monique r. from dripping Springs United States, 10. August 2012

Stayed for 20 days in July, 2012

My husband and I stayed 3 weeks in this beautifully decorated condo. We couldn't have been happier. The location is the best, the staff @ the building is very friendly and helpful and the security is the best. I highly recommend this condo. The view from the rooftop is incredible and it is wonderful to stay a day "at home" and enjoy the always cool, refreshing pool on the roof . We'll be back!!!

Condo 2202

Surfside Beach United States, 31. March 2012

Stayed for 42 days in February, 2012

We have been staying in Waikiki in condos over 10 years.
We felt this was the best.
I loved the decor it was so Hawaiian.
We really like it best being closer to ala moana park to walk but that is just our wish. There are plenty places to walk though and nice places to close to this condo.
Everything you needed was provided but a pitcher which I purchased and left.
We are staying their next year so that says it all.
Looking forward to our stay next year.


Lucy I'm Home !

John H. from United States, 15. October 2011

Stayed for 3 days in October, 2011

Just what the doctor ordered. We had a very good stay. Everything you need is in walking distance.

Pretty good

Zachary N. from Portland United States, 11. October 2011

Stayed for 7 days in October, 2011

Great place to stay, I would give it 4 out of 5 overall. Free parking, internet, and full kitchen and laundry = great deal.

Location was 2-3 blocks from the beach, not too bad.

View was pretty good, but not of ocean, don't expect that.

The A/C in the bedroom is kind of weak - you either need to plan ahead, kick it on full blast, shut the doors and let it cool down before bed, or open the doors and windows and sleep in the Hawaiian air. Only thing there is I experience some hot/humid nights. The A/C is loud and weak, so even those nights were hot too. I think they need a more powerful and quieter AC unit.

The building is a little dated, but the room is nice. The hallways always smelled bad, not much you can do about neighbors though and doesn't affect you once in the unit. I sometimes put a towel under the front door.

But overall, still a great place just not a perfect review. Nice, clean, full amenities, view is 20th floor, great place to hang your hat.

Convenient and comfortable

Coralville United States, 07. September 2011

Stayed for 18 days in August, 2011

The apartment was conveniently located and well equipped. We would have welcomed a larger bed but definitely enjoyed our stay. The management was very helpful and promptly attended to any problems.

Our trip was indeed a memorable one and we can't wait to come back again. The Condo was a great place to stay being so convenient to the beach and the shops and restaurants. The condo was very well equipped and the staff were so friendly and helpful

John S. from Sydney Australia, 11. June 2011

Stayed for 9 days in May, 2011

The Captain Cook Rep, Paul was a genuinely 'nice guy' and did everything possible to get us settled in to the accomodation and we would like to thank him for his warm welcome and assistance to us on our first day in Waikiki!

A Good Place to Stay in Waikiki

Kailua United States, 02. May 2011

Stayed for 20 days in March, 2011

We are Honolulu residents that needed a place to stay while our place was being remodeled. Out of the three places we stayed at in Waikiki, this was the best, by far. It was comfortable, with everything provided that we needed and I liked the location, being only a block away from a grocery store and two blocks from the beach. I gave the cleanliness category 4 stars instead of 5 because we had to clean the two air conditioner filters for them to work properly, and we did have a some tiny black bugs in the kitchen (they weren't roaches) from the stove. The bed and furniture were comfortable and having a washer and dryer in the unit and a parking space included made this unit special. Don't expect a view-just other buildings but that didn't matter to us.

Gary J. from Chester United States, 29. March 2011

Stayed for 42 days in February, 2011

We spent an enjoyable six weeks at this property. It was clean, within walking distance of everything in Waikiki, the overall building was spotless, and management and security were very friendly and helpful. Our only disappointment was that it is not available to rent next year.

What a cute place!

Seattle United States, 10. January 2011

Stayed for 11 days in December, 2010

We were so happy when we first saw the condo. The building and room are so clean and cute and it was a pleasure to stay there. We definitely want to stay there again on a future trip.

David F. from Vancouver United States, 17. December 2010

Stayed for 30 days in November, 2010

The unit was well stocked with all the necessities needed for our stay from laundry soap, to kleenex to kitchen detergent and rechargeable batteries. WHile we were there the dishwasher did not work and after phoning the rental company thay had a new one site the next day. It could not be installed as the water could not be shut off and had to wait for a scheduled maintenace shutoff but we were informed all along the way. The company was very helpful.
Check in time
Check in after 3pm - 15h00 (A $20 late check-in fee applies to check-ins between 9pm and midnight. )
Check out time
Check out by 11am- 11h00 (- )
Personal check in
...
More info on check-in/out
Amenities
- available in all properties
Various

Bed linen and towels, Radio and CD player, Ironing board, Iron, Hairdryer

Environment

Internet cafe, Grocery open late, Nice café to breakfast outside, ...see downloadable neighborhood guide for details
Kitchen

Microwave oven, Fridge, --, Toaster, Coffee-machine
List of amenities in this specific property
Business

Nearby ATM, Nearby Golf Course, Nearby Internet Cafe, Nearby Post Office, Near Restaurants and Shops

Convenience

Area Fitness Center, Medical Services Nearby, Nearby Bus Stop, Nearby Grocery, Outlet Shopping, Shopping, Convenience Store Nearby

Culture

Free Concerts in Parks, Lighthouse, Military Base, Museums, Theatre

Entertainment

Cable Television, CD Player, DVD Player, High Speed Internet Connection, VCR, Flat screen TV in Bedroom, Free US/Local/Canada calls, Flat Screen TV

Family

Library, Movie Theatre, Sunset on the Beach Movies, Surfing Lessons, Waikiki Aquarium, Near HNL Zoo & Kapiolani Park, Near Beach

Geographic

Exceptional Sunsets, Near Best Surfing in Waikiki, Near Diamond Head, Near Sunset on the Beach, Near Waikiki Aquarium, Near Zoo and Kapiolani Park, Short Walk to Beach, Near Kahala Mall, Near Ala Moana Shopping Center, Kapiolani Park Tennis Courts, Near Ala Moana Park Tennis Court, Close to Beach
Kitchen

Blender, Coffee Maker, Cookware, Dishes, Dishwasher, Glassware, Microwave, Oven, Refrigerator, Rice Cooker, Stove, Toaster, Utensils, Flatware, Tea Pot - Kettle, Washer/Dryer in Condo

Living

Access Bathroom from Living Area, Clock Radio, Dishes-Silverware, DVD, Flat Screen TV, Hair Dryer, Vacuum Cleaner, Washer & Dryer, Window A/C, Hand-Held Shower, WiFi, Balcony/Lanai, Parking Included, Bed linens, towels, beach towels, Air Conditioning (Window), Non-Smoking, Full kitchen with dishwasher, Ironing Board and Iron

Outdoor

Balcony, Beach Walking, Beachcombing, Biking, Boating, Boogie Boarding, Convenience Store, Deep Sea Fishing, Gas Grill, Hiking Trails, Ocean Kayaking, Recreation Area - BBQ Grill, Sauna, Sight-Seeing, Snorkeling , Surfing, Swim at Ocean Beach, Swimming, Wildlife Viewing, Wind Surfing, Whirlpool, BBQ, Swimming Pool
Similar properties:
Other properties you might be interested in.
Other Info
Additional information you might be interested in.
Parking

---

Transfer

For more info about transfer from Honolulu Airport.
Advice

For other useful advice.