Search
Property detail & price proposal
Reserve
Thank you
Fairway Villa #817 - 2-bedroom, 2 bath – sleeps 4! AC, washer/dryer, dishwasher, WiFi, parking.
2 Bedrooms for 4 guests (max. 4) • 2345 Ala Wai Blvd #817, Honolulu
Contact a rental agent
Call us
US 808-738-5507
Canada 1-800-854-8843
or use Contact Us form
Video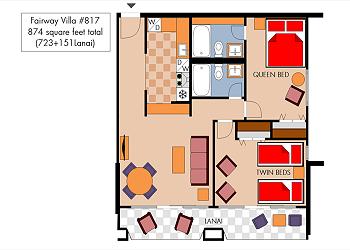 (4 night minimum - BOOK 30+ NIGHTS AND GET A 15% DISCOUNT ON THE NIGHTLY RATE!) You'll appreciate this air-conditioned two-bedroom, two-bath condo (723 sq.ft. plus 151 sq.ft. lanai) where you can enjoy Oahu's tropical beauty and the easy walk to the beach, shops and restaurants. The living room has a flat screen TV and DVD player, dining table and 4 chairs, new kitchen with maple cabinets, granite countertops, dishwasher, and washer/dryer. Queen bed in master bedroom; 2 twins in second bedroom (can be made as king). Bathtubs with hand-held shower wands in each bathroom. WiFi, free local calls and calls to the U.S. mainland and Canada, and assigned cover parking for one vehicle are included with your rental. The rooftop recreation area includes pool, Jacuzzi and sauna, gas grills and sweeping views of Waikiki, the Ko'olau Mountains and Pacific Ocean. It's a great place to kick back and view the sunset! This non-smoking accommodation in a 24-hour security building, sleeps 4. (TAT License No. W51244593-01) Captain Cook Resorts will never ask you to wire funds via Western Union, Moneygram or PayPal.
Address

2345 Ala Wai Blvd #817,

Parking

See unit description and icons

Floor

8

Elevator

Yes
Bathroom

2

Area

723 ft2

Beds

1 Queen, 2 Twin
recommended by
Trip Advisor
--
Monthly Rentals
Waikiki Guide
Reviews for this property
Very nice

Ronald S. from White Lake United States, 29. March 2014

Stayed for 9 days in March, 2014

The street noise was a problem but we slept well. This is a city and cannot be avoided. All things considered this is a very nice condo to rent.

Response from Captain Cook Real Estate

02. April 2014

Aloha and thank you for taking time to review your recent stay with us at Fairway Villa! We're glad you enjoyed your stay! Please let us know when you're ready for another visit! Your Friends at Captain Cook Resorts

All the Comforts of Home in Hawaii

Robin M. from Reno United States, 12. December 2013

Stayed for 7 days in December, 2013

Fairway Villa is a lovely condo that makes you feel at home. It had everything you could ever need to stay long term if needed. The balcony had two rocking chairs that we used every morning to watch the rowers on the Ali Wai canal, and all the people walking about. The location is central to everything in Waikiki. I'd stay there again the next time I have more that 2 people vacationing with me.

Response from Captain Cook Real Estate

17. December 2013

Aloha and thank you for the feedback! We hope you will visit us again! Guest Services - Captain Cook Resorts

Outstanding condo

Abdulrahman A. from Mesa United States, 05. December 2013

Stayed for 6 days in November, 2013

the condo location and view wise is narvellous,
The condo feels like a brand new.
except the parking spot made me check my own driving skills.

Response from Captain Cook Real Estate

05. December 2013

Aloha and thank you for your comments! Yes, the parking spot is tight! We hope you can visit us again in the near future! Mahalo, Guest Services - Captain Cook Resorts

It is a quite good and peacefull location.

Hideki S. from Yokohama Japan, 01. December 2013

Stayed for 10 days in November, 2013

Overall was good. It is amazing to keep such condition for over 40 years old property. But I have several points wish to improve . They are a air condition machines at each rooms. They are very old and noisy and not working well. TVA system is quite complicated and if vigor push some incorrect bottom of remote control, it is quite difficult to fix it and there was no manual and TIV program instruction. Sauna at roof is quite old and not working good. But overall impression is quite good! I hope some improvement and it is great,

Response from Captain Cook Real Estate

03. December 2013

Aloha and thank you for your comments. We'll bring your comments to the owner and see about replacing the AC units. Mahalo, Guest Services - Captain Cook Resorts

Fairway Villa 817

Paula B. from Edmond United States, 13. November 2013

Stayed for 10 days in October, 2013

This is a great condo we loved it. There's a mini convenience store about a block away it has a great bakery and has all the necessary essentials you may need. The condo was so well equipped even with a pineapple 's close to all the things you want to do. It's so much fun to seat on the lanai in the morning and watch people on Ala Wai Canal. If we ever have the opportunity to go back to Waikii we'll certainly stay here again.

Response from Captain Cook Real Estate

14. November 2013

Aloha Paula and thank you for your comments! We're so happy you enjoyed your stay at Fairway Villa and look forward to your return visit! Mahalo! Guest Services - Captain Cook Resorts

Loved it!

Charles C. from Sheridan United States, 09. October 2013

Stayed for 4 days in September, 2013

We had a nice view from the balcony. The view from the pool deck was fabulous. We used one of the grills. They were very clean & grill tools, etc. were provided. Great to be able to walk to stores, beach, etc.

Response from Captain Cook Real Estate

22. October 2013

Aloha Charles and thank you for leaving a review! We're so glad you enjoyed your stay at Fairway Villa and hope you'll think of Captain Cook Resorts for your next Oahu trip! Mahalo, Guest Services Captain Cook Resorts

Awesome Oahu Experience!

Cheryl D. from Gravois Mills United States, 28. September 2013

Stayed for 4 days in September, 2013

The rental experience with Captain Cook rentals was so easy and painless. The rep that met us at the condo, Byron, was very helpful & pleasant. The condo was so very nice and comfortable...very homey feeling. Beds & linens were exceptional. The only problem we encountered was not being able to connect to Wi-Fi...kept saying it was an invalid password. We would definitely stay in this condo again and will recommend it to family & friends. Thank you!

Nice villa!

Thomas B. from Lafayette United States, 17. August 2013

Stayed for 7 days in August, 2013

The unit worked great for a family of four. Short walk to Waikiki Beach. Grocery store across the street. Outstanding 360 degree views of Honolulu from the rooftop deck. Can't wait to go back!

Fairway Villa

Delores Z. from Carson City United States, 22. May 2013

Stayed for 30 days in April, 2013

Cannot say enough about the staff at Captain Cook's, Paul and Byron both
are so helpful and caring. This is our 5th year of booking with Captain Cook in Oahu and would not use anyone else. If any problem arises with the unit they are right on top of the problem , also the office staff are more than helpful to work with you on getting the dates you need. We stayed a month this year and had a great time going to the beach and in the evenings using the bar-be-cues to cook dinner, then sitting on the
lanai watching the canoes on the canal. A wonderful location, and we met many of the Owners there and they are all friendly .
Again thanks to Paul , Bryan and Ingrid for all your help. See you next year.

Good location in Waikiki

Wellington New Zealand, 30. April 2013

Stayed for 5 days in April, 2013

The location of the apartment was excellent and a nice outlook over the canal and golf course, it's only negative was that it was quite a noisey spot (traffic noise), being only 9 floors up from three lanes of a busy road. . The pool on the rooftop made up for it for us, as was a quiet relaxing spot with fantastic views of Waikiki and not many people up there.

Very happy

Carmelina P. from Tracy United States, 01. April 2013

Stayed for 4 days in March, 2013

We were very happy with our experience, I was worried on how we were going to find the parking spot and get into the building etc. we were met by the manager on the street who guided us in and took us to the condo and explained how everything worked, very easy, very happy.

It was very short stay but enjoyed the apartment life there

Tetsuro T. from Miura-gun Japan, 20. March 2013

Stayed for 14 days in February, 2013

Actually, we intend to let the home in Kaiura and or Perl harbour area like we used to do it.
Howevr due to short stay we found this flat.
Our main purpose of stay is for playing golf
every other day. So we forced to drive HI to the west to reach the any event we could reach the most of them within 1 hour drive. And we could dine out easily to Kaimuki and down town where we have a quite accceptable
places,in terms of "taste" and its reasonable price.However,If avairable, we intend to let the pearl city area next winter for 1 month.

Beautiful, clean and well furnished

Robert T. from Mitchell United States, 13. March 2013

Stayed for 4 days in March, 2013

The condo was wonderful, everything was right there. Walking distance to go shopping, great places to dine out. Would definitely stat again.

Vacation in paradise

Pat H. from Saskatoon United States, 17. February 2013

Stayed for 31 days in January, 2013

We were pleasantly surprised at how nice our condo was and it had everything in it you could possibly want. It was more than comfortable for four people. Would love to stay there again.

Great location!

Karen R. from Aurora Canada, 19. January 2013

Stayed for 14 days in December, 2012

We loved the condo unit and found it to be in great condition: the beds were comfortable, the kitchen had everything we needed including laundry facilities and it was modern and clean. The area was safe, we had morning sun on the balcony; we loved the Food Pantry 1 minute away for groceries, so convenient! The security was excellent; the street (Ala Wai) was noisy but not a problem really. Easy walking to the beach, shops and restaurants. Fun for kids and teens with room to relax. The manager was v. helpful with our parking problem. Would love to stay there again. Thanks Captain Cook Real Estate

Beautiful condo, great location.

Jeannie C. from Federal Way United States, 06. January 2013

Stayed for 4 days in December, 2012

My family consists of husband, wife, 20 year old and a 16 year old. This condo was perfect for us. It was clean and the location was perfect (though city living is noisy), just a short walk to the beach. It had a small kitchen with a washer and dryer. Byron, the "on property manager" was so nice. He met us at the door, showed us around and made sure we had his phone number in case we needed anything. We would love to rent this property again.

Excellent accomodation and great value for money

Darryl W. from New South Wales Australia, 15. November 2012

Stayed for 30 days in October, 2012

Stayed for 30 days in Oct 2012. Accom was way better than expected and had everything for a very comfortable long term stay. A few minutes walk to the beach and centre of Waikiki made it a great location. The Food Pantry on the next corner made daily shopping easy. The noise/sirens from the main road was a little annoying at night but with windows closed and aircon on it was barely noticeable. As for Captain Cook Resorts, from initial enquiry to being met and welcomed on arrival by Paul, and then ongoing support by Byron, they could not be faulted and made for a great holiday in an excellent apartment. Thank you Captain Cook Resorts and especially Paul and Byron.

817 fairway villa

Delores Z. from Carson City United States, 15. October 2012

Stayed for 31 days in August, 2012

very good need more tables at bbq area and need longer hours to use facilities on weekend

Home away from home

Sacramento, United States, 31. August 2012

Stayed for 14 days in August, 2012

This was our fourth stay at Fairway Villa, it feels like a second home. We always feel safe, the location is great & the view of the mountains is gorgeous!

Six Weeks in Paradise

Robert M. from Vancouver United States, 03. July 2012

Stayed for 41 days in May, 2012

We very much enjoyed our stay at the Fairway Villa. The condo unit is sunny and bright with great views of the canal, golf course and mountains. It is a short 10 minute walk to the beach and centrally located in Waikiki. It is a two bed, two bath unit that is very confortable and convenient for two couples vacationing together. The unit is well appointed and has WIFI and free phone access to the mainland and Canada. The only negative is that there is substantial road noise from the Ala Wai Boulevard but in my mind, it is offset by the location, convenience, 24 security and amenities of the condo complex and of the condo unit.
We were also impressed by the friendly, efficient and professional support of the Cap't Cook Resort staff in reserving the unitn and in resolving any operating issues in the unit.

Not bad but not perfect

ChaoYang China, 08. April 2012

Stayed for 6 days in March, 2012

Too noisy in the morning as the rooms are very close to the roads around there.

Response from Captain Cook Real Estate

09. April 2012

We are sorry that the guest did not find it to be perfect for his needs. An unusual amount of time and effort with this guest was provided to fulfill his needs. During check-in two carts and assistance was provided for getting an unusual amount of baggage and groceries up to the unit. And when a minor problem came up it was quickly resolved.

Met all our needs!!

Ada C. from Nepean Canada, 27. March 2012

Stayed for 8 days in March, 2012

This condo was perfect for our family vacation. Got basically everything we needed for our stay: fully-equiped kitchen, washer & dryer, and all the accessories. Right in the middle of Waikiki, just a 2 minute walk from International Market. Our rental rep Byron was very helpful from the beginning. Would highly recommend this place for our friends!!
Check in time
Check in after 3pm - 15h00 (A $20 late check-in fee applies to check-ins between 9pm and midnight. )
Check out time
Check out by 11am- 11h00 (- )
Personal check in
...
More info on check-in/out
Amenities
- available in all properties
Various

Bed linen and towels, Radio and CD player, Ironing board, Iron, Hairdryer

Environment

Internet cafe, Grocery open late, Nice café to breakfast outside, …see downloadable neighborhood guide for details
Kitchen

Microwave oven, Fridge, --, Toaster, Coffee-machine
List of amenities in this specific property
Business

Nearby ATM, Nearby Golf Course, Nearby Post Office, Near Restaurants and Shops

Convenience

Area Fitness Center, Medical Services Nearby, Nearby Bus Stop, Nearby Grocery, Outlet Shopping, Shopping, Convenience Store Nearby, Supermarket Close By

Culture

Free Concerts in Parks, Military Base, Museums, Theatre

Entertainment

Cable Television, DVD Player, High Speed Internet Connection, Radio, Wireless High Speed Internet, Near Restaurants and Shops, Free US/Local/Canada calls, Flat Screen TV

Geographic

Exceptional Sunrises, Exceptional Views, Near Beach, Near Best Surfing in Waikiki, Near Diamond Head, Near Sunset on the Beach, Near Waikiki Aquarium, Near Zoo and Kapiolani Park, Short Walk to Beach, Near Ala Moana Shopping Center, Kapiolani Park Tennis Courts, Close to Beach

Outdoor

Beach Walking, Beachcombing, Biking, Boating, Boogie Boarding, Deep Sea Fishing, Fishing, Hiking Trails, Ocean Kayaking, Recreation Area - BBQ Grill, Sauna, Sight-Seeing, Snorkeling , Surfing, Swim at Ocean Beach, Tennis Courts in Park, Wind Surfing, Lanai/Balcony, Whirlpool, Swimming Pool, BBQ
Family

Honolulu Zoo, Kapiolani Park and Beach, Library, Movie Theatre, Sunset on the Beach Movies, Surfing Lessons, Waikiki Aquarium, Near HNL Zoo & Kapiolani Park, Near Beach

Kitchen

Toaster, Blender, Utensils, Stove, Washer/Dryer in Condo, Flatware, Cookware, Rice Cooker, Oven, Glassware, Dishes, Tea Pot - Kettle, Coffee Maker, Dishwasher, Refrigerator, Microwave

Living

Hand-Held Shower, Balcony/Lanai, WiFi, Ironing Board and Iron, Flat Screen TV, Bed linens, towels, beach towels, Dishes-Silverware, DVD, Clock Radio, Hair Dryer, Non-Smoking, Window A/C, Air Conditioning (Window), Full kitchen with dishwasher, Washer & Dryer, Vacuum Cleaner, Parking Included, Access Bathroom from Living Area
Find rentals available for your stay dates:
Other properties you might be interested in.
Other Info
Additional information you might be interested in.
Parking

---

Transfer

For more info about transfer from Honolulu Airport.
Advice

For other useful advice.