Search
Property detail & price proposal
Reserve
Thank you
Ilikai Marina #890 - Panoramic sunset, ocean & yacht harbor views; short walk to beach. Sleeps 4.
1 Bedrooms for 4 guests (max. 4) • 1765 Ala Moana Blvd., Honolulu
Video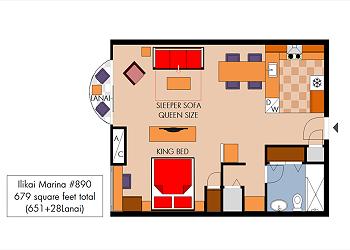 (4-night minimum) CONSTRUCTION NOTICE: All air conditioners and chilled waterlines will be replaced at Ilikai Marina between 3/15/16 and 8/8/16. Work in this specific unit is tentatively scheduled for 4/7/16 to 4/29/16. PLEASE NOTE: There will be loud construction noise and workers onsite during the 5-month project.

Join those who love this beautiful, nautical-themed condo (651 sq.ft plus lanai) has panoramic views of the Pacific Ocean and Ala Wai Yacht Harbor. This open floor plan (sleeping area not enclosed) has cherry wood walls, custom designed mango dining table, and central AC.

The living area has a queen sleeper sofa, flat screen TV and DVD player, and the full kitchen (with dishwasher) has Corian counters, and newer appliances, cabinets and fixtures. The king bed is on an elevated platform; the bathroom has a full-size Japanese style "ofuro" bath tub and shower.

Laundry facilities on site. This non-smoking accommodation sleeps 4 and is not affiliated with Ilikai Hotel. (Book 30+ Nights between April 1 and November 30th and your quote will include a 10-15% discount.)

Although there's no pool onsite, it's just a short walk to the newly renovated Duke Kahanamoku Lagoon/Beach (rated Best Beach in the US in 2014 by beach authority "Dr. Beach"). Close by is famous Ala Moana Center and beach park (with public tennis courts) and Waikiki Beach Walk with its many shops and restaurants. The Chart House restaurant is on the premises.

INCLUDED WITH YOUR RENTAL: WiFi and local calls.

Parking, subject to availability, is $15-20/night (parking rates subject to change).

During our Holiday Season (12/20-1/4) there may be a 7 night minimum. Please check with our Reservation Department for details. Stays 30+nights get 10% discount!

(Hawaii Tax ID: W60725652-01)

Captain Cook Resorts will never ask you to wire funds via Western Union, Moneygram or PayPal.
Address

1765 Ala Moana Blvd.,

Parking

See unit description and icons

Floor

8

Elevator

Yes
Bathroom

1

Area

651 ft2

Beds

1 King, 1 Sleeper
recommended by
Trip Advisor
--
Waikiki Information
Waikiki Guide
Reviews for this property
A Wonderful Place!!!

Larry W. from Lexington United States, 27. July 2015

Stayed for 4 days in July, 2015

Great location and wonderful view! Interior finishes are very rich! Great place! The property manger Paul was also very helpful and great to deal with!

Response from Captain Cook Real Estate

27. July 2015

Mahalo, Larry, for the great review! Hope you can come visit us again!

Great Stay in Honolulu

McCordsville United States, 13. July 2015

Stayed for 14 days in June, 2015

Great stay. This unit is clean and has an unobstructed view of the marina and ocean. It is only a few minutes walk to the beach and restaurants/bars on Waikiki beach.

We wished the balcony/lanai was a little larger as it only has room for two chairs facing each other. It was tight but we made due and ate out there most nights.

Get the advance garage parking pass if you are staying more than a few days as it is cheaper than the $20-24/day regular price.

All the people we talked to (reservationists, Paul Tucker the site manager, ect) were great to work with and very helpful and friendly.

Response from Captain Cook Real Estate

13. July 2015

Mahalo, Mark, for taking the time to share your recent experience at Ilikai Marina #890! We're glad you enjoyed your stay! We will pass your feedback on to your property manager, Paul, too!

vacation in hawaii

Lawrence B. from Marquette United States, 28. April 2015

Stayed for 43 days in March, 2015

good, needs more dishes though

Response from Captain Cook Real Estate

03. May 2015

Mahalo for the positive comments and recommendation! We encourage guests to contact their property manager right away if they need anything - dishes in this case. We'll check the condo inventory to ensure anything missing is replaced right away. : )

Annual Trip to Oahu

Mike H. from Sacramento United States, 13. March 2015

Stayed for 50 days in January, 2015

Excellent experience! Always look forward to staying at the Ilikai Marina.

Response from Captain Cook Real Estate

16. March 2015

Mahalo for the positive comments and recommendation! We work hard to offer great accommodations and service, and we're so glad your stay was enjoyable. We look forward to seeing you on your next visit!

Great 60th birthday

Anchorage United States, 20. January 2015

Stayed for 9 days in January, 2015

Best unit in the building

Response from Captain Cook Real Estate

20. January 2015

Mahalo for the positive comments and recommendation! We appreciate being able to be part of your birthday! Hope to see you again soon!

Outstanding

Michael R. from Columbia United States, 29. December 2014

Stayed for 13 days in November, 2014

clean, comfortable, very nice area

Response from Captain Cook Real Estate

30. December 2014

Mahalo for the great review!

YES-It's just like the picture and even more!

Kansas City United States, 28. December 2014

Stayed for 8 days in December, 2014

We had a great visit in Honolulu. This location is close to an uncrowded beach, but if you want the crowd, it's only a few blocks away. The view is spectacular! Shopping is within walking distance.

Response from Captain Cook Real Estate

30. December 2014

Mahalo for the wonderful review and recommendation! We appreciate it and look forward to your return visit!

Illikai Marina home away from home!

Donna R. from Sydney Australia, 26. November 2014

Stayed for 22 days in November, 2014

We stayed in condo 890 for a total of 22 days. The condo was exactly as described. It was well equipped with everything that was needed for a long stay. The location was just ideal being a short walk to downtown Waikiki as well as the Ala Moana Centre and Walmart. We loved the view over the marina, the beautiful sunsets and the added bonus of having a front row seat to the fireworks from the Hilton Hawaiin every Friday night. Some of the furniture is slightly worn but is to be expected from a rental but nothing that warrented any concern from us and it has been newly carpeted. It was certainly hard to pack up to go home!

Superb accommodation and service

PERTH Australia, 21. October 2014

Stayed for 4 days in October, 2014

We stayed in 3 different condos on our holiday in Honolulu and Hawaii and this was by far the best. Great size for 2 people, very comfortable king bed, amazing views and close to the beach, close to shops, short walk to big shopping mall.. but far enough away to let you enjoy the relaxing views.
Property management company very professional, friendly and helpful. Would def return to either this property or another Captain Cook property again. The massage chair was an added bonus.

Response from Captain Cook Real Estate

22. October 2014

Mahalo for sharing your comments about your recent stay! So glad you enjoyed your stay in this beautiful condo and we hope you're able to visit us again sometime soon! Your friends at Captain Cook Resorts

Nice n clean

Hong Kong Hong Kong, 14. August 2014

Stayed for 4 days in August, 2014

The condo was nice n clean , if there are an addition light will be perfect at night time.
There were a problem with foot part of the massage chair , hope it can be fix for the fellow customer .

Response from Captain Cook Real Estate

18. August 2014

Aloha and thank you for taking time to post your review! Thank you for the heads-up on the massage chair. We had the property manager check it and it is operating correctly. Mahalo, Your Friends at Captain Cook Resorts

Home away from home

Moises V. from Wellington United States, 21. July 2014

Stayed for 13 days in July, 2014

At the end of our12 night stay, we were actually sad to be leaving. The property was exactly as depicted in the photos, and Paul was there when we arrived from the airport. A few small concerns were immediately dealt with by Paul and the property managers. And the location is the best! From a busy beach to a quiet lagoon, a park to jog in, and all the shopping and restaurants, everything is right there. We can't wait to come back!

Wonderful

San Francisco United States, 23. June 2014

Stayed for 7 days in June, 2014

Great location, beautiful view, huge and comfortable bed, lots storage space for clothing, Capt. Cook Realty is very professional and efficient. We plan to stay in this unit again.

Response from Captain Cook Real Estate

26. June 2014

Mahalo for the great review! We look forward to your next visit! Your friends at Captain Cook Resorts

Wonderful Location for a GREAT VACATION!

Dale and Virginia K. from Ishpeming United States, 26. April 2014

Stayed for 30 days in March, 2014

What a great location by the marina if you like looking out at the ocean and watching boats and planes. Also so close to the Waikiki Beach in one direction and Magic Island and the Ala Mona Mall in the other. As for Captain Cook Resorts, they are GREAT! Even the smallest issue is taken care of quickly. They are professional, very friendly and easy to do business with.

Enjoyed our stay!

Mike H. from Sacramento United States, 14. March 2014

Stayed for 50 days in January, 2014

John did an exceptional job in helping make out stay a 5!
Would like to see a new carpet, couch, vacuum and a broiler pan. Other than that, we thoroughly enjoyed our stay! :-)

Satisfied in general

Keiji K. from Tokyo Japan, 29. September 2013

Stayed for 8 days in September, 2013

The view from the room was spectacular! We were basically happy about the property... but just one thing was a bit annoying; the laundry room closes from 10pm to early morning. The staff said it's security reason, but it was inconvenient because you sometimes need to do some laundry late at night coming back after dinner.

Paul was a very friendly and accommodating person who can speak fluent Japanese, which made the start of our stay a lot easier. Thank you, Paul!

Exactly what we were hoping for!

Brenda N. from Culver City United States, 17. September 2013

Stayed for 6 days in September, 2013

This is a very comfortable studio condo with gorgeous views of the lagoon, marina and ocean. We really liked having a kitchen to save $$ on breakfasts and lunches. This location also gives great views of the 8pm Tuesday and Friday night fireworks from the lagoon. The balcony is tiny, but just large enough to seat two for coffee or drinks. We really liked the location on the west end of Waikiki beach - not overly busy, yet still close to everything. We also appreciated that there are four restaurants within the building (Charthouse, Red Lobster, Outback Steakhouse and another casual burger/bar that I can't recall the name of). We rented a car for touring around the island, but there are many shopping and dining options within walking distance to keep you entertained. We found Captain Cooks to be very responsive and easy to work with - I highly recommend this company for vacation rentals!

Stunning apartment and location!

North Shields United Kingdom, 02. September 2013

Stayed for 30 days in August, 2013

Our vacation rental experience was wonderful and made all the easier by 'Captain Cook'. The apartment was situated in the most wonderful location, overlooking a beautiful marina, and the ocean just beyond. The pictures don't do it justice, it was stunning. The apartment itself was clean and there were some provisions put in place to help getting our holiday started,which was very helpful. The apartment was very homely, and comfortable to stay in. 'Captain Cooks'were very professional throughout dealing within them, and made booking our holiday an easy experience. My husband and I had a very memorable holiday, staying at this apartment and when we return for a further vacation we would like to stay here again.We would definitely recommend this property and 'Captain Cooks' to others, who wish to vacation on O'ahu.

Marina View

Rita C. from Staten Island United States, 23. May 2013

Stayed for 6 days in May, 2013

The studio had a gorgeous view and is in great condition, however the bedding & pillows could use updating and the balcony is too narrow to enjoy.
Location is great with stores, shops, and restaurants nearby. You can book your tours and be picked up in front of the hotel (use 2nd floor bridge).
Overall we had a very nice stay.

We'll Be Back

San Francisco United States, 29. March 2013

Stayed for 7 days in March, 2013

The condo was ideal for the two of us. We loved the beautiful view, the layout of the unit, the cherrywood decor, the proximity to Ala Moana Shopping Center, Ala Moana Beach Park, the YMCA where we regularly worked out, etc. We will definitely stay there again.

Perfect Pacific View

Roberta C. from Wallinford United States, 25. March 2013

Stayed for 30 days in February, 2013

I enjoy the convenient location away from the dense Waikiki strip. The views of the marina are great. The Friday night fireworks display is fun.

AC needs repair

Brandon Canada, 05. March 2013

Stayed for 3 days in February, 2013

Air conditioning was not working well.

Response from Captain Cook Real Estate

06. March 2013

This building's A/C is run on a chill water system. The A/C doesn't get really cold. The afternoon sun shines directly on the side of the building heating up the rooms. We recommend to our guests to close the blinds in the afternoon to keep the heat out. Also, the chill water turns off when the patio door is opened. We checked the A/C. Its working fine.

Great place to stay!q

Susann & Roger T. from Kansas City United States, 25. February 2013

Stayed for 7 days in January, 2013

This condo is just as pictured and a lovely place to stay. The owner came by for a few minutes and shared a cup of coffee with us one morning. He is a very pleasent fellow. The only thing we missed while staying here was missing the sun rise in the morning. Other wise this condo was perfect for our stay on the island. We will be staying there again when we come back for our next visit.

Love the location!

Tisdale Canada, 16. February 2013

Stayed for 4 days in February, 2013

Loved the nautical theme, great location overlooking the harbour; only complaint was the squeaky bedframe with the hard mattress.

Holiday Vacation

Randy M. from Edmonds United States, 20. December 2012

Stayed for 7 days in December, 2012

We were very pleased with the size and location of this condo....great views of the harbor and ocean. Would stay here again, has everything you need except the pool.

great location

AKIKO K. from WAKO Japan, 24. November 2012

Stayed for 7 days in November, 2012

We really enjoyed the view from our apartment.
Thanks.

A ROOM WITH A VIEW

Bill M. from Ormond Beach United States, 27. July 2012

Stayed for 3 days in July, 2012

ENJOYED THE AMENITIES, THE VIEW AND THE LOCATION - WOULD RENT THE SAME UNIT AGAIN - WE ARE NOW RESEARCHING MASSAGE CHAIRS FOR OUR HOME SINCE WE ENJOYED YOURS SO MUCH

Ilikai Mariner 890

Phillip and Michelle B. from Tomisato Japan, 15. May 2012

Stayed for 9 days in May, 2012

Great location, fantatic views. Apartment older, a little worn but well maintained with a certain charm!

Friday & Saturday night's a little noisey at 2am, bar closing time...normal city expectation!

Unfortunately we had the pest control & airconditioning 6 month checks carried out during our stay. This of course is normal procedure but we felt it invaded our holiday privacy & one of the reasons we chose an apartment over a hotel.

Otherwise fantastic stay...see you again!

Phil

Great location

GORDON P. from Calgary Canada, 10. April 2012

Stayed for 15 days in March, 2012

This was our first vacation in Honolulu and decided to rent a condo from Captain Cook Resorts choosing Unit #890 in the IIilai Marina. The booking agent Laui was very helpful, friendly and the process went smooth. We had a glich upon arrival at our condo unit as a guest services representative was suppose to meet us. This gave us a little concern as we couldn't find anyone in the security office and there was no telephone available. Paul showed a little later and made sure we got settled in. We really enjoyed the condo which was air conditioned, and it had a great view of the marina and ocean. The condo unit was very quiet, but sometime early A.M. you could hear people talking as they left the Chart House bar and grill that was located on the ground floor. Washers and dryers were located on our floor and they had staff that cleaned the machines and area daily. We were disappointed that we couldn't make long distance calls from our condo unit. This made it very inconvenient. You have a fantastic view of the fireworks show every Friday night at 8:00 pm. We recommend staying here and will probably stay here again on our next vacation.

Excellent

Betty G. from Capmbell River Canada, 10. February 2012

Stayed for 5 days in January, 2012

Excellent. The sunset was fabulous. Richard was exceptional.

a room with a view

Richard V. from Fresno United States, 03. December 2011

Stayed for 16 days in November, 2011

a very comfortable accommodation; we have booked again for next year.

Hawaian Vaca

ADAM L. from HOUSTON United States, 01. December 2011

Stayed for 10 days in October, 2011

GREAT RENTAL, THANX

Gorgeous apartment

Michel G. from Laval Canada, 29. November 2011

Stayed for 6 days in October, 2011

Wow what a great view to the ocean and the marina, very clean and well kitchen equipped,

Shirley H. from Mentone Australia, 30. June 2011

Stayed for 16 days in June, 2011

Leigh and I had a lovely stay at the Ilikai Marina. I have been to Honolulu on many, many occasions as the family had an apartment at Discovery Bay and I stayed there for a month at a time. So as you can see Honolulu and I know each other very well. I found the Ilikai Marina to be a very pleasant place to stay in and felt comfortable and secure, which is of great importance when away from your home in another country. I would not hesitate to book that very same apartment again. Many thanks. Shirley Head

Brenda W. from Lively Canada, 12. April 2011

Stayed for 5 days in March, 2011

Overall, we were quite pleased with this unit. We had trouble getting a parking pass that we had paid in advance for but the parking garage attendant(s) let us in anyway. It was about a 2 km walk to the action in downtown Waikiki but generally, was conveniently located. I would rent this unit again.

Response from Captain Cook Real Estate

14. April 2011

Guest was issued a paper parking pass upon check-in. The parking garage office stopped issuing automatic gate cards because their machine is broken. Guest has to simply show the paper pass to get in and out.

Spring United States, 30. March 2011

Stayed for 7 days in March, 2011

Clean, Calm ,Quiet,Private, away from spring breakers and the madness of Waikiki.
My husband fell in love with the massage chair, and the temper pedic, me not so much. Great location with store and restaurants within walking distance.
We had a great time!
My only complaint was that the toilet moved when you sat down it would be nice if you fixed that.. we used the pillows from the sofa bed cause we like lots..

June W. from Westport United States, 22. March 2011

Stayed for 14 days in March, 2011

Mike H. from Sacramento United States, 08. March 2011

Stayed for 31 days in January, 2011

We loved the location and condo. We were a little disappointed with the cleanliness, compared to last year. Several of the wall panels, especially the wall by the pillows, had dust balls the dust was so thick. I'd like to see it cleaned more thoroughly next year. Saying that, we still enjoyed our stay and Paul was very helpful.

Response from Captain Cook Real Estate

23. August 2011

Our Housekeeping staff went into the condo and did a complete deep cleaning . This guests' stay was for a month, and it was noted by our Housekeeping staff that when all of the fans are turned on dust does sometimes accumulate in these areas. As with all of our properties our Housekeeping Manager assures me that much attention is paid to dusting which is in keeping with our high standards.

Awesome condo with a priceless view at a great location

BELLEVUE United States, 29. January 2011

Stayed for 5 days in January, 2011

We spent 5 days at the condo earlier this month and we had a wonderful time in it. The condo is very well stocked including plenty of beach towels and beach toys, the location is very convenient to the beach, stores, food etc and the view is simply superb. The massage chair makes the day at the beach all the more relaxing. We would certainly love to stay there again.

Christmas 2010

Julie Y. from Des Moine United States, 18. January 2011

Stayed for 14 days in December, 2010

We had a wonderful time and the condo made it so easy to have that great time.
The location was perfect. Loved waking up to look out at the ocean. Close to everything. Well stocked kitchen made it easy to cook meals. Great time was had by all!!

Ilikai Marina #890

Russ F. from Barrington United States, 27. December 2010

Stayed for 6 days in December, 2010

Awesome view! Loved the nautical theme throughout the condo.

Sharon I. from Aurora Canada, 10. November 2010

Stayed for 7 days in October, 2010

Lovely view and really comfy. Good location. I would go back again.
Check in time
Check in after 3pm - 15h00 (A $20 late check-in fee applies to check-ins between 9pm and midnight. )
Check out time
Check out by 11am- 11h00 (- )
Personal check in
...
More info on check-in/out
Amenities
- available in all properties
Various

Bed linen and towels, Radio and CD player, Ironing board, Iron, Hairdryer

Environment

Internet cafe, Grocery open late, Nice café to breakfast outside, ...see downloadable neighborhood guide for details
Kitchen

Microwave oven, Fridge, --, Toaster, Coffee-machine
List of amenities in this specific property
Business

Nearby ATM, Nearby FedEx, Nearby Golf Course, Nearby Internet Cafe, Nearby Post Office, Near Restaurants and Shops

Convenience

Area Fitness Center, Medical Services Nearby, Nearby Bus Stop, Nearby Grocery, Outlet Shopping, Restaurant on location, Shopping, Convenience Store Nearby, Supermarket Close By

Culture

Dance, Free Concerts in Parks, Lighthouse, Military Base, Museums, Theatre

Entertainment

Cable Television, Cable/Satellite TV, CD Player, DVD Player, High Speed Internet Connection, Stereo System, VCR, Wireless High Speed Internet, Flat Screen TV

Family

Honolulu Zoo, Kapiolani Park and Beach, Library, Movie Theatre, Sunset on the Beach Movies, Surfing Lessons, Waikiki Aquarium, Near HNL Zoo & Kapiolani Park, Near Beach

Geographic

At Yacht Harbor, Exceptional Sunsets, Exceptional Views, Near Beach, Near Best Surfing in Waikiki, Near Diamond Head, Near Sunset on the Beach, Near Waikiki Aquarium, Near Zoo and Kapiolani Park, Short Walk to Beach, Near Ala Moana Shopping Center, Kapiolani Park Tennis Courts, Near Ala Moana Park Tennis Court, Ocean View, Close to Beach
Kitchen

Blender, Coffee Maker, Cookware, Dishes, Dishwasher, Glassware, Ice Maker, Microwave, Oven, Refrigerator, Rice Cooker, Stove, Toaster, Utensils, Flatware, Tea Pot - Kettle

Living

Access Bathroom from Living Area, Desk & Internet Connection, Dishes-Silverware, DVD, Flat Screen TV, Hair Dryer, Therapeutic Massage Chair, Vacuum Cleaner, Queen Sleeper Sofa, Laundry Facilities on Site, WiFi, Balcony/Lanai, Bed linens, towels, beach towels, Air Conditioning (Central), Non-Smoking, Full kitchen with dishwasher, King Bed, Ironing Board and Iron

Outdoor

Balcony, Beach Walking, Beachcombing, Biking, Boating, Boogie Boarding, Convenience Store, Deep Sea Fishing, Fishing, Hiking Trails, Internet Coffee Shop, No Pool on Property, Ocean Kayaking, Sight-Seeing, Snorkeling , Surfing, Swim at Ocean Beach, Tennis Courts in Park, Wind Surfing
Similar properties:
Other properties you might be interested in.
Other Info
Additional information you might be interested in.
Parking

---

Transfer

For more info about transfer from Honolulu Airport.
Advice

For other useful advice.