Search
Property detail & price proposal
Reserve
Thank you
Waikiki Banyan #704-T2 - Great one-bedroom close to beaches, park, zoo… with AC, WiFi, pool, parking!
1 Bedrooms for 5 guests (max. 5) • 201 Ohua Avenue, Honolulu
Contact a rental agent
Call us
US 808-738-5507
Canada 1-800-854-8843
or use Contact Us form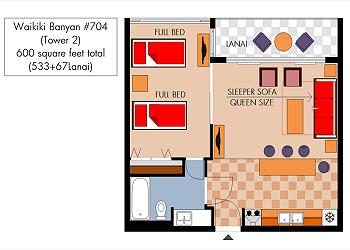 (3 night minimum) Modern, bright and airy, this air-conditioned one-bedroom vacation rental (533 sq.ft. plus lanai with table and chairs) looks over the recreation area's tropical landscaping and has tree-top ocean views!

The living room (with tile floors) has 32" flat screen TV, DVD player, iPod docking station, and queen sleeper sofa. The full kitchen (no dishwasher), remodeled in 2012, has breakfast bar (4 bar stools). Sliding doors separate the living area from the bedroom with wood laminate floors, two full beds and 26" flat screen TV. The bathroom (with tub), has hand-held shower wand. Beach chairs are included.

INCLUDED WITH YOUR RENTAL: FREE parking for one vehicle, WiFi, local calls and long distance to U.S. mainland and Canada.

Waikiki Banyan's 6th floor recreation deck includes a large heated pool, 2 hot tubs, sauna, BBQ area, lighted tennis court, and children's play area. Coffee shop on premises. Coin operated laundry facilities on located on each floor and there is public transportation at the corner.

All this and just a short 2-block walk to the best swimming and surfing beach in Waikiki, plus shops, restaurants, the Honolulu Zoo, Waikiki Aquarium, and Kapiolani Park!

This non-smoking accommodation sleeps 5.

(10% discount for 30+ night reservations!)

During our Holiday Season (12/20-1/4) there may be a 10 night minimum. Please check with our Reservation Department for details.

(Hawaii Tax ID: W41323181-01)

Captain Cook Resorts will never ask you to wire funds via Western Union, Moneygram or PayPal.
Address

201 Ohua Avenue,

Parking

See unit description and icons

Floor

7

Elevator

Yes
Bathroom

1

Area

533 ft2

Beds

1 Sleeper, 2 Double/Full Bed
recommended by
Trip Advisor
--
Waikiki Information
Waikiki Guide
Reviews for this property
Waikiki , location is great

Winnipeg United States, 20. March 2015

Stayed for 4 days in February, 2015

The condo was clean, roomy and very comfortable. The location was great, ideal to stroll the strip for shopping or surfing.
Check in was made so easy with the help of Brian( thanks ) . The condo itself , we'll stocked , modern, yet totally comfortable . We were a little crowded 4 adults , one bathroom, but organization the key.
Only disappointment that pool and hot tub area closed too early!! After beach or dinner would have been nice to go in after wards.

Response from Captain Cook Real Estate

20. March 2015

Mahalo for the review and recommendation!

overall a nice place to stay

Wailuku United States, 19. February 2015

Stayed for 3 days in February, 2015

Few bumps in the road at the start, but this was a nice place to stay. The condo was clean. Convenient location in central waikiki. Loved that there was an area to grill and a playground for my toddler to play

Response from Captain Cook Real Estate

19. February 2015

Mahalo for the positive comments and recommendation!

Waikiki condo

Sherwood Park Canada, 15. December 2014

Stayed for 14 days in November, 2014

Happy with how clean the condo is kept, how comfortable the beds are, and with how well stocked the kitchen is.

Response from Captain Cook Real Estate

16. December 2014

Mahalo for the review!

Banyan Fun Get Away

Aldergrove Canada, 22. October 2014

Stayed for 12 days in October, 2014

We had a great vacation at the Waikiki Banyan. Being met by informative young man. Any concerns we had was dealt with quickly so we could enjoy our vacation. I would highly recommend this unit.

Response from Captain Cook Real Estate

24. October 2014

Mahalo for the great review and recommendation! We hope you will be able to schedule a return trip soon! Your friends at Captain Cook Resorts

Nice and convenient

Tessa H. from Las vegas United States, 20. August 2014

Stayed for 5 days in August, 2014

Really liked our stay here. 3 blocks from the beach- you wont have to worry about trying to drive to Waikiki and find parking! Everything we needed was there for us including chairs, boogie boards, etc. for the beach. Easy transaction, never had to fight with parking in the garage. Only thing was the queen fold out bed could have been a little more comfortable. Wasn't terrible and we did sleep on it every night but it did sag in the middle. Bring quarters for the washer / dryer and BBQ grills.

Great location in Waikiki!

Beaconsfield Canada, 17. July 2014

Stayed for 6 days in July, 2014

The property was very clean and the location was great. Moreover, the customer service was also very good and helpful.

Great Rental Property!

Calgary Canada, 27. May 2014

Stayed for 14 days in May, 2014

This is our second stay at this rental. It's a clean, nicely decorated rental. Great location, and will definitely keep coming back for yours to come.

Response from Captain Cook Real Estate

28. May 2014

Aloha and thank you for the review! We're happy you enjoyed your stay and look forward to your return visit! Your friends at Captain Cook Resorts

Waikikki Banyan 704

Tammy S. from Werrington Sydney United States, 16. March 2014

Stayed for 8 days in March, 2014

This room was great for us, a family of four. It is although much smaller than the photos suggest. Great Location, will return again

Response from Captain Cook Real Estate

18. March 2014

Aloha and thank you for your comments. Although the photos are an accurate representation of the rental, we always include the actual square footage on our website and in our listings elsewhere on the internet. We're so glad your family enjoyed their stay and look forward to serving you again! Your friends at Captain Cook Resorts

A good experience in Honolulu

Anthony S. from Burnaby Canada, 13. December 2013

Stayed for 6 days in December, 2013

the building is centrally located, close to waikiki beach and shopping area. it takes 7 minutes walk to honolulu zoo parking lot to catch shuttle bus to Marathon run start place. my friends used 11 minutes walk to the finish line to cheer me. It is not a five star hotel but the room is quite alright.

Response from Captain Cook Real Estate

17. December 2013

Thank you for your comments! We hope you choose Captain Cook Resorts for your next marathon stay/visit! Guest Services - Captain Cook Resorts

Great Apartment

Maroochydore Australia, 12. November 2013

Stayed for 8 days in November, 2013

Great Location, nice apartment, we had a great time, would stay there again

Response from Captain Cook Real Estate

13. November 2013

Aloha Rohan and thank you for your comments! The package you were waiting for arrived after you left - and we will get it to the post office today! We look forward to your next visit! Mahalo, Guest Services - Captain Cook Resorts

Fantastic Stay

San Diego United States, 31. October 2013

Stayed for 5 days in October, 2013

My family stayed 5 nights and we absolutely loved it. The condo was walking distance to the beach, and having free parking was a plus. The condo was well maintained and nicely decorated. You do get an ocean view even though you are only on the 7th floor. We didn't hear any noise being close to the 6th floor (where bbq pits and pool are located). The kitchen was fully stocked and we prepared many meals there! Highly recommend, and I can't wait to stay again!

Response from Captain Cook Real Estate

13. November 2013

Aloha Ivy and thank you for taking the time to post comments about your recent stay in this lovely Waikiki Banyan condo (#704T2)! We're so glad you enjoyed your stay and look forward to your return visit! Mahalo, Guest Services - Captain Cook Resorts

Waikiki Banyan Is A Home Away From Home

Renton United States, 23. October 2013

Stayed for 7 days in September, 2013

Thank you! We enjoyed our stay in you nice condo. We highly recommend and we look forward to rent your place again someday.

Response from Captain Cook Real Estate

24. October 2013

Mahalo for your positive comments! We look forward to your next visit! Guest Services Captain Cook Resorts

Happy in Hawaii

Elva M. from Watsonville United States, 26. August 2013

Stayed for 7 days in August, 2013

We had a great view on the ocean. During the night there was no street noise and even during the day our condo was very quiet as long as the sliding door was closed. We had very restful nights after exploring the island. Would recommend this condo to my friends.

Great Unit for Long-Term Stay

Roseanne C. from Redwood City United States, 28. July 2013

Stayed for 22 days in July, 2013

Very homey & comfortable. The extra touches in this unit are really nice. Great with 2 TV's. View is bad as it's the other tower, & it can get noisy from barbecue area and street. Also, phone rang a lot w/ sales people- annoying.

Waikiki Banyan

Christopher S. from Jindalee Australia, 21. July 2013

Stayed for 10 days in June, 2013

Right from the beginning our stay was great. The property manager met us at the unit and explained all the amenities and where to find tourist activities, grocery shops etc. The unit was in a good location, back one block from beach and restaurants, and there are convenience stores on nearly every corner. The ABC stores in particular provided nearly everything you could need, including good food, stamps and very reasonably priced clothes, hats and more.
The unit included a parking space though we never did hire a car. We walked and got around very well on the local buses, which were very reasonable at $2.50. Fares last for a few hours if you ask for transfers. We even traveled around the island on the bus for a total o $7.50 each. The trip was an all day event, stopping off at touristy spots and catching another bus when we were ready to move on to the next spot. Buses come every 1/2hr, so with a bit of planning you can see a lot for not a lot of cash.
The unit itself was very clean and tidy with some ocean views between the buildings in front. The included internet access via wifi router was fast and very handy. There were five of us, each with a mobile device researching things to do and keeping in touch with the rest of the world.
Local calls were included in the accommodation but because we were traveling with others we found it easier to purchase a couple of pre paid phones from Radioshack to keep in touch while out and about. Around $35 including credit. We used the $2 a day plan.
The kitchen was well equipped and the fridge was a large size with icemaker. Beach chairs, body boards and snorkel gear was all included as well. The only small annoyance was the shower. It was over the bath and the bathroom was small.
All in all we had a good relaxing time and would recommend a Waikiki holiday.

very good

Jose F. from Opalocka Australia, 19. June 2013

Stayed for 7 days in June, 2013

nos sentimos muy bien y la propiedad esta situada en un lugar especial todo esta serca es un lugar marabilloso

Home away from home

Gino & Victoria R. from Bowen Island United States, 13. February 2013

Stayed for 5 days in February, 2013

Great Value, Great Location, Great Staff, Great Property. We can't wait to return except for longer next time. We loved the sixth floor BBQ and pool area as well as complementary parking and access to laundry. There was a minor problem with the sink not draining properly, thankfully it was dealt with promptly. The only negatives in our opinion were....the late check-in fee of $20.00 for arrivals after 9 p.m....we were charged in advance based on the information we provided but our flight arrived earlier than expected and as a result we arrived at the property at 8:30 pm, half hour before the 9 pm late arrival cut-off...(hopefully we get a credit for this)...and lastly, the cleaning fees compared to other property seemed very steep at $155.00...the highest amongst similar rental properties we inquired seemed the average we found ranged between $50-$100 at other properties...other than that, everything was fantastic...we will definately be back.

Very Satisfied

San Jose United States, 23. January 2013

Stayed for 7 days in December, 2012

We would love to come back again!

Great updated apartment!

Coquitlam Canada, 11. December 2012

Stayed for 6 days in December, 2012

We stayed 6 nights in Dec 2012. We are a family of 4 and appreciated the extra space.
Newly updated. Very comfortable. Close to everything.

October 2012

Ohsweken Canada, 31. October 2012

Stayed for 8 days in October, 2012

It was awesome except for the Tsunami warnings during the stay but the condo was awesome, totally would go back there n stay :DDD

AWESOME CONDO

John C. from FPO United States, 06. September 2012

Stayed for 10 days in August, 2012

Great support from Management. Awesome condo right in the middle of everything. Will stay again.

College vist weekend

Fremont United States, 27. August 2012

Stayed for 3 days in August, 2012

We really enjoyed our stay at Waikiki Banyan, the unit was very nicely updated and had all the conveniences we needed. It was located very close to the college and to Waikiki beach. Will stay here again if my son ends up choosing to go to college here.

Overall comfortable and clean.

Leilani M. from Barrigada United States, 03. August 2012

Stayed for 8 days in July, 2012

Great location. Short walk to Waikiki strip. Overall very satisfied with the property. I would recommend bringing quarters for laundry. Well equipped with the comforts of home, just add people and food to cook :D
Check in time
Check in after 3pm - 15h00 (A $20 late check-in fee applies to check-ins between 9pm and midnight. )
Check out time
Check out by 11am- 11h00 (- )
Personal check in
...
More info on check-in/out
Amenities
- available in all properties
Various

Bed linen and towels, Radio and CD player, Ironing board, Iron, Hairdryer

Environment

Internet cafe, Grocery open late, Nice café to breakfast outside, ...see downloadable neighborhood guide for details
Kitchen

Microwave oven, Fridge, --, Toaster, Coffee-machine
List of amenities in this specific property
Business

Nearby ATM, Nearby Golf Course, Nearby Internet Cafe, Nearby Post Office, Near Restaurants and Shops

Convenience

Coffee Shop on Site, Convenience store on site, Medical Services Nearby, Nearby Bus Stop, Nearby Grocery, Outlet Shopping, Shopping, Convenience Store Nearby, Supermarket Close By

Culture

Dance, Lighthouse, Military Base, Museums, Theatre

Entertainment

Cable Television, DVD Player, High Speed Internet Connection, I-Pod Docking Station, Near Restaurants and Shops, Flat screen TV in Bedroom, Free US/Local/Canada calls, Flat Screen TV

Family

Honolulu Zoo, Library, Movie Theatre, Playground, Sunset on the Beach Movies, Surfing Lessons, Waikiki Aquarium, Near HNL Zoo & Kapiolani Park, Near Beach

Geographic

Near Best Surfing in Waikiki, Near Waikiki Aquarium, Near Zoo and Kapiolani Park, Short Walk to Beach, Near Ala Moana Shopping Center, Kapiolani Park Tennis Courts, Near Ala Moana Park Tennis Court, Close to Beach
Kitchen

Blender, Coffee Maker, Cookware, Dishes, Electric Cook Top, Glassware, Ice Maker, Microwave, Oven, Refrigerator, Rice Cooker, Stove, Toaster, Utensils, Flatware, Tea Pot - Kettle

Living

Access Bathroom from Living Area, Clock Radio, Coin Operated Washer & Dryer, Dishes-Silverware, DVD, Flat Screen TV, Hair Dryer, Vacuum Cleaner, Hand-Held Shower, Queen Sleeper Sofa, Laundry Facilities on Each Floor, WiFi, Balcony/Lanai, Parking Included, Full kitchen without dishwasher, Bed linens, towels, beach towels, Air Conditioning (Window), Non-Smoking, Ironing Board and Iron

Outdoor

Beach Chairs, Beach Walking, Beachcombing, Biking, Boogie Boarding, Children's Play Area, Convenience Store, Deep Sea Fishing, Fishing, Hiking Trails, Hot Tub, Internet Coffee Shop, Ocean Kayaking, Recreation Area - BBQ Grill, Sight-Seeing, Snorkeling , Surfing, Swim at Ocean Beach, Tennis, Wind Surfing, Lanai/Balcony, Whirlpool, BBQ, Swimming Pool, Heated Pool
Find rentals available for your stay dates:
Other properties you might be interested in.
Other Info
Additional information you might be interested in.
Parking

---

Transfer

For more info about transfer from Honolulu Airport.
Advice

For other useful advice.