Search
Property detail & price proposal
Reserve
Thank you
Waikiki Park Heights #1806
One-bedroom with ocean view and central AC; 5 min. walk to beach. Sleeps 3.
1 Bedrooms for 3 guests (max. 3)
2440 Kuhio Avenue, Honolulu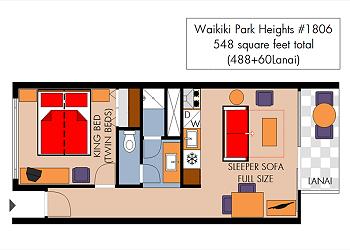 Description
(4-night minimum) You'll appreciate this one-bedroom condo with ocean views and central AC!

Your condo is 488 sq.ft. plus ocean-view lanai 60 sq. ft. with table and chairs. The living area has travertine floors, a full-size sleeper sofa, flat screen TV and DVD player. The kitchen has a full-size refrigerator, four-burner cook-top, toaster/convection oven, microwave, and dishwasher. A long hallway separates the living area from the bedroom with laminate floors, a second flat screen TV and king bed (two twins). The new vanity bathroom has a shower with hand-held shower wand (Japanese-style furo, or soaking tub newly renovated 2015).

Located in central Waikiki, just a 5 minute walk to the beach, blocks to the supermarket, and near public transportation, this clean, well-managed building has 24-hour security, laundry facilities, a 4th floor sundeck with heated saline pool, lounge chairs, tables and umbrellas, and is also is home to the famous Hy's Steak House. This non-smoking accommodation sleeps 3.

Stay 30+ Nights get a 10% discount!

Parking, subject to availability, is $15/day plus tax.

YOUR RENTAL INCLUDES: free local calls and WiFi.

During our Holiday Season (12/20-1/4) there may be a 7 night minimum. Please check with our Reservation Department for details.

FOR SAME-DAY RESERVATIONS, CHECK-IN TIME IS GUARANTEED FOR 5PM.

(Hawaii Tax ID: W30008346-01)

Captain Cook Resorts will never ask you to wire funds via Western Union, Moneygram or PayPal.
Address

2440 Kuhio Avenue,

Parking

See unit description and icons -

Floor

18

Elevator

Yes
Bathroom

1

Area

488 ft2

Beds

1 King, 1 Sleeper
Reviews
recommended by
Trip Advisor
--
Waikiki Information
Waikiki Guide
Reviews for this property
Loved It!

Bruce a. from Snohomish United States, 29. November 2015

Stayed for 3 days in November, 2015

We loved our stay this past November at Waikiki Paark Heights! Barbara was wonderful!!! Room was great, well equipped, loved the view and only 2 blocks from the beach, parking spot in the garage was a real plus too. We will DEFINITELY stay there again

Response from Captain Cook Real Estate

30. November 2015

Mahalo for the great review and recommendation! We will look forward to your next visit!

Best Place to Stay in Waikiki!

Vancouver Canada, 13. November 2015

Stayed for 4 days in November, 2015

Let me start off by saying Barbara was a very friendly host and gave us a warm welcome to our home for the week. The location of this place is absolute perfection!! It's off the busy main strip but literally a 5 minute walk to the beach, shops and restaurants. You can't beat that. The apartment itself was clean, well furnished and the ocean view was amazing! Ate breakfast out on the patio every morning. Kitchen - well equipped to cook anything you want. I felt very safe with the friendly security guards in the lobby at all times. I was very happy with my decision to stay here - if you're looking for value, this is the place. Don't pay $250+ for a hotel when you can stay here for less than half the price. I feel like you get way more for what you pay here. I would 100% stay here again!

Response from Captain Cook Real Estate

23. November 2015

Mahalo Cheryl, for the great review and recommendation! It's always great to get this kind of feedback - we're so glad you enjoyed your stay! We will pass your feedback onto your property manager, Barbara; she's a real asset to the Captain Cook Resorts team!

Take us back to our lil condo in hawaii

Hope Canada, 03. July 2015

Stayed for 7 days in June, 2015

Such a great condo for the money I have paid close to 200 dollars at hotels which barely had any amenities. This condo has a full kitchen with modern appliances. Everything you need to cook a good meal. It's a block away from the Duke Statue. The security there was great and extremely friendly. Me and my fiance really were blown away by the service capt cook resorts provided. Our flight was delayed numerous times we were supposed to be in t 9pm we didn't arrive till 330 and didn't get into waikiki till 4 30 am but the property manager who works for capt cook stayed up all night to make sure we didn't have to sleep in our rental car first night. We will definitely stay here again.

Response from Captain Cook Real Estate

03. July 2015

Mahalo, Andrew, for the positive comments. We work hard to offer great accommodations and service, and we're so glad your visit was enjoyable. I will pass your feedback on to the team, and we shall look forward to seeing you and your fiance again soon!

Location, Location, Location!

Lois D. from Coeur d' Alene United States, 16. February 2015

Stayed for 8 days in February, 2015

Unit #1806 is an easy 2 block walk to the center of Waikiki Beach. Our unit's lanai overlooked the ocean. The bus stops right outside the main entrance. The building is extremely quiet and mostly filled with retirees. The pool is clean and nice. There is a food pantry grocery store about 3 blocks away where we did shopping. There are endless choices for restaurants and bars all within easy walking distance. The unit has a small, but adequate kitchenette with a cook top, convection oven/micro combo and full fridge. It has adequate supplies. I appreciated the tile floor as I suffer from allergies, however I was disappointed in some of the cleanliness of the unit. I noticed that there was some mold around the door of the shower unit and quite a bit of dust covering the light fixtures and bathroom fans. I also noticed a thick layer of dust on the back of the bed frame. The tub tile looked stained and dingy. I thought the pillows could be replaced, as they appeared soiled and dingy. The towels and linens appeared clean and fresh. I would stay in the unit again, but would feel better if it had a "deep clean". Overall, with some minor tweaks, this place is a safe bet and the location wins out.

Response from Captain Cook Real Estate

18. February 2015

Mahalo for posting a review of your recent stay and for alerting us of these issues. Our goal is to do all we can to earn your repeat business. By chance did you notify your property manager of these items during your stay? We hope so. We stand by our tagline: "If you're not satisfied with your accommodations, please let us know right away so we can make it right!"

I'm going back next year!

Calgary Canada, 01. February 2015

Stayed for 33 days in December, 2014

The property is fantastic. Very very comfortable and the view is wonderful. Barbara from Captain Cook is great to work with and very professional. The building managers and security staff are outstanding - very friendly, accommodating and helpful. there was a small plumbing issue and it was repaired within an hour of reporting it to Barbara. There was a major maintenance emergency when escaping water from the building fire suppression system flooded the elevator shafts and damaged the elevator operating systems resulting in the loss of elevator service. Building management worked diligently to have the repairs completed. service of one elevator was restored within about 14 hours and completion of all repairs within about 1 1/2 days. As I use a mobility device, using the stairs was not an option for me and the building managers offered to bring me any supplies I might need while the elevators were being repaired. I call that going above and beyond. I enjoyed my stay in this property so much that I have already booked next year's stay. Mahalo Barbara.....

Response from Captain Cook Real Estate

01. February 2015

Mahalo for your thoughtful review! We really appreciate your comments and were glad to hear everyone helped out while the elevators were being repaired. We'll be sure to pass on your comments to Barbara, the property manager, and hope to see you again on your next visit!

Honolulu Happiness

Valerie G. from Aldersyde Canada, 03. December 2014

Stayed for 30 days in October, 2014

We have enjoyed our accommodations with Captain Cook Resorts @ Waikiki Park Heights #1806 for several years now!! Close to the beach & any shopping or sight seeing you wish to enjoy!

Hawaii

Tammy K. from San Diego United States, 26. July 2014

Stayed for 12 days in July, 2014

The units are fully stocked with all you would need on a daily basis. The view is spectacular and close to the beach, 24 hr fitness and delicious meals.

Great Place to Stay

Bonnie F. from Ohsweken Canada, 30. May 2014

Stayed for 10 days in May, 2014

Very clean, convenient to everything in Waikiki, the sale representative and security were friendly. The condo had everything and so much more to make my stay in Waikiki very comfortable, safe and enjoyable! Thank you so much and when I return to Hawaii I look forward to staying with you again!

Honolulu Stay

Sally & John S. from West Vancouver Canada, 17. December 2013

Stayed for 15 days in November, 2013

As we have been at the Waikiki Park Heights for 12 consecutive years, no further comment is necessay. We were a little unhappy with the noise and water service interruptions from the renos on the floor above us this year.

Response from Captain Cook Real Estate

23. December 2013

Aloha and thank you for your comments. We apologize there were renovations taking place above you this year! Captain Cook Resorts

Close to the beach

Edward D. from San Francisco United States, 25. November 2013

Stayed for 6 days in November, 2013

Great location only a few blocks from the beach. The unit is clean and has beach chairs and a nice view.

Response from Captain Cook Real Estate

26. November 2013

Thank you for your feedback! Guest Services - Captain Cook Resorts

Awesome Condo, Perfect Location, Great Views!!

Jefferey B. from Warner Robins United States, 10. October 2013

Stayed for 6 days in September, 2013

We thoroughly enjoyed our stay at the Waikiki Park Heights Condos. Very conveniently located to everything in Waikiki. Unless U absolutely need one for your own preference, U don't even need to rent a car. Everything is close and if U decide to do Hanauma, PCC, or a Luau, U can catch "The Bus" and it'll take U literally anywhere U wanna go. Condo itself was very nice with beautiful views of everything, ocean side or mountain side, U can see it from your lanai or right out your front door. I would stay here again in a heartbeat!! Mahalo Captain Cook staff, U made our trip a great time!!

Great Waikiki location

Tammy K. from San Diego United States, 21. July 2013

Stayed for 12 days in July, 2013

I really enjoyed my stay and am looking forward to my return next year to the same property. The view is amazing with the unit being fully stocked to a cookers delight, along with beach gear if needed. Being so close to the water makes for a short walk to the best BEACH in Waikiki. Barbara is a delight to work with and is available if anything is needed.

Awesome view-close to beach!!!

Sheila N. from Missoula United States, 06. June 2013

Stayed for 7 days in May, 2013

Very clean, great location to shopping stores/ places to eat, quiet, comfortable and relaxing, close to the beach. The best part was the view- FANTASTIC!!!!

Great Location

Burnaby United States, 18. May 2013

Stayed for 6 days in May, 2013

I think there are definately pros and cons with this location. I love the location of the condo as it is closed to everything. The place is clean and simple and has AC so feels great when we are staying. However, the only challenges we had was the fact that we have to call to check in. Our flight was delayed and so it was 3 am and with no phone/wifi access, it was definately a challenge. Also, the towels are just provided to us and we had to do our own laundry... Lastly, the late check in fee of $20 was something I wasn't quite happy about... but still a good place if you want to go to places near by.

Response from Captain Cook Real Estate

19. May 2013

Aloha Karen, So glad you enjoyed your stay! Waikiki Park Heights is a great condonimium which has a 24-hour security guard on location. It is possible to contact the check-in person through the intercom, if you are without a cell phone, and pay phones are also available. Our representative is at your service for your personal check-in and to answer any questions as well as letting you know how to work the internet, building security and a/c. If you read through our emails regarding your reservation, you'll see references and explanations of the late check-in fee, and this is also explained on our website. We hope you'll visit us again! Mahalo, Captain Cook Resorts Guest Services

Great holiday

Pamela M. from Vancouver United States, 18. May 2013

Stayed for 30 days in April, 2013

Everything was great

First Time In Waikiki

Victoria Canada, 11. November 2012

Stayed for 6 days in November, 2012

We were put in touch with the rental agent for Captain Cook Vacations by a colleague who owns in the building. Front initial contact to the finish she was extremely professional and helpful. The location only two blocks from the beach was excellent. The suite had a good view, was clean and comfortable and the pool and laundry were very convenient. The building staff were also very friendly and helpful. We would definitely stay there again.

Looking to experience excellence in your holiday accomodation?

Valerie G. from Aldersyde Canada, 05. November 2012

Stayed for 15 days in October, 2012

Excellent vacation condo & very friendly, cheerful & accomodating management & staff

Aloha It was a great trip sunny all 12 days Oct.1-12 2012

Trudi S. from Winfield Canada, 31. October 2012

Stayed for 14 days in September, 2012

Its a great location, comfortable cozy clean and economical.

Aloha Waikiki

Karen F. from Burnaby United States, 25. September 2012

Stayed for 5 days in September, 2012

Park Heights is a great place to vacation. It was very clean and had everything that we needed, and in a perfect location. I would not hesitate to stay there again and highly recommend it to others, just as it was recommended to us.

Great condo!!! Will definitely stay again !!!

Alejandro C. from victorville United States, 19. September 2012

Stayed for 5 days in August, 2012

Stayed in room 1806 and the experience was great! Second time for me in Hawaii and first for my girlfriend. Location was only about a 3 min walk to the beach! I would recommend Waikiki park heights to anyone !!! =)

Happy Days

Patrice P. from Stevensville United States, 06. July 2012

Stayed for 24 days in June, 2012

My experience in your condo was one of pleasure. I found the condo to be very comfortable, with all the amenities necessary. Since I love to cook I found the kitchen stocked with every tool one could need. The view from this condo was fabulous, and one can check out the ocean conditions from the lanai. It was very convenient to the Waikiki beach, shops and restaurants. The building was also very secure, with many helpful employees. Thanks for a great Waikiki visit. PS Montana is MT not MO

We Will Go Back

Terry & Audrey M. from North Vancouver Canada, 08. May 2012

Stayed for 6 days in April, 2012

We thoroughly enjoyed staying at Park Heights. Great View from the balcony. Good location. Quiet, even though you were so close to the beach etc. We have already recommended this property to friends and clients.

Great Condo

Seattle United States, 23. January 2012

Stayed for 19 days in December, 2011

Great Location, Great View, Great Pool, Very Secure Building
I truly enjoyed my stay in this condo.

Trip to Hawaii

Snellville United States, 20. September 2011

Stayed for 8 days in August, 2011

Neat and Tidy-Great location

Sydney Australia, 16. August 2011

Stayed for 9 days in August, 2011

St. Albert Canada, 05. August 2011

Stayed for 17 days in July, 2011

as good as it gets.

Valerie G. from Aldersyde Canada, 06. November 2010

Stayed for 35 days in September, 2010

The last six years have been wonderful.
Check in / out
Check in time
Check in after 3pm - 15h00 (A $20 late check-in fee applies to check-ins between 9pm and midnight. )
Check out time
Check out by 11am- 11h00 (- )
Personal check in
...
More info on check-in/out
Amenities
Amenities
Amenities
List of amenities in this specific property
List of amenities in this specific property
Business

Nearby ATM, Nearby Golf Course, Nearby Internet Cafe, Nearby Post Office, Near Restaurants and Shops

Convenience

Area Fitness Center, Medical Services Nearby, Nearby Bus Stop, Nearby Grocery, Outlet Shopping, Restaurant on location, Shopping, Convenience Store Nearby

Culture

Dance, Lighthouse, Military Base, Museums, Theatre

Entertainment

Cable Television, CD Player, DVD Player, Radio, Stereo System, Wireless High Speed Internet, TV in Bedroom, Flat Screen TV

Family

Library, Movie Theatre, Surfing Lessons, Waikiki Aquarium, Near HNL Zoo & Kapiolani Park, Near Beach

Geographic

Exceptional Sunsets, Exceptional Views, Near Best Surfing in Waikiki, Near Sunset on the Beach, Near Waikiki Aquarium, Near Zoo and Kapiolani Park, Short Walk to Beach, Near Ala Moana Shopping Center, Kapiolani Park Tennis Courts, Ocean View, Close to Beach
Kitchen

Blender, Builit-in cooktop, Coffee Maker, Convection Oven, Cookware, Dishes, Dishwasher, Glassware, Microwave, Refrigerator, Rice Cooker, Toaster, Toaster Oven, Utensils, Flatware, Tea Pot - Kettle

Living

Access Bathroom from Living Area, Clock Radio, Desk & Internet Connection, Dishes-Silverware, DVD, Flat Screen TV, Hair Dryer, Vacuum Cleaner, Hand-Held Shower, Full Sleeper Sofa, Laundry Facilities on Site, WiFi, Balcony/Lanai, Parking may be available for fee, Kitchenette with dishwasher, Bed linens, towels, beach towels, Air Conditioning (Central), Non-Smoking, Iron Board and Iron

Outdoor

Balcony, Beach Walking, Beachcombing, Biking, Boating, Boogie Boarding, Convenience Store, Deep Sea Fishing, Fishing, Hiking Trails, Internet Coffee Shop, Ocean Kayaking, Sight-Seeing, Snorkeling , Surfing, Swim at Ocean Beach, Swimming, Tennis Courts in Park, Wind Surfing, Lanai/Balcony, Heated saline pool, Swimming Pool
Similar properties:
Other properties you might be interested in.
Other Info
Additional information you might be interested in.
Parking

---

Transfer

For more info about transfer from Honolulu Airport.
Advice

For other useful advice.