Search
Property detail & price proposal
Reserve
Thank you
Four Paddle #1401
Corner unit with mountain view, full kitchen, AC, free Wi-Fi and one parking!
1 Bedroom(s) for 4 guests (max. 4)
2140 Kuhio Avenue #1401, Honolulu
Have questions?
Call us:
US: (808) 738‑5507
Canada: 1‑800‑854‑8843
OR: Use "Contact Us" form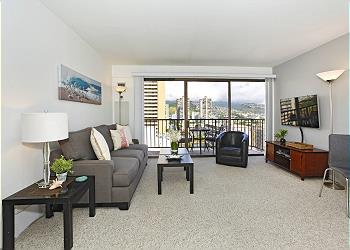 Description
Four Paddle #1401 - 2140 Kuhio Avenue
(30+ Night Minimum.) ALL MONTHLY RESERVATIONS ARE SUBJECT TO APPROVAL.

TRAVEL ADVISORY: U.S. domestic arrivals MUST have proper documentation of full vaccination against COVID-19 OR negative pre-travel test results within 72 hours prior to departure to Hawaii. International arrivals must be vaccinated AND tested. Please inquire for details.

POOL/JACUZZI/BBQ AREA + NOISE ALERT: The Four Paddle Exterior Renovation Project continues weekdays through March 31, 2022 (subject to change) from 8am-4:30pm and involves some jack-hammer/grinding noise which can reverberate throughout the building. The pool/jacuzzi/BBQ area is closed weekdays until 5pm and then open in the evenings and on weekends. The pool will be closed entirely for a period of time at some point in 2022.

City lights sparkle at night from the cool side of one of Waikiki's premier condominiums with stunning Ko'olau Mountain and Ala Wai Canal views. This well-equipped 14th floor one-bedroom condo (577 sq.ft. plus lanai) has central AC.

LIVING AREA:
- NEW Queen sleeper sofa
- 40" Flat screen TV and DVD player
- Dining table with 2 chairs

KITCHEN:
- Full kitchen with dishwasher
- Breakfast bar and two bar stools

BEDROOM:
- King bed
- 32" Flat screen TV

BATHROOM:
- Shower/tub combination with hand-held shower wand

Washer/dryer in condo, too!

Sorry, no pets. This non-smoking accommodation (including lanai/balcony) sleeps 4.

INCLUDED WITH YOUR RENTAL:
- FREE covered parking for one vehicle
- FREE Wi-Fi (60-200 Mbps download; 10 Mbps upload)
- FREE local calls and long distance calls to US mainland and Canada

RECREATION DECK:
- Saline Swimming Pool
- Hot Tub
- Saunas
- BBQ Area with Grills
- Sun Deck

Gourmet marketplace Dean & DeLuca is located just across the street at the Ritz-Carlton as is Island Market (open 6:30am-midnight) and the acclaimed high-end, 5-Star, Sushi Sho, the first location outside of Japan. You're also easy walking distance to Waikiki Beach Walk's shops and restaurants and just a ten minute walk to the beach!

FOR SAME-DAY RESERVATIONS CHECK-IN TIME IS GUARANTEED FOR 5PM.

CHECK-IN IS 3 p.m. – CHECK-OUT IS 11 a.m.
Since another guest may check out the same day you check in, to guarantee an earlier check-in, you must reserve the condo for the night prior to arrival.

ALL CAPTAIN COOK RESORTS RENTALS INCLUDE:
- Bed linens, bath, beach & kitchen towels
- Dishes, silverware, cookware (including tea kettle & rice cooker)
- Beach chairs
- Hair dryer, iron & ironing board
- Condos are sanitized using the state-of-the-art electrostatic spraying process prior to your arrival to give you and your family peace of mind during your vacation.
- Start-Up Supplies: coffee filters, laundry detergent, dish soap, dishwasher soap, bar soap, 2 oz. each of shampoo, conditioner, body wash and body lotion, paper towels, toilet paper, tissue, and basic cleaning supplies
- Sorry, we do not provide beach umbrellas, beach toys, aluminum foil, Ziploc baggies, coffee, condiments, seasonings, cooking oil, fabric softener, or bleach.

Hawaii Tax ID: TA-204-398-5920-01
Four Paddle #1401 - 2140 Kuhio Avenue
(30+ Night Minimum.) ALL MONTHLY RESERVATIONS ARE SUBJECT TO APPROVAL.
Address

2140 Kuhio Avenue #1401, Honolulu

Parking

Not all condos include free parking. Please see property Description above for details.

Floor

14

Elevator

Yes
Bathroom

1

Area

577 ft2

Beds

1 King, 1 Sleeper
Reviews
Recommended by
Trip Advisor
--
Waikiki Information
Waikiki Guide
Reviews for this property
Quiet, comfortable, clean unit.

Montgomery United States, 05. April 2021

Stayed for 70 days in January, 2021

We had a wonderful time, as always. The property manager was very responsive when we needed something.
This location is very quiet and ideally located.

Response from Captain Cook Real Estate

05. April 2021

Aloha! Thanks so much for leaving such a great 5 star review and reccomendation. Happy to have provided all of the needs you required for a wonderful vacation! It makes our day to know you appreciated the location and our dedicated staff was able to make your vacation from start to finish a wonderful experience. We look forward to welcoming you back in the near future.

34 nights @ The Four Paddles

Doug D. from Duncan Canada, 31. December 2019

Stayed for 34 days in November, 2019

Hawaii, is becoming quite expensive and having a full kitchen was important to us. We have been to Hawaii many times and found the people friendly & helpful.

Response from Captain Cook Real Estate

08. January 2020

Aloha and mahalo for taking the time to post a review and recommendation of this great condo. We're delighted you enjoyed your stay and appreciated the added value of a kitchen while on vacation! We look forward to welcoming you back in the near future.

COOK 1401

Paul F. from Troutdale United States, 19. November 2019

Stayed for 30 days in October, 2019

Very nice unit. Clean and well stocked. GREAT
MANAGEMENT TEAM !!

Response from Captain Cook Real Estate

21. November 2019

Aloha and Mahalo for the wonderful 5 star review! We are pleased that your stay was enjoyable and we met your expectations! Thank you very much for the positive comments. It's always encouraging when customers acknowledge the good work of our team. We look forward to seeing you again soon.

waikiki vacation

Kevin S. from Fairborn United States, 15. April 2019

Stayed for 30 days in February, 2019

a wonderful time in a wonderful place with wonderful weather, what more could a person want!!!

Response from Captain Cook Real Estate

17. April 2019

Mahalo, Kevin, for the great review! Hope you are able to plan a return trip soon!

Four Paddles 1401

Paul F. from Troutdale United States, 07. November 2018

Stayed for 30 days in October, 2018

Very nice unit. The kitchen is well equipped. Quiet location. Security is great.


Response from Captain Cook Real Estate

07. November 2018

Mahalo, for the wonderful 5 star review and recommendation! Hope you are able to plan a return trip soon!

fantastic great condo,facilities,location 5 stars

Soraya L. from Childers Australia, 15. July 2018

Stayed for 32 days in May, 2018

fantastic, great condo clean,spacious great views of mountain and sea,well appointed great place to stay second visit to four paddles hope to come back again,5 stars,thank you.

Response from Captain Cook Real Estate

16. July 2018

Welcome back to Four Paddle! Mahalo for the wonderful review the positive comments. It's always encouraging when customers acknowledge the good work of our team. We look forward to seeing you again soon.

Comfortable Condo, Great Location

Motonori M. from Osaka-shi Japan, 17. January 2018

Stayed for 20 days in December, 2017

This was my 6th stay with Captain Cook Resorts, 1st time in this unit. Paul was accommoda ting and responsive to all my needs. 1401 felt clean, bright, and comfortable on the quiet side of the building. Looking forward to staying in another great Captain Cook property in March. Mahalo!

Response from Captain Cook Real Estate

24. January 2018

Mahalo and Welcome Back to Captain Cook Resorts! We love hearing from our past guests, and are delighted to have received such a fantastic 5 star review and recommendation. We look forward to seeing you on your next visit in March!

accomodation Four Paddle 1401

Tania P. from Invercargill New Zealand, 13. June 2016

Stayed for 33 days in April, 2016

We recently stayed at four paddles room 1401 and were more than happy with the room and wonderful friendly service we received from Captain Cook.THe description of the property was very accurate and it was nice to have supplies when we arrived. The room itself was clean and comfortable and perfect for our stay of 33nights. The location is a bonus with a 10minute walk to the beach and a friendly ABC store 3minutes away, should you need some supplies. I would definitely recommend this property and hope to return in the future.

Response from Captain Cook Real Estate

13. June 2016

Mahalo, Tania! We appreciate the feedback!

Our stay in HI

John H. from Bel Aire United States, 17. March 2016

Stayed for 60 days in January, 2016

4. Paddle is a great place to stay

Response from Captain Cook Real Estate

18. March 2016

Mahalo, John! Let us know when you're able to return for another stay!

This place and the building are amazing.

Robert G. from Auburn United States, 31. January 2016

Stayed for 42 days in December, 2015

This room was amazing. The king size bed is super comfortable. All the amenities were modern and updated. The building location is ideal. Super close to great restaurants and a few blocks from the beach. I highly recommend staying here!!

Response from Captain Cook Real Estate

01. February 2016

Mahalo for the great review and recommendation, Robert!

A Happy Time at Four Paddle

Ottawa Canada, 27. November 2015

Stayed for 30 days in October, 2015

WYSIWYG. We had been at Four Paddle for 3 consecutive years and always wanted to return. We loved the condo for its location, its brightness and its amenities. Mr Paul Tucker is a great help. He got a perfect size rice cooker for us even though the condo already has 2 cookers; and a new king size bed! I guess whatever we need, Paul will try to meet our request. Thank you so much Paul. We are looking forward to seeing you again soon.

Response from Captain Cook Real Estate

30. November 2015

Mahalo for taking the time to share your recent experience at Four Paddle 1401! It's always great to get this kind of feedback - we're so glad you enjoyed your stay! We will pass your feedback onto your property manager, Paul; he's a real asset to the Captain Cook Resorts team!

Safe, Convenient, Excellent value! + tips

Ji S. from Montgomery United States, 04. November 2015

Stayed for 39 days in September, 2015

Enjoyed an amazing 6 weeks!! Way to go, keep up the excellence Captain Cook. Condo exceeded our every possible need; location, security, parking, views, accommodations, and amenities. The bedspread has changed but otherwise as pictured. Tips; When running dryer, point a fan to keep condo cool. When fridge or TV goes out, flip switch in breaker box. Head to the beach around 4, stay for sunset. Then, hot tub under moon. Would definitely return to same condo or any of Captain Cook's. Paul-many thanks for your attention and smiles.
Aloha

Response from Captain Cook Real Estate

06. November 2015

Mahalo for the great review! We appreciate your comments and look forward to hosting you on your next trip!

hawaii one

Selkirk Canada, 15. February 2015

Stayed for 43 days in December, 2014

staff helpful and friendly, great pool area, some kitchen shelves and cookware were unclean when reported problems solved very quickly, bathroom and kitchen floors needed more cleaning by myself on hands and knees.
Condo was well supplied with beach and pool stuff. Furniture beginning to show its well as kitchen counters, and cupboards and bathtub and shower. Hope this info is helpful. Sorry for the delay in replying

Response from Captain Cook Real Estate

19. February 2015

Mahalo for posting a review of your recent stay and for alerting us of the cleaning issue you encountered. We hope you contacted your property manager about this as our motto is, "If you're not satisfied with your accommodations, please let us know right away so we can make it right!" We are committed to doing all we can to earn your repeat business. Hope you're able to plan a return visit soon!

Great time at The Four Paddle.

Ottawa Canada, 26. November 2014

Stayed for 30 days in October, 2014

WYSIWYG. Great location, great view of the mountains and the canal. A bit of sea view. The apt is very clean and bright. The kitchen is very well equipped. Would like to see a better mattress, and hopefully next time we will have a king size bed. We left behind two beach chairs for next year as we already booked for a return :-)

Sleepless at Four Paddle

Phoenix United States, 10. April 2014

Stayed for 77 days in January, 2014

The property was very much as pictured and overall, it was comfortable. I stayed for 2 months. The owners did a nice job of equipping the unit with supplies that you would need (like roach spray for the cockroaches). It was a corner unit and there was very little noise from neighbors and the view was decent. However, there were two frustrating aspects of staying here. The first was that there is a constant tone or humming sound that you can hear day and night from the unit. In fact, several units in this building have the same issue (based on conversations with other tenants). It appears to come from some equipment on the ground floor and this sound somehow travels up to the 14th floor. At night, the only way I could sleep was to use a sound machine and a fan that I found in the closet to create a lot of white noise to block out the sound. The other frustrating experience was the TV in the living room (there is one in the bedroom as well). It kept losing the signal if there was any power outage, etc. Then you had to be a computer programmer to figure out how to get it to come back up. I had to reprogram it at least six times in 8 weeks and by the end, could not get it to come on at all. Ironically, the construction project across the street did not create any noise at all, not that I could hear it over the humming sound. I would only rent this unit to someone who is hearing impaired who cannot hear the constant tone.

Response from Captain Cook Real Estate

11. April 2014

Aloha and thank you for sharing your comments regarding your recent stay. We're sorry you were bothered by the noise. Urban noise, whether from machinery or traffic, people, etc. can be distracting if you're not used to it. Usually, closing the doors and utilizing the air-conditioning creates a peaceful atmosphere. The property manager relayed that you contacted him once regarding the signal/electrical problem - and he thought it had been resolved. Had you notified us the problem was ongoing, we would have sought resolution immediately. Thank you for bringing this to our attention. Your friends at Captain Cook Resorts
Check-In/Out
Check-In Time
From 3:00 PM ( 15:00 )
Check-Out Time
By 11:00 AM ( 11:00 )
Personal check in
...
More info on check-in/out
Amenities
Amenities
Amenities
List of amenities in this specific property
List of amenities in this specific property
Business

Near Restaurants and Shops, Nearby ATM, Nearby Post Office

Convenience

Area Fitness Center, Convenience Store Nearby, Medical Services Nearby, Nearby Bus Stop, Nearby Grocery, Outlet Shopping, Shopping

Culture

Military Base, Museums, Theatre

Entertainment

Cable Television, DVD Player, Flat Screen TV , Flat screen TV in Bedroom, Free US/Local/Canada calls

Family

Library, Movie Theatre, Near Beach, Near Zoo and Kapiolani Park, Surfing Lessons, Waikiki Aquarium

General amenity

Elevator, Free Wi-Fi, Hair Dryer, Internet, Iron & Board, Linens Provided, Towels Provided, Wifi, Wifi Speed 100+ Mbps

Geographic

Close to Beach, Kapiolani Park Tennis Courts, Near Ala Moana Park Tennis Court, Near Ala Moana Shopping Center, Near Best Surfing in Waikiki, Near Waikiki Aquarium, Near Zoo and Kapiolani Park, Partial Ocean View, Short Walk to Beach

Health and safety

Clean with disinfectant, Enhanced cleaning practices, High touch surfaces cleaned with disinfectant, No-contact check-in and check-out, Towels and bedding washed in water that's at least 60sC/140sF

Kitchen

Blender, Coffee Maker, Cookware, dishes, utensils, Dishes & Utensils, Dishes & Utensils for Kids, Dishwasher, Four Burner Glass Cook Top, Kitchen, Microwave, Oven, Refrigerator, Rice Cooker, Stove, Tea Pot - Kettle, Toaster, Washer & Dryer
Leisure activities

-, beachcombing, luaus, scenic drives, whale watching

Living

Access Bathroom from Living Area, Air Conditioning (Central), Balcony/Lanai, Bed linens, towels, beach towels, Central Air, Clock Radio, DVD, FREE Onsite Parking, FREE Wi-Fi / High Speed Internet, Flat Screen TV, Full Sleeper Sofa, Full kitchen with dishwasher, Hair Dryer, Hand-Held Shower, Iron and Ironing Board, Ironing Board and Iron, Lanai / Balcony, No Smoking, Parking Included, Vacuum Cleaner, Washer/Dryer

Location type

Beach

Outdoor

-, BBQ, Beach Walking, Beachcombing, Biking, Boating, Boogie Boarding, Fishing, Gas Grill, Hiking, Lanai/Balcony, Recreation Area - BBQ Grill, Saline Swimming Pool, Sauna, Snorkeling , Surfing, Swim at Ocean Beach, Swimming, Swimming Pool, Tennis Courts in Park, Wind Surfing

Safety

Fire extinguisher, Smoke detectors

Suitability

non smoking only, pets not allowed

Suitability

Minimum Age Limit for Renters
Other Info
Additional information you might be interested in