Search
Property detail & price proposal
Reserve
Thank you
Four Paddle #1804
Partial Ocean and sunset views from this modern, high floor 1-bedroom condo!
1 Bedrooms for 3 guests (max. 3)
2140 Kuhio Avenue #1804, Honolulu
Contact a rental agent
Call us
US 808-738-5507
Canada 1-800-854-8843
or use Contact Us form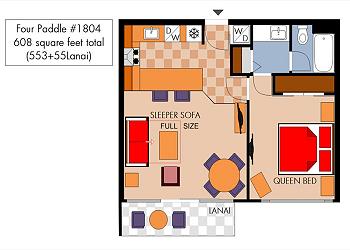 Description
Four Paddle #1804 - (30-night minimum) ALL MONTHLY RESERVATIONS ARE SUBJECT TO APPROVAL.

TRAVEL ALERT: Travelers must have negative COVID-19 test results (from a trusted testing partner) in hand PRIOR TO DEPARTURE. Without test results, you will be subject to quarantine (which can only be done in a hotel or a vacation rental of 30 or more days). No exceptions.

NOISE ALERT: The Exterior Building Renovation Project is underway (8 am-4:30 pm Mon-Fri) and is expected to continue for 18 months (subject to change). Work involves periodic loud jack hammering and grinding noise and lanais may be inaccessible at times. Compensation will be provided for noise and lanai closures at time of stay. Also, a new fire alarm system is being installed with work in the trash chute rooms Mon-Fri (8am to 4pm) and will include intermittent loud concrete drilling. The project is expected to continue through July/August 2021. Units closest to the trash chutes will experience the most noise (702, 1001, 1103, 1305, 1401, 1703,1704, 1804, 2302, 2402, and 2405).

You'll be wowed when you enter this beautifully upgraded one-bedroom condo (553 sq.ft. plus lanai) with central AC. Colorful artwork and white leather décor provide a striking contrast to the panoramic blues of the Pacific Ocean outside (partial ocean view).

LIVING AREA:
- 65" Smart Flat-Screen HD TV, streaming video with Google and Apple TV
- 5.1 Surround System
- Wireless keyboard
- All Region DVD player
- Full-size sleeper sofa
- Washer/dryer

KITCHEN:
- This well-appointed kitchen (with dishwasher and breakfast bar) has everything from Henckels knives to Cuisinart and Kenmore Elite appliances.

BEDROOM:
- Queen bed
- 40" TV

BATHROOM:
- Shower/tub with hand-held shower wand
- Toto washlet commode

INCLUDED WITH YOUR RENTAL:
- FREE WiFi (60-200 megabytes per second download; 10 upload)
- FREE covered parking for one vehicle
- FREE local calls and long distance to the US Mainland and Canada.

RECREATION DECK:
- Saline Swimming Pool
- Hot Tub
- Saunas
- BBQ Area with Grills
- Sun Deck

Gourmet marketplace Dean & DeLuca is located just across the street at the Ritz-Carlton as is Island Market (open 6:30am-midnight) and the acclaimed high-end, 5-Star, Sushi Sho, the first location outside of Japan. You're also easy walking distance to Waikiki Beach Walk's shops and restaurants and just a ten minute walk to the beach!

Available for stays of 30 days or more, this non-smoking accommodation sleeps 4.

CHECK-IN TIME FOR SAME-DAY RESERVATIONS IS GUARANTEED FOR 5PM.

CHECK-IN IS 3 p.m. – CHECK-OUT IS 11 a.m.
Since another guest may check out the same day you check in, to guarantee an earlier check-in, you must reserve the condo for the night prior to arrival.

ALL CAPTAIN COOK RESORTS RENTALS INCLUDE:
- Bed linens, bath, beach & kitchen towels
- Dishes, silverware, cookware (including tea kettle & rice cooker)
- Beach chairs
- Hair dryer, iron & ironing board
- Condos are sanitized using the state-of-the-art electrostatic spraying process prior to your arrival to give you and your family peace of mind during your vacation.
- Start-Up Supplies: coffee filters, laundry detergent, dish soap, dishwasher soap, bar soap, 2 oz. each of shampoo, conditioner, body wash and body lotion, paper towels, toilet paper, tissue, and basic cleaning supplies
- Sorry, we do not provide beach umbrellas, beach toys, aluminum foil, zip-Lock baggies, coffee, condiments, seasonings, cooking oil, fabric softener, or bleach.

Hawaii Tax ID TA-161-825-3824-01
Four Paddle 1804 - 2140 Kuhio Avenue
(30-night minimum) ALL MONTHLY RESERVATIONS ARE SUBJECT TO APPROVAL.
Address

2140 Kuhio Avenue #1804, Honolulu

Parking

Not all condos include free parking. Please see description for details.

Floor

18

Elevator

Yes
Bathroom

1

Area

553 ft2

Beds

1 Queen, 1 Sleeper
Reviews
recommended by
Trip Advisor
--
Waikiki Information
Waikiki Guide
Reviews for this property
Great view /enjoyed the building

Michael K. from Kirkland United States, 10. January 2021

Stayed for 31 days in December, 2020

Unit 1804 at Four Paddle was a good value for our stay during the holiday season. We really enjoyed the view and the balcony. The building is well kept and it is a nice walk through the park to the beach. Many restaurants were within walking distance

Response from Captain Cook Real Estate

10. January 2021

Mahalo for taking the time to post a review and recomendation! So glad to hear you enjoyed your Holiday in this great condo! We look forward to your next visit!

Work trip

Jacob O. from Milwaukee United States, 11. June 2020

Stayed for 75 days in March, 2020

On island 6 weeks captain cook was great.

Response from Captain Cook Real Estate

12. June 2020

Aloha and Mahalo for the wonderful 5 star review! We are pleased that your stay was enjoyable and we met your expectations during your extended work trip. We look forward to welcoming you back in the near future.

Great

Yuuji S. from Hakodate Japan, 28. November 2019

Stayed for 30 days in October, 2019

It's so good and amazing places

Response from Captain Cook Real Estate

30. November 2019

Mahalo, for the wonderful review! Hope you are able to plan a return trip soon!

Close Clean and Convenient

Victoria Canada, 04. May 2019

Stayed for 30 days in April, 2019

This unit was close to the beach, clean as any traveler would hope and convenient to everything, stores of all kinds, groceries, entertainment and nightlife.

Response from Captain Cook Real Estate

06. May 2019

Mahalo for the positive comments and recommendation! We look forward to seeing you on your next visit!

Great accommodation and view

Terry S. from Vancouver Canada, 16. March 2019

Stayed for 30 days in February, 2019

Enjoyed this suite, the view is fantastic. Location is excellent. Fully equipped kitchen was great. The TV was difficult to operate and the sofa was not comfortable.

Response from Captain Cook Real Estate

18. March 2019

Aloha and mahalo for taking the time to post a review about your recent stay. We're glad you enjoyed your stay and appreciated the fantastic views! We are sorry to hear you didn't find the sofa sleeper as comfortable as you would like. I will pass your comments on to your property manager to investigate the concerns you raised. Your friends at Captain Cook Resorts

Four Paddle 1804

Brenda C. from Grassy Lake Canada, 06. April 2018

Stayed for 32 days in March, 2018

We were pretty pleased with this unit. It has a reasonable view of the ocean & park between the Ritz towers. Construction was a bit noisy at times, but it gave us something to watch from the lanai, when we were in the room, which was not very often. The room itself is well stocked, from the kitchen cupboards, cleaning supplies, bathroom supplies & towels, beach towels, lots of closet & dresser storage. We found everything to be very clean upon arrival. Kitchen stools are showing wear. WiFi was very weak making it hard to use devices. We mentioned this to Paul, the property manager, & he was looking into making changes. We had an issue with the AC, but Paul came right over to handle it. Great service from this guy!!
Overall a great stay. Have been staying in Four Paddles for 4 years now. Looking forward to returning again!

Response from Captain Cook Real Estate

09. April 2018

Aloha and welcome back! Thank you for taking the time to post a great detailed review and recommendation! It's always great to get this kind of feedback - we're so glad you enjoyed your stay! We will pass your comments on to your property manager, Paul; he's a real asset to the Captain Cook Resorts team! We look forward to seeing you on your next visit!

Modern one bedroom unit in secure building

Cenek V. from Calgary Canada, 05. March 2018

Stayed for 30 days in February, 2018

We've enjoyed our one month stay in this modern and colorfully decorated one bedroom unit. With well organized kitchen it was easy to prepare and serve many great meals. The unit's dishwasher, washer and dryer made it all so convenient. We were also given a new vacuum cleaner which helped to our carpets spotless.
The only reason I did not give this unit all 5 stars was the very noisy construction going just across the street. The timing of our stay unfortunately coincided with the heavy metal noises of dismounting of huge construction crane. The work went on for 6 days of every week, starting at 7:am and stopping around 6:00pm. The white noise machine supplied by the management helped somehow to mask the sharpest noises of metal banging.I appreciate all the help we've received from the management. They are tried their best to make our stay pleasant.
It looks that the noisiest part of the construction will be soon over. I hope......

Response from Captain Cook Real Estate

07. March 2018

Mahalo for posting such a detailed review and recommendation of your recent stay! We're delighted you enjoyed and appreciated this fabulous condo! We are sorry about the construction noise you encountered, unfortunately we cannot guarantee the type consturction or thier schedule. We do have a renovation notice on our website so all guests have this information to consider when making a reservation choice. I will pass your feedback onto the team, and we look forward to your next visit!

Just as advertised

Megan L. from Kailua United States, 28. June 2017

Stayed for 44 days in April, 2017

This was a great rental in Waikiki. The property was just as advertised. It was well appointed and in a great location. I had two issues/questions during my stay, and the management was very helpful and handled each issue with great speed. I have no qualms recommending this place for your extended stay.

Response from Captain Cook Real Estate

28. June 2017

Mahalo for choosing to stay with Captain Cook Resorts and the great 5 star review and recommendation! We're so glad your visit was enjoyable and look forward to seeing you again.

great vacation spot

Bernie Q. from Victoria United States, 01. April 2016

Stayed for 76 days in January, 2016

over all every thing was good except bed too small needs king size and rug needs to be replaced.

Response from Captain Cook Real Estate

06. April 2016

Mahalo, Bernie! We appreciate our repeat guests! Looking forward to your visit next year!

Noisy but Nice

Victoria Canada, 07. February 2016

Stayed for 41 days in November, 2015

This condo is as pictured. Well equipped and comfortable. We loved it! If you like to cook, this condo has high end " everything!"
The view is beautiful. The condo is nicely appointed and we enjoyed the stylish decor.
The construction site across street is busy & quite noisy from early morning till
dinner. We spend much time outdoors during day which solves the problem.
We were very impressed with Captain Cook Managment. From booking with Barbara to check in with Paul, we were impressed. Paul met us at condo when we checked in and he was helpful, friendly and professional. We had 2 small issues which he handled immediately.
I would make one recommendation for condo and that would be to remove the once white carpet. Would we book this Unit again.....yes.

Response from Captain Cook Real Estate

11. February 2016

Mahalo, Chris! Glad you enjoyed your stay in this beautiful condo! We look forward to hosting you again on your next visit!

Chris's Review of 1804

Chris T. from Cincinnati United States, 19. November 2015

Stayed for 55 days in September, 2015

The rental experience overall was good except for the daylight til dusk work going on across the street where they are building the new hotel.

Response from Captain Cook Real Estate

19. November 2015

Mahalo, Chris, for the review and recommendation. The notice of the construction across the street was posted on our website prior to your booking and the pricing reflected discounts based on the inconvenience. We're happy to see you've booked the same condo for next year! See you then!

????????????

Atsuko K. from Kitakyushu Japan, 23. August 2015

Stayed for 30 days in July, 2015

???????????
?????????????????????
????????????????????

?????????????????????
Kazuyo????????????????????
????????????????????????
???????????

Response from Captain Cook Real Estate

24. August 2015

Mahalo for the great review and recommendation! Unfortunately, our system doesn't recognize the Japanese yet, but we are so glad you enjoyed your stay in this beautiful condo!

very good

Bernie Q. from Victoria United States, 03. April 2015

Stayed for 74 days in January, 2015

over all very good

Response from Captain Cook Real Estate

07. April 2015

Mahalo for the positive comments and recommendation!

Great Experience

Robert S. from Miami United States, 14. April 2014

Stayed for 31 days in February, 2014

31 night stay was just like living there. Appliances and utensils were all 1st class, view was amazing however its a shame that it is about to be built out by construction works across the road. Construction still at ground level during our stay, was a bit noisy with the windows open, however it was quite interesting to watch the works during the day.Captain Cook agency was very obliging and easy to work with. Felt very safe and secure in the building. The bath tub was initially slow in draining, however materials in the unit soon cleared that. One of the better places we have stayed and would definitely recommend, even when the view is eventually gone.

Response from Captain Cook Real Estate

16. April 2014

Aloha and thank you for posting a review of your 31-night stay! We're glad you enjoyed your stay and that it felt like home for you! Four Paddle will continue to be a return-guest favorite, even when construction is completed across the street! Your friends at Captain Cook Resorts

2nd time I've stayed here

Kit O. from Grand Junction United States, 27. February 2014

Stayed for 38 days in January, 2014

Nice unit. Very modern and well equipped, especially the kitchen and the audio-video equipment. I like the location of the Four Paddle. Construction going on across the street and I was a bit concerned about that, but I found it interesting and enjoyed watching. Too bad the new building being built will ruin the ocean view.

Nice condo

Hazel L. from Surrey Canada, 19. March 2013

Stayed for 81 days in December, 2012

Nicely furnished condo with well equipped kitchen in clean , secure building. Close to everything , including buses, beaches and restaurants. The building is located on a busy street, so it can get a little noisy, but you can't beat the convenience. Captain Cook staff helpful and friendly, as always!

Clean, quiet unit in a great location

Monica K. from Chicago United States, 26. November 2012

Stayed for 30 days in October, 2012

I stayed here for 3 weeks while in Honolulu for work, and it's a perfect spot for 2 people. The unit is very clean and the furniture is very comfortable. The location is great - it's close enough to restaurants and the main strip in Waikiki but the building itself is quiet. This unit is right in front of the elevator, but i didn't find this to be a problem. Parking spot is super convenient.

There is no such blanket in the room, was very cold.

ohta-ku Japan, 16. April 2012

Stayed for 38 days in March, 2012

Located a few minutes to the beach and even into the heart of Waikiki, it was very convenient.

Response from Captain Cook Real Estate

16. April 2012

We encourage our guests to notify us immediately for any problems they might be having. We are not sure why the room was very cold. There is an automatic central air conditioner control in the room as well as a nice expensive blanket in the closet.

Four Paddle 1804 November 2011

Centennial United States, 31. March 2012

Stayed for 30 days in November, 2011

Overall We had a good month at this property. We had several problems however. 1. The building plumbing is such that when work needs to be done on a particular stack (eg all "04" units from top to bottom) they have to shut off the water to all "04" units in the building for a morning. It happened that we had no water every Thursday morning. 2. Construction was being done on the unit below with a hammer drill on the concrete. The noise made our unit uninhabitable periodically. 3. The bathroom sink did not drain properly. 4. The lighting in the unit is poor. People who can take the time to spend a month here are likely to be older/retired like us. We would rather read at night than boogie in Waikiki. The lamp at one end of the sofa is so small as to be worthless and the other end has no light at all. The"crain neck" overhead lamp is only good if you like an interrogation atmosphere - we never used it so the living room was poorly lit. Aside from these four items, we had a good stay and would recommend this place to others.

Response from Captain Cook Real Estate

01. April 2012

It was unfortunate about the water shut-offs and construction below. We will address the lighting situation. If we would have known about this, something could have been done right away. We always encourage our guests to contact us immediately about such matters. The owner is very receptive to suggested improvements.

This is a nice condo.

Kit O. from Grand Junction United States, 20. March 2012

Stayed for 60 days in January, 2012

I spent 2 months in this unit this winter. I have stayed at the Four Paddle building several times in the past and I like the location. This particular unit is nicely furnished and equiped with everything you'll need. It was clean and the view is great.

The condo is equiped with all sorts of electronic gismos; wifi conection, free long-distance, two HDTV's, a surround sound system, Apple i-TV box and an i-device docking station. Being a techie, I enjoyed all this. The only problem is the tv cable subscription is for basic analog service forget about watching any high-definition programing on those fancy HDTV's, bummer. That was my only complaint. This probably wouldn't matter to most people, as most don't go to Hawaii to spend thier time watching TV anyway.

Great place!

Cristina R. from Moon Township United States, 07. November 2011

Stayed for 30 days in September, 2011

This is a great, quiet apartment, gorgeous view of ocean, great location next to good restaurants and stores. Beautiful modern interior, furnishings and very up-to date electronics. I would come back stay here anytime.

??????????????

NORIKO A. from Gifu Japan, 16. July 2011

Stayed for 31 days in May, 2011

?????????????????????????????????????????????????????????????????????????????????????????????????????????????????????????????????????????????????????????1???????????????????????????????????????????????????????????????????

Response from Captain Cook Real Estate

29. July 2011

Guest may be non-English speaking?
Check in / out
Check in time
Check in after 3pm - 3:00 PM (- )
Check out time
Check out by 11am- 11:00 AM (- )
Personal check in
...
More info on check-in/out
Amenities
Amenities
Amenities
List of amenities in this specific property
List of amenities in this specific property
Business

Near Restaurants and Shops, Nearby ATM, Nearby Post Office

Convenience

Convenience Store Nearby, Medical Services Nearby, Nearby Bus Stop, Nearby Grocery, Outlet Shopping, Shopping

Culture

Free Concerts in Parks, Military Base, Museums, Theatre

Entertainment

Blu-ray DVD with Wi-Fi, Cable Television, DVD Player, Flat Screen TV , Flat screen TV in Bedroom, Free US Mainland/Local LD

Family

Kapiolani Park and Beach, Library, Movie Theatre, Near Beach, Near Zoo and Kapiolani Park, Sunset on the Beach Movies, Surfing Lessons, Waikiki Aquarium

Geographic

Close to Beach, Exceptional Sunsets, Exceptional Views, Kapiolani Park Tennis Courts, Near Ala Moana Park Tennis Court, Near Ala Moana Shopping Center, Near Best Surfing in Waikiki, Near Sunset on the Beach, Near Waikiki Aquarium, Partial Ocean View, Short Walk to Beach

Health and safety

Clean with disinfectant, Enhanced cleaning practices, High touch surfaces cleaned with disinfectant, No-contact check-in and check-out, Towels and bedding washed in water that's at least 60sC/140sF
Kitchen

Blender, Coffee Maker, Cookware, dishes, utensils, Dishwasher, Ice Maker, Microwave, Oven, Refrigerator, Rice Cooker, Stove, Tea Pot - Kettle, Toaster, Washer & Dryer

Living

Access Bathroom from Living Area, Air Conditioning (Central), Balcony/Lanai, Bed linens, towels, beach towels, Blu-ray DVD player with Wi-Fi, Central Air, Clock Radio, DVD, FREE Onsite Parking, FREE WiFi / High Speed Internet, Flat Screen TV, Full kitchen with dishwasher, Hair Dryer, Hand-Held Shower, Iron Board and Iron, Iron and Ironing Board, Lanai / Balcony, No Smoking, Parking Included, Queen Sleeper Sofa, Toto Washlet, Vacuum Cleaner, Washer/Dryer

Outdoor

-, BBQ, Beach Walking, Beachcombing, Bicycle, Biking, Boogie Boarding, Deep Sea Fishing, Fishing, Hiking, Hot Tub, Recreation Area - BBQ Grill, Saline Swimming Pool, Snorkeling , Surfing, Swim at Ocean Beach, Swimming Pool, Tennis Courts in Park, Wind Surfing

Suitability

non smoking only
Other Info
Additional information you might be interested in.
Parking

Not all condos include free parking. Please see description for details.

Transfer

For more info about transfer from Honolulu Airport.
Advice

For other useful advice.