Search
Property detail & price proposal
Reserve
Thank you
Ilikai #1944
Panoramic Ocean Views Remodel - FREE Parking/Wi-Fi, AC, Washlet, Sleeps 6
2 Bedrooms for 6 guests (max. 6)
1777 Ala Moana Boulevard #1944, Honolulu
Contact a rental agent
Call us
US 808-738-5507
Canada 1-800-854-8843
or use Contact Us form
Video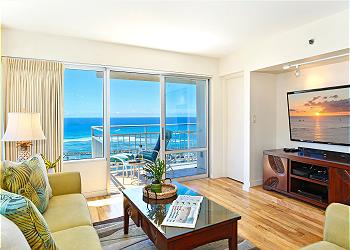 Description
Ilikai #1944 - 1777 Ala Moana Blvd (3-night minimum)

TRAVEL ADVISORY: Travelers who have been fully vaccinated in the United States may bypass quarantine without a pre-travel test by uploading their vaccination record to the Safe Travels or printed out prior to departure and hard copy in hand when arriving in Hawai'i. ALL OTHERS must still pre-test or quarantine. Please inquire for more info.

Enjoy luxurious high-end ocean-view living in this beautiful condo at the world famous ILIKAI, made famous by the TV show, Hawaii 5-0.

This 19th floor corner unit boasts magnificent views of the Pacific Ocean, the Duke Kahanamoku Lagoon and Waikiki Beach!

THE DETAILS:
- 2-Bedrooms/2-Baths
- 1000 square feet plus 2 balconies (lanais)
- Whisper-quiet split A/C system throughout
- Mango wood flooring from the Big Island in the main living/sleeping areas
- Stunning ocean views from the living room, main bedroom and both lanais where you'll have front row seats to spectacular sunsets and Friday night fireworks!

LIVING/DINING AREA:
- Queen sofa sleeper (with NEW memory foam mattress)
- 60" flat screen Smart TV (with Blu-ray player and FREE Netflix movies!) and Bluetooth Soundbar speakers
- Dining table seats 4 with seating for 2 more at the breakfast bar
- Al fresco dining for 4 on the lanai adjacent to the dining room!

KITCHEN:
- Full kitchen with granite counters and breakfast bar
- JennAir convection oven and cook top, dishwasher, microwave, and stainless steel refrigerator.

MAIN BEDROOM & BATH:
- Comfy Queen bed
- 42" Flat Screen TV
- Ocean-facing lanai
- Ensuite bath has a large walk-in shower with hand-held shower wand
- Dual sink vanity
- Toto washlet toilet

GUEST BEDROOM:
- Pocket door closes off room
- 2 twin beds (can be made up as a king)
- 42" Flat Screen TV

GUEST BATH:
- Shower (no tub) with hand-held wand
- Toto washlet toilet

YOUR RENTAL INCLUDES:
- FREE designated onsite parking for one vehicle (a BIG bonus!)
- FREE Wi-Fi (60-200 Mbps download; 10 Mbps upload)
- FREE local calls, and long distance calls to Canada and the US mainland
- NO RESORT FEES!

Sorry, no pets. This non-smoking accommodation (including balconies/lanais) sleeps up to 6 people.

During our Holiday Season (12/20-1/4) there may be a 7 night minimum.

ILIKAI AMENITIES INCLUDE:
- Wading Pool (Hours: 8:00am to 4pm)
- Heated Main Pool (Hours: 7:00am - 7:00pm)
- Coin-Op Laundry facilities on each floor
- Waikiki Beach and the Duke Kahanamoku Lagoon (open to the public) are accessible via the exclusive beach access walkway
- Ilikai's Tiki Torch lighting ceremony every sunset
- FREE Hawaiian music Fridays & Sundays on the Ilikai courtyard
- And don't forget those spectacular Friday night fireworks right outside your window!

There are many great shops and dining establishments right on property and it's an easy walk, trolley or taxi ride to many other exciting shops, restaurants, and entertainment venues! Ala Moana Center and Beach Park are nearby - just a 10-15 minute walk away!

CHECK-IN IS 3 p.m. – CHECK-OUT IS 11 a.m.
Since another guest may check out the same day you check in, to guarantee an earlier check-in, you must reserve the condo for the night prior to arrival.

ALL CAPTAIN COOK RESORTS RENTALS INCLUDE:
- Bed linens, bath, beach & kitchen towels
- Dishes, silverware, cookware (including tea kettle & rice cooker)
- Beach chairs
- Hair dryer, iron & ironing board
- Condos are sanitized using the state-of-the-art electrostatic spraying process prior to your arrival to give you and your family peace of mind during your vacation.
- Start-Up Supplies: coffee filters, laundry detergent, dish soap, dishwasher soap, bar soap, 2 oz. each of shampoo, conditioner, body wash and body lotion, paper towels, toilet paper, tissue, and basic cleaning supplies
- Sorry, we do not provide beach umbrellas, beach toys, aluminum foil, Ziploc baggies, coffee, condiments, seasonings, cooking oil, fabric softener

Hawaii Tax ID: TA-028-337-356
Address

1777 Ala Moana Boulevard #1944, Honolulu

Parking

Not all condos include free parking. Please see description for details.

Floor

19

Elevator

Yes
Bathroom

2

Area

1000 ft2

Beds

1 Queen, 2 Twin, 1 Sleeper
Reviews
recommended by
Trip Advisor
--
Waikiki Information
Waikiki Guide
Reviews for this property
Great Stay!

Tenafly US, 07. September 2021

Stayed for 5 days in August, 2021

The "good": (1) location - very short walk to Waikiki beach! (2) great breeze! (3) wonderful views! The "bad": (1) parking garage has very small parking spaces; and (2) air conditioning does not really work.

Response from Captain Cook Real Estate

08. September 2021

Aloha! Thanks so much for leaving a great 5 star review. We are delighted that you enjoyed your stay and the convenient location of this fabulous condo! Parking is at a premium in Waikiki, and can seem more confined than what some guests are accustomed to on the mainland. Your property manager will investigate the concerns you have raised.with the air conditioning - thank you for bringing it to our attention. We look forward to welcoming you back on your next Waikiki visit.

An Awesome View!

Ana C. from St Augustine US, 15. August 2021

Stayed for 5 days in July, 2021

We had a wonderful stay. The view was awesome and having 2 huge patios were great for splitting between the young adults and not so young adults :). The place was roomy enough for our family and it was nice to walk to the beach in the morning. Our boys enjoyed surfing. It was also really nice to have a parking spot and not have to worry where to park. Great location! Great host!

Response from Captain Cook Real Estate

15. August 2021

Mahalo for the 5-star review, and feedback! So glad to hear you and your family enjoyed your stay in this great condo! It was our pleasure to be your host and hope you are able to plan another stay with Captain Cook Resorts soon!

Great Condo & Great Location

Connie C. from Bessemer United States, 09. July 2021

Stayed for 7 days in June, 2021

We thoroughly enjoyed ourselves in this condo. The view is BEAUTIFUL, the location is great...right in the middle of everything. The condo was clean (with the exception of the toilets...I think they could be cleaned inside better) but other than that, everything was great. I would definitely return! The manager Paul was very nice and helpful also! Can't wait to come back one day! :)

Response from Captain Cook Real Estate

09. July 2021

Aloha and mahalo for taking the time to post a review and recommendation of this fabulous condo. We're delighted you enjoyed your stay! It's great to know you appreciated the free parking, beautiful views, and location of this great condo. We look forward to welcoming you back in the near future.

Awesome place to stay!

Michelle T. from Santa Monica US, 16. April 2021

Stayed for 4 days in April, 2021

Everything was as it was in the pictures and was convenient to a lot of places for activities.

Response from Captain Cook Real Estate

16. April 2021

Mahalo for taking the time to post a 5 star review and recommendation of your vacation experience. We're glad you enjoyed your stay and we met your expectations! We will look forward to seeing you on your next visit!

Hawaii

Ronald C. from Livonia United States, 07. April 2021

Stayed for 8 days in March, 2021

Good

Response from Captain Cook Real Estate

07. April 2021

Mahalo, for choosing to stay with Captain Cook Resorts during your recent visit to Hawaii. We're so glad you enjoyed your stay. We hope to see you on your next visit!

Christmas in Hawaii

DOUGLAS C. from West Cape May US, 04. January 2021

Stayed for 9 days in December, 2020

We had a wonderful time at the Ilikai
We loved the view from the 19th floor
The amenities were good- not having a washer and dryer in the unit was a negative - especially to dry towels etc,,
And the 2.50 cost for washer and dryer was a negative



Response from Captain Cook Real Estate

04. January 2021

Aloha and mahalo for taking the time to post a review and recommendation of this fabulous condo. We're delighted you enjoyed your stay and appreciated the amazing ocean views and amenities! I will pass your feedback onto the team, and we look forward to your next visit!

Beautiful view

Chantelle K. from Lewisville United States, 01. December 2020

Stayed for 7 days in November, 2020

The view was amazing, we enjoyed sitting on the balcony and watching the surfers and sunset. The place was just as advertised and very comfortable for our family to spend Thanksgiving. The kitchen has everything you could need to cook. Paul from the resort was wonderful and available with a few extra items I asked for.

Response from Captain Cook Real Estate

01. December 2020

Mahalo, for the 5 star review! We're so glad you enjoyed your stay and pleased that you took advantage of the balcony and ocean views of this fabulous condo! Mahalo for choosing to stay with Captain Cook Resorts and we look forward to welcoming you back on your next visit

Beautiful views but broken AC (which Captain Cook made up for)

Joyce Z. from Cupertino United States, 10. November 2020

Stayed for 8 days in October, 2020

Pros: amazing ocean view, comfortable and clean apartment, keyless entry, comes with a parking spot in the garage, lots of beach towels to use

Cons: broken AC for 8 days straight (the manager did contact us to make it right by offering a discount), no hand soap available

Response from Captain Cook Real Estate

11. November 2020

Mahalo, for the lovely review and for choosing to stay with Captain Cook Resorts during your recent visit to Waikiki. We're so glad you enjoyed your stay and pleased that you appreciated the amazing ocean view, keyless entry and free parking of this great condo! As stated in our online FAQ's each rental includes individually wrapped bar soaps, we do not provide liquid hand soap. We apologize for the problems you encountered with the A/C. .We were waiting on a part from the mainland. We have since replaced the entire A/C system which is brand new in the living room and master bedroom. We understand how frustrating it may be when things don't go as planned and we appreciate your understanding of the situation and our offered discount. We look forward to your next visit!

Best time

Alexandra V. from San Francisco United States, 24. October 2020

Stayed for 36 days in September, 2020

I stayed with my 3 kids and it was perfect. The place was clean and beautifully furnished. The kitchen had everything we needed for over a month stay. It's a great building with a market in the lobby for your convenience and an awesome ice cream shop. We enjoyed the Lanai everyday. The property manager Paul was very helpful and prompt when we had a couple of issues. He was very welcoming, friendly and efficient. It's walking distance to Ala Moana Shopping Center ( 10 min ). It's about 20 min walk to Waikiki Beach. There's also a Beach right across the street in front of Hilton Garden Village. The property management was top notch in communicating and accommodating our needs. We absolutely enjoyed our stay here and would come back again someday.

Response from Captain Cook Real Estate

24. October 2020

Aloha and mahalo for taking the time to post a 5 star review and recommendation of this fabulous condo. We're delighted you enjoyed your stay and met all of the needs you required. It makes our day to know you appreciated the lanai, convenient location and that our dedicated staff made your visit a wonderful experience. We look forward to welcoming you back in the near future.

Happy in Hawaii

Brenda L. from Langley CA, 12. January 2020

Stayed for 7 days in January, 2020

Terrific communication from Captain Cook prior to trip as well as during. Easy instructions on how to access our rental unit. We were met at our unit by manager (Paul) who walked us through the space. It was perfect!

Response from Captain Cook Real Estate

13. January 2020

Aloha and mahalo for taking the time to post a 5 star review and recommendation of this fabulous condo. It makes our day to know our dedicated staff was able to make your vacation from start to finish a wonderful experience. We look forward to welcoming you back in the near future.

ロケーション、景色、室内の清潔さ全てがよかった

Itabashi-ku Japan, 05. January 2020

Stayed for 4 days in December, 2019

家族3代違う世代が集まったグループには最適な選択でした。アラモアナの近くなので買い物も便利だし、中心地より静かでビーチもすぐ目の前。中心地には目の前に停まるトロリーですぐにアクセス可能。隣のホテルで上がる花火も特等席で見れます。そして何より夕陽が沈むのをラナイでゆっくり堪能できるのがよかったです。

Response from Captain Cook Real Estate

09. January 2020

Mahalo, for the review and recommendation! We're delighted to have provided all of the needs you required for an enjoyable stay! We're so glad that you appreciated the convenient location and amazing views of this fabulous condo! We look forward to your next visit!

Christmas Vacation in Hawaii

Susan C. from Sandwich US, 01. January 2020

Stayed for 8 days in December, 2019

Our family of four (two college-aged kids) travelled to Hawaii for Christmas. Had a great experience staying in our two-bedroom unit at the Ilikai. Beautiful accommodations with beautiful views!! Paul at Captain Cooks greeted us, showed us around and available for any questions during the week.

Response from Captain Cook Real Estate

08. January 2020

Aloha and mahalo for taking the time to post a 5 star review and recommendation of this fabulous condo. We're delighted you and your family enjoyed your Christmas stay! It makes our day to know you appreciated the beautiful views and that our dedicated staff made your vacation a wonderful experience. We look forward to welcoming you back in the near future.

Great location, fantastic condo

Kathleen B. from Ithaca United States, 23. December 2019

Stayed for 6 days in December, 2019

For a classic Waikiki vacation without the insanity of one of the resorts, this is the way to go. The location was fantastic. The view overlooks the harbor and lagoon, and was perfect for a morning cup of coffee or glass of wine in the evening. We chose this property because it came with a parking space and we like to take excursions, however, all the trolleys and buses have an Ilikai stop. We walked to the beaches and shops, and the pool, while busy, wasn't overwhelmed with kids. The condo came with everything, and was clean and comfortable. The property manager, Paul, was extremely responsive.

The only cons were that the shower doors could have used a hit of bleach on the runners, and the sofa/loveseat is showing its age. This is also not the location if you're looking for a quiet beach vacation as its literally in the heart of Honolulu. Otherwise, we loved staying there and would recommend it over a pricy resort.

Response from Captain Cook Real Estate

23. December 2019

Mahalo, for the wonderful review and recommendation! We're delighted to have provided all of the needs you required for an enjoyable stay! We're so glad that you appreciated the convenient location and free parking of the fabulous condo! I will pass your feedback on to the team. We look forward to your next visit!

Family Vacation 1207

Mark S. from Rio Rico United States, 14. December 2019

Stayed for 7 days in December, 2019

Our experience was wonderful with not enough time to visit more of the island. The condo at the Ilikai was located in a great spot for eating, shopping, beach walking and relaxing.

Response from Captain Cook Real Estate

16. December 2019

Aloha and mahalo for taking the time to post a 5 star review and recommendation of this fabulous condo. We're delighted you and your family enjoyed your stay! It makes our day to know our dedicated staff was able to make your vacation from start to finish a wonderful experience. We look forward to welcoming you back in the near future.

Everything was perfect!

Krystel M. from United States, 08. December 2019

Stayed for 5 days in November, 2019

The place was perfect for my family trip. Amazing views from both bedrooms and the living space. The kitchen also had everything we needed. Our host was also super friendly and helpful.

Response from Captain Cook Real Estate

11. December 2019

Aloha and mahalo for taking the time to post a 5 star review and recommendation of this fabulous condo. We're delighted you and your family enjoyed your stay! It makes our day to know our dedicated staff was able to make your vacation from start to finish a wonderful experience. We look forward to welcoming you back in the near future.

Amazing views

Kapaa United States, 11. September 2019

Stayed for 3 days in August, 2019

The views from this condo are amazing. Just step out on the lanai and enjoy the incredible ocean views and beautiful sunsets. You can even enjoy the Friday night fireworks right from the lanai. The condo was clean and had everything we needed. Covered parking is a plus. Paul was very personable and attentive. We will definitely stay here again.

Response from Captain Cook Real Estate

12. September 2019

Mahalo for choosing to stay with Captain Cook Resorts and the great review and recommendation! We're so glad your visit was enjoyable and look forward to seeing you again.

Family Vacation

Josh N. from BLUFFDALE United States, 23. April 2019

Stayed for 7 days in April, 2019

Great View, Great Location. We will rent this again.

Lani Doors, and closet doors need work. They don't open and close easily.

Response from Captain Cook Real Estate

29. April 2019

Mahalo for posting a great 5 star review and recommendation of your recent stay and for alerting us about the Lanai and Closet doors, you mentioned. Your Property Manager has scheduled maintenance to do the repair. We are pleased that you and your family appreciated the great views and location of this amazing condo. We looking forward to welcoming you back on your next visit.

Great first time in Honolulu

Maggi W. from Saanich Central Canada, 06. February 2019

Stayed for 12 days in January, 2019

Captain Cook were very helpful, from answering my questions in detail by phone, to follow up emails, meeting and greeting us at the condo, and we enjoyed the fact it was a little cooler than usual! The only "negative" is that the upholstered furniture is showing signs of wear and tear ... some stains on the sofas and area rug meant we weren't able to give higher than 3 stars for "general condition" of property. However, it didn't lack space, the mango floors are gorgeous, and we were comfortable. Overall, a good experience.

Response from Captain Cook Real Estate

07. February 2019

Mahalo, for taking the time to post review and recommendation of your recent visit to Waikiki! We apologize for the furniture issues you encountered, thank you for alerting us. We have scheduled to have the sofa and area rug cleaned. Thank you for choosing Captain Cook Resorts for your first visit to Honolulu and we look forward to welcoming you back.

Awesome Accommodation

Cherrybrook Australia, 21. January 2019

Stayed for 6 days in January, 2019

The condition and location of the unit was fantastic. Close enough to walk to central Waikiki and Ala Moana. The view was simply amazing, great vantage for Friday night fireworks. It's a home away from home. The only negative was that we couldn't stay longer. Byron was very helpful and got us in early.

Response from Captain Cook Real Estate

24. January 2019

Aloha Peter! Thanks so much for leaving such a great 5 star review. Happy to have provided all of the needs you required for a wonderful vacation! It's what we're here for! Hope you can enjoy a return trip to our beautiful islands soon!

good location and , very clean, the manager is very friendly

Thousand oaks United States, 07. December 2018

Stayed for 4 days in November, 2018

the property is very clean and well-maintained. the location is very good. the manager is very friendly and helpfully.

Response from Captain Cook Real Estate

07. December 2018

Mahalo, for the wonderful 5 star review and recommendation! We're delighted to have provided all of the needs you required for an enjoyable stay! We look forward to your next visit!

Breathtaking Views!

Lisette C. from Laguna Beach United States, 27. November 2018

Stayed for 4 days in November, 2018

Property Manager Paul is excellent.

Response from Captain Cook Real Estate

27. November 2018

Mahalo for taking the time to post a 5 star review and recommendation of this fabulous condo. We're delighted you enjoyed your stay! It makes our day to know our dedicated staff was able to make your vacation from start to finish a wonderful experience. We look forward to welcoming you back in the near future.

Fantastic holiday condo

Leanne F. from Hughes Australia, 21. November 2018

Stayed for 6 days in October, 2018

Condo 1944 was exactly as described, just beautiful. Very comfortable, clean, great furniture, comfy beds and layout was great. Would highly recommend staying here, great location, will definitely be back.

Response from Captain Cook Real Estate

27. November 2018

Mahalo, for the wonderful review and recommendation! We're delighted to have provided all of the needs you required for an enjoyable stay! We look forward to welcoming you back on your next visit!

Love this Location!

Kathryn V. from Anacortes United States, 19. November 2018

Stayed for 7 days in November, 2018

This 2 bedroom suite is ideally located on the waterfront in Waikiki. The unit was clean, well-stocked and worked well for the 2 couples in our group.

Response from Captain Cook Real Estate

19. November 2018

Aloha and mahalo for taking the time to post a 5 star review and recommendation of this fabulous condo. We're delighted you enjoyed your stay! We look forward to you next visit!

Great Location! Awesome views

Lino Lakes United States, 12. September 2018

Stayed for 5 days in August, 2018

We had a great stay in this unit. The location was perfect for lots of beach time and great views of the sunsets from our lanai. Paul, our property manager, went above and beyond to make sure we had everything we needed. Unit was exactly as described -beautiful condo.


Response from Captain Cook Real Estate

18. September 2018

Aloha and Mahalo for the wonderful review! We are pleased that your stay was enjoyable and you appreciated the great views, and sunsets on the Lanai! Thank you very much for the positive comments. It's always encouraging when customers acknowledge the good work of our team. We look forward to seeing you again soon.

The condo is perfect

Arthur R. from Napa United States, 13. June 2018

Stayed for 4 days in June, 2018

We could not have asked to stay at a better place. The condo was was amazing. The views could not be any better. The Friday night fireworks can be seen right from the balcony. We had everything we needed in the condo which was great. Over all we had a great stay.. Paul our host met us and explained everything and parking was free and the WiFi worked great! We will be back.

Response from Captain Cook Real Estate

18. June 2018

Mahalo, for the wonderful review and recommendation! We're delighted to have provided all of the needs you required for an enjoyable stay! It makes our day to read such an enthusiastic review! We look forward to welcoming you back on your next visit!

Awesome place to stay

Scott R. from Omaha United States, 19. May 2018

Stayed for 5 days in April, 2018

we stayed here for five nights and it was perfect. The views from the lanai were breathtaking. The unit is close enough to walk to Waikiki beach and the action but still far enough away to be quiet when you want it quiet. Plenty of room for four people, the kitchen was well equipped and made it easy to make coffee in the morning, make a full breakfast or just have cocktails and snacks later. covered parking was a bonus. we will stay here again.

Response from Captain Cook Real Estate

22. May 2018

Mahalo for choosing to stay with Captain Cook Resorts during your recent visit to Waikiki. We are glad you had a relaxing and memorable vacation. We look forward to your next visit!

Amazing views

Mechanicsville United States, 11. May 2018

Stayed for 5 days in May, 2018

This was everything as advertised, the views were spectacular. I travel to to Oahu to visit alot and this is the best place I've stayed by far! Will book this location again when I come back, condo is within walking distance to everything and 5 min from H1. Overall if I could give it more than five stars I would!

Response from Captain Cook Real Estate

16. May 2018

Mahalo, for the wonderful 5 star review and recommendation! It makes our day to read such an enthusiastic review and know that we exceeded your expectations! We look forward to your next visit to Waikiki!

Awesome Place

Mike W. from Trinidad United States, 30. April 2018

Stayed for 3 days in April, 2018

The pics do not do this unit justice. The views are amazing and it's close enough to all the beaches and restaraunts but still gives you that at home feeling! Do not hesitate to book this unit. Paul are go to guy was very attentive and showed us all the ins and outs. Thanks Paul!

Response from Captain Cook Real Estate

01. May 2018

Aloha and mahalo for taking the time to post a 5 star review and recommendation of this fabulous condo. We're delighted we exceeded your expectations your stay was enjoyable! It makes our day to know our dedicated staff was able to make your vacation from start to finish a wonderful experience. We look forward to welcoming you back in the near future.

Great Hawaii Condo rental

Fremont United States, 02. April 2018

Stayed for 4 days in March, 2018

This was a beautiful property. Great view, clean and pleasant. We had 6 adults. One couple slept on the pull out couch which worked out fine since we are family. Would definitely go back.

Response from Captain Cook Real Estate

03. April 2018

Mahalo, for the wonderful 5 star review and recommendation! We're delighted to have provided all of the needs you required for an enjoyable family vacation! Hope to see you on your next trip!

Great place to stay

Jeff A. from Hidden Valley Lake United States, 12. March 2018

Stayed for 6 days in February, 2018

Everything we could ask for.

Response from Captain Cook Real Estate

12. March 2018

Aloha and mahalo for the positive comments and 5 star review! We're glad you enjoyed your stay we look forward to welcoming you back on your next visit!

Stunning Views

Katie R. from greenacres United States, 02. March 2018

Stayed for 3 days in February, 2018

We thoroughly enjoyed staying in this well appointed condo overlooking the Hilton lagoon. Paul the manager was attentive to our needs including calls and crazy flight schedules! We would absolutely stay here again! We were only here for a couple of days flying home from Australia, after arriving to our condo we wanted to stay longer!!! Thank you for a clean, comfortable place to stay!

Response from Captain Cook Real Estate

02. March 2018

Aloha and mahalo for taking the time to post such an great review about your recent experience. We're thrilled you enjoyed your stay and appreciated the stunning views of this fabulous condo! We think Paul is great to work with too! We look forward to seeing you on your next trip and hope you can stay longer!

Our 3day stay in Oahu

Karen D. from Kennewick United States, 13. February 2018

Stayed for 3 days in January, 2018

Location was perfect. Amenities were perfect. What ever your needs you could literally walk to it. And the view, incredible! Highly recommend this property/unit
Plenty of room for 6, very comfortable. Balconies on both sides and window/glass doors for the most gorgeous views!!!

Response from Captain Cook Real Estate

13. February 2018

Mahalo, for the wonderful 5 star review and recommendation! We're delighted had an enjoyable stay! It makes our day to read such an enthusiastic review and we're so glad that you appreciated the convenient location and amazing views of the fabulous condo! I will pass your feedback on to the team. We look forward to your next visit!

Relaxed with a view

Jacquie A. from Surrey Canada, 12. February 2018

Stayed for 7 days in February, 2018

Perfect spot for a relaxing family vacation. Everything close by and perfectly set up to feel like home away from home.

Response from Captain Cook Real Estate

13. February 2018

Mahalo, for the wonderful review and recommendation! We're delighted to have provided all of the needs you required for a relaxing family vacation! I will pass your feedback on to the team. We look forward to your next visit to Paradise!

Perfection

Hamilton New Zealand, 10. December 2017

Stayed for 1 days in December, 2017

This is a lovely Condo. The location is excellent, within easy walking distance of downtown Honolulu and Ala Moana Mall. The Condo itself is well appointed and has everything you need for a wonderful stay. Have stayed here before and will stay again, if available.

Response from Captain Cook Real Estate

11. December 2017

Mahalo for the great 5 star review, and welcome back! We appreciate the feedback and positive comments about this lovely condo. We look forward to seeing you again on your next visit.

Spectacular #1944

Wakerley Australia, 08. December 2017

Stayed for 7 days in November, 2017

What a great place to spend time at Waikiki and topped our room at the Hilton next door. Looks exactly like the pics and recently renovated. We stayed there with our 3 children and it was spacious, clean and comfortable with spectacular ocean views and perfect for the fireworks displays (we had 3 in our week there due to parties at the Hilton and the awesome Friday night extravaganza). Excellent to have a parking spot included and cooking facilities soooo helpful. Paul from Captain Cook was extremely helpful during our stay. Only downsides - we weren't told when we booked or before our stay that the large pool was being upgraded during our stay, washing machine/dryer were coin operated 2.50 a load and the balcony was not really child friendly for our 1 or 4 year olds as the rail gaps were a little too wide (perhaps a screen door on the main one may resolve this although we appreciate this may detract from the views). Have already recommended to friends and we will definitely stay again when returning to Hawaii.

Response from Captain Cook Real Estate

08. December 2017

Mahalo, for the lovely review! It makes our day to read such a detailed and enthusiastic review! We are pleased that we were able to provide all of your needs for a wonderful family vacation. We understand that not everyone uses a swimming pool when they are in Hawaii, but some really look forward to it. Unfortunately, even though we have a notice of the main pool closure on our website, we truly apologize for any inconvenience this caused. Thank you for choosing Captain Cook Resorts for your stay, we look forward to seeing you on your next visit!

Great view, great location & great space

Tracey W. from Brisbane Australia, 01. October 2017

Stayed for 6 days in September, 2017

We loved our accommodation in Ilikai 1944. The view was amazing and the unit was just what we were expecting. Paul met us at the start of our stay and was very helpful, and we had no concerns during our stay. The only suggestion to make it better is to provide a compendium offering bus and taxi information, and how to get to different tourist attractions. We will be recommending your facility to our friends & family, Mahalo


Response from Captain Cook Real Estate

02. October 2017

Mahalo for the lovely 5 star review and recommendation! We're so glad you enjoyed your stay and pleased that you appreciated the location and ocean views of this fabulous condo! We are sorry that you missed our extensive Visitor information. Our website has extensive Visitor Information including transportation for getting around Waikiki and Oahu. Our mobile AP can be downloaded with this same visitor information including restaurants and attractions. Our AP instructions are on your reservation confirmation letter. Thank you again, and we look forward to seeing you on your next visit!

Staying at 1944 Ilikai Waikiki

Paul H. from Campbelltown Australia, 20. September 2017

Stayed for 8 days in August, 2017

My wife,daughter and I stayed at 1944 Ilikai in Waikiki recently and had a wonderful holiday. The views were spectacular and there was plenty of space in our condo. With all the sliding doors open at the same time we had a beautiful cool cross wind throughout our condo and we didn't even bother to turn on the air conditioning. The complex is still close enough to the main shopping areas and there was nothing I could fault with our stay. Highly recommended.

Response from Captain Cook Real Estate

21. September 2017

Mahalo, for the great review! We're so glad you and your family enjoyed your stay! We are pleased that you appreciated the location and views of this fabulous condo! We look forward to seeing you on your next visit!

honolulu

Rod L. from Sanctuary Cove Australia, 02. September 2017

Stayed for 37 days in July, 2017

we stayed in the apartment for about five weeks
the apartment was all it was advertised as
the views were great the overall unit was in good condition


Response from Captain Cook Real Estate

03. September 2017

Mahalo for choosing to stay with Captain Cook Resorts and the great review and recommendation! We're so glad your visit was enjoyable and look forward to seeing you again.

Ilikai 1944

Eugene United States, 29. June 2017

Stayed for 9 days in June, 2017

Awesome place to stay! Great location and views. Right next to lagoon and Waikiki beach. Within walking distance to restaurants, shops, entertainment.

Response from Captain Cook Real Estate

29. June 2017

Mahalo, Shelly, for the lovely review! We're so glad you enjoyed your stay and pleased that you took advantage of the great location and views of this wonderful condo! We look forward to seeing you on your next visit!

Awesome place!

Brush Prairie United States, 25. May 2017

Stayed for 7 days in May, 2017

The view was amazing and the stay was wonderful.

Response from Captain Cook Real Estate

26. May 2017

Mahalo, Lorin, for the wonderful review! Hope you are able to plan a return trip soon!

Great location - beautiful view

Shannon K. from Tulsa United States, 18. May 2017

Stayed for 7 days in May, 2017

We stayed in the ilikai 2 bedroom condo. It was a quick walk to the beach and two nice outdoor pools close by as well. The condo was beautiful and very clean. The view from the patio was stunning! Walking distance to many shops and restaurants. Paul, our property manager, was very friendly and helpful with suggestions of places to visit. My only recommendation would be a cordless vacuum for all the sand that gets brought in :)

Response from Captain Cook Real Estate

19. May 2017

Aloha Shannon! Thanks so much for leaving such a great 5 star review and recommendation. Happy to have provided all of the needs you required for a wonderful vacation! It's what we're here for! Hope you can enjoy a return trip to our beautiful islands soon!

Stunning Views

Nancy A. from Central Point United States, 29. March 2017

Stayed for 3 days in March, 2017

The location is perfect. The view soothes your soul. It was immaculate and comfortable. Viewing Friday night fireworks and the luau next door were real treats. I would highly recommend this location. The description was accurate regarding the location, amenities, layout, views and everything else. We had very good customer service and were kept abreast of things going on at the property such as the pool being closed because of a drain problem. We were granted a late check out because there were no other guests arriving immediately after us and our plane left after midnight...very generous.
Thank you so very much. We had an outstanding experience and plan on returning again...with the return customer discount!

Nancy

Response from Captain Cook Real Estate

30. March 2017

It makes our day to read such an enthusiastic review, Nancy - Mahalo! We're happy to hear you you had an enjoyable stay and we look forward to your next visit!

Best vacation ever

kevin n. from edmond United States, 17. March 2017

Stayed for 6 days in March, 2017

Amazing experience in Hawaii. The room was perfect with incredible views and easy access to the beach, activities, shops, restaurants, Waikiki center, etc... I can't say enough good things about the room and the resort, along with Captain Cook management. They guided us through the entire process, made sure we were taken care of, and had the room in prime condition. I was most impressed with the condition of the beds and the very upscale bathrooms. Condo beds often are in bad shape. These were great and we slept like we were at home. Again, everything about the room, management, facilities, and location were A++++.

Response from Captain Cook Real Estate

17. March 2017

It makes our day to read such an enthusiastic review, Kevin - Mahalo! We're happy to hear you you had a most enjoyable stay and we look forward to your next visit!

HIghly upgraded ocean view condo as advertised

Stephen H. from Rancho Santa Margarita United States, 28. February 2017

Stayed for 4 days in February, 2017

This is a well-maintained, highly upgraded property that is accurately described on the website. I think some of the negative reviews of Ilikai in general come from people who book units blindly, and then are disappointed. Check-in was easy. The condo was clean, with the necessary amenities. Beds were comfortable. We had a problem with one toilet, apparently from a previous tenant. We called Paul at night, and within an hour he had a plumber there to fix the problem. He even called the next morning to make sure the issue was completely resolved. That's good customer service. It was also helpful to have Cinnamon's on the first floor, known for its tasty breakfasts and a convenience store with better prices than ABC. That the unit comes with its own indoor parking space should not be overlooked; parking is both scarce and expensive on Waikiki. This isn't Maui; you are in a city, and this is a fine city condo.

Response from Captain Cook Real Estate

01. March 2017

Mahalo Stephen! Thanks so much for leaving such a great 5 star review. Happy to have provided all of the needs you required for a wonderful vacation! It's what we're here for! It's always encouraging when customers acknowledge the good work of our team. We look forward to seeing you again soon!

Honolulu Highrise

Dr. John J. from Erie United States, 15. February 2017

Stayed for 3 days in February, 2017

Paul the property manager was extremely helpful

Response from Captain Cook Real Estate

15. February 2017

Thank you very much for the positive comments and 5 star review! It's always encouraging when customers acknowledge the good work of our team. We look forward to seeing you again soon.

Hawaii vacation

Gurnee United States, 24. January 2017

Stayed for 3 days in January, 2017

Great unit, great location.

Response from Captain Cook Real Estate

24. January 2017

Mahalo for the positive comments, 5 star rating, and recommendation! We look forward to seeing you on your next visit!

trés bon rapport qualité prix, et merci a Mr paul tucker

Bertrand C. from St.- Prex Switzerland, 21. January 2017

Stayed for 14 days in January, 2017

trés belle vue,situation calme,belle appartement bon standing,propre avec toute les commodités nécessaire.
nous avons fait deux fois le tours de l'île avec une voiture de location magnifique,dommage que les plages soient pas très bien indiquée si non vous avez des payssages splendide.
merci beaucoup et meilleurs dés année 2017
Cavin Bertrand

Response from Captain Cook Real Estate

25. January 2017

Mahalo pour les commentaires positifs et la recommandation! Nous espérons néanmoins que cela vous aidera dans vos recherches.

Great condo

Melinda S. from Santa Rosa United States, 24. December 2016

Stayed for 7 days in December, 2016

Comfortable condo. The only negative is the beds are really small. Short and narrow. Otherwise the condo had everything we needed. The views are beautiful. The Ilikai is a beautiful property. Central to everything.
Would stay there again. Mahalo.


Response from Captain Cook Real Estate

27. December 2016

Mahalo for the 5-star review, Melinda! So glad to hear you enjoyed or stay in this great condo! We look forward to your next visit!

excellent condo

Mark J. from Phoenix United States, 13. December 2016

Stayed for 8 days in December, 2016

The unit itself is excellent but their housekeeping service needs some " Kleenex in our master bath, and two maintenance issues...the convection feature of the oven does not work and the dishwasher is jacked-up...top rack sags down for lack of a better term, and with the height of the dinner plates in the bottom rack, it prevents the upper wash-arm from turning. reported this to the property manager. Also insufficient quantity of dishwasher detergent was supplied.

Response from Captain Cook Real Estate

13. December 2016

Mahalo for posting a review and recommendation of your recent stay and for alerting us of the issues you mentioned. We will pass this info on to the property manager for resolution. We work hard to offer great accommodations and service. We hope you consider us again in the future as we certainly value you as a guest.

Great location

Simone J. from Hobart Australia, 10. November 2016

Stayed for 6 days in October, 2016

Great location. Everything so close by you can walk everywhere. Apartment is exactly what you see in photos. Very quiet in rooms cannot hear other guests which is great. Easy check-in and check out no hassle. Would definitely recommend.

Response from Captain Cook Real Estate

10. November 2016

Mahalo for choosing to stay with Captain Cook Resorts and the great review and recommendation! We're so glad your visit was enjoyable and look forward to seeing you again.

Beautiful suite with a view

MarkhM Canada, 18. October 2016

Stayed for 3 days in September, 2016

We were pleasantly surprised at how well-kept this property was. From the lobby you could tell this was an older building but the suite was nicely renovated with good furnishings. The view was nice with large windows all around. The kitchen was fully stocked with utensils and such except that the pots weren't usable. They looked very dirty like previous people used it/burned something and tried to scratch it off and thus damaging the pots? We needed to boil water but the kettle didn't look good inside either as there was some black residue of some sort.

Bathrooms were clean and the heated toilet seats were "interesting."

A bonus was getting to see the fireworks up front on Friday night from the balcony!

Location is great for walking to Ala Moana Shopping Centre and Wal-Mary. The Hilton beach was nice too (except for the rocks - water shoes are good to bring!). The Açaí bowl from the coffee shop downstairs is the BEST! We had them from many different places and this one was the best by far!


Response from Captain Cook Real Estate

19. October 2016

Thank you, Michael, for taking the time to share your comments about your experience at the Ilikai #1944. We are glad that you enjoyed the condo and the location. We apologize for the problems you encountered with the pots and kettle. Had you notified us immediately, we would have had Housekeeping back to the unit right away to make sure everything was up to our standards. In the future, please remember that the property manager is there to resolve any issues that may arise during your stay. We have followed up with the property manager and Housekeeping to ensure that any damaged pots are replaced and clean. We work hard to offer great accommodations and service. We look forward to seeing you on your next visit!

Ilikai Rm1945

Tsing Yi Hong Kong, 18. August 2016

Stayed for 2 days in July, 2016

A lovely 2-bedroom home for my family. We stayed there two nights in end of July before heading to The Big Island.. We were a family of 4 adults and two small kids. They provided an air bed for the kids but the bed deinflated itself due to air leaking from the bed so need to repump every 2-3 hours. Convenient location, spectacular ocean and lagoon view from the balcony where you can see the Friday fireworks right from there. We definitely will stay there again in our next visit to Hawaii.

Response from Captain Cook Real Estate

19. August 2016

Mahalo for the great review - although we're sorry the air bad failed! We look forward to your next visit!

Fourth of July Fireworks

Scott A. from Santa Clarita United States, 03. August 2016

Stayed for 4 days in July, 2016

My quality experience started when I first called Captain Cook and spoke with Lauri about the location of unit 1944, especially the fireworks views.

We were a group of 8 renting two different units. Paul greeted us at the front, arranged for a bellman, gave us a tour of the condo, and provided suggestions for the neighborhood. The family enjoyed the larger living room spaces, and the equipped kitchen was great for such a large group.

The unit itself offered great views of the Hilton fireworks show AND the city fireworks show launched from the opposite side of the hotel. The unit also has a unique view of the Hilton rooftop luau show.

The airconditioning was indeed whisper quiet and cooled the rooms down quickly. Fairly solid internet service, with some drop-outs, but quickly reestablished. Laundry room just down the hall.

Some noise from loading trucks presumably making deliveries to the Hilton and maybe the Ilikai, plus the occasional car alarm, but nothing off-putting.

Cinnamons restaurant downstairs serves fantastic guava chiffon pancakes. Goofy's Cafe next door also great for a local breakfast.

Response from Captain Cook Real Estate

03. August 2016

Mahalo for the great review, Scott! Sounds as though we were able to exceed your expectations - which is just what we aim for! Glad it was such a terrific stay. Hope you're able to visit us again soon!

Scenic stay

Daly City United States, 24. July 2016

Stayed for 7 days in July, 2016

We enjoyed our stay in this Ilikai unit. Beautiful view and easy access to the beach. Wonderful memories and we want to come back really soon!

Response from Captain Cook Real Estate

28. July 2016

We appreciate the 5-star review, Lottie! Mahalo! Hope you are able to return for more wonderful memories!

Amazing location and views !

Roseville United States, 13. July 2016

Stayed for 6 days in June, 2016

We thoroughly enjoyed our stay in number 1944 at the Ilikai. The location was convenient and the view from the 19th floor was spectacular. We enjoyed our nightly walks on the beach and especially the Hilton firework show on Friday night. We would highly recommend this to anyone looking for a condo on Waikiki Beach.

Response from Captain Cook Real Estate

15. July 2016

Mahalo, Janie, for the wonderful review! We hope your memories of beach walks and the fireworks will hold you till your next visit!

Super location

Auckland New Zealand, 11. July 2016

Stayed for 4 days in July, 2016

Great location & very comfortable apartment! Totally recommend.

Response from Captain Cook Real Estate

12. July 2016

Mahalo for the 5 star review and recommendation, Jackie! Hope you can plan another visit soon!

Awesome!

Effingham United States, 03. June 2016

Stayed for 3 days in May, 2016

Beautiful views. Clean condo. Great location. Plenty to do in this area.

Response from Captain Cook Real Estate

09. June 2016

Mahalo for the 5-star review and recommendation, Mike! Hope you can visit us again soon!

Great condo in great location

Iain G. from Austin United States, 27. April 2016

Stayed for 7 days in April, 2016

This is a great condo - we stayed for a week. Enjoyed the pool and access to the beach, lagoon, restaurants, etc. Condo is amazingly quiet - you cannot hear any noise in either bedroom from above, below or the neighbours. Plus, you will have an excellent view of the Friday night fireworks.

Response from Captain Cook Real Estate

03. May 2016

Mahalo, Iain, for the great review! We appreciate the feedback and hope you can visit us again soon!

Unforgettable Views

Redwood City United States, 16. April 2016

Stayed for 7 days in April, 2016

Paul is a great host. This unit came fully equipped with everything you'll need from the stay there to the party you'll want to throw on the beach. The firework show was amazing and it was right outside our balcony. We're already did planning to come back again and you already know where we'll be staying!

Response from Captain Cook Real Estate

19. April 2016

Mahalo, Eliseo, for the wonderful review! I'll bet that fireworks show WAS amazing! We'll pass on your compliments to your property manager, Paul; he's a great asset to the Captain Cook Resorts team! We look forward to your next visit!

Honolulu Trip

Woodbridge Canada, 12. April 2016

Stayed for 7 days in March, 2016

My family and I spent one week at this condo. The location was awesome! We were in walking distance to stores, beach, restaurants. The view form the balcony was unbelievable! We watched the sun set every evening and had front row seats to the fireworks display. My only suggestions would be a more comfortable sofa bed mattress, extra pillows and more dishes, glasses and cutlery in the kitchen. We found that we ran out before the dishwasher had a chance to be filled. Other than that, we would definitely recommend this condo to our friends! Thanks!

Response from Captain Cook Real Estate

12. April 2016

Mahalo, Frank, for the great review! This beautiful condo definitely leaves a lasting impression.... ahhhh, the sunsets from the lanai... A new memory foam mattress is now on the sleeper sofa and the other items you mentioned have been replenished. Thanks again for staying with Captain Cook Resorts!

Great location and view

Deb P. from Rockford United States, 28. February 2016

Stayed for 7 days in February, 2016

Very nice property. clean and well maintained. The view was awesome although construction and traffic noise when out on the deck. Beautiful sunset views. The property managers are excellent, answered all questions promptly. It was great to walk all along Waikiki beach to restaurants. Our favorite restaurant was Dukes.
Overall I would definitely recommend this property. Close to everything, walkable on north end of Waikiki beach.

Response from Captain Cook Real Estate

01. March 2016

Mahalo for the great review, Deb!

ALL AROUND PERFECTION

Timothy H. from Jasper Canada, 18. February 2016

Stayed for 7 days in February, 2016

This, for me, was the nicest vacation property I have ever experienced! The views were spectacular! E.I. Whale watching from the front lanai,daily,about 4pm.(mid Feb.) The property is within walking distance to downtown Waikiki, Ala Moanna and Ward Center Shopping Malls. The sun sets are unobstructed ,magnificent views.The fireworks,on Friday evening,from either lanai...5 star! If Waikiki is your destination, this property shows it off in a big way! The location is amazing! For being so close to the action it is also very quiet for sleeping. The condo is newly renovated with plenty of natural light flowing in.You never get tired of the views! Did I mention the views...?


Response from Captain Cook Real Estate

18. February 2016

It makes our day to read such an enthusiastic review, Tim - mahalo! We're delighted to hear about your enjoyable stay in this beautiful condo! We agree with you - this condo has the most spectacular views! Hope you're able to return soon!

Happy with our condo choice

Teresa M. from Clayton United States, 31. January 2016

Stayed for 8 days in January, 2016

We really enjoyed the condo with the ocean/marina view. We would choose this unit again in the future. It was very clean and the views were amazing.

Response from Captain Cook Real Estate

31. January 2016

Mahalo for the review, Teresa! We're so glad you enjoyed your stay in this beautiful condo!

Hawaii vacation

Gurnee United States, 21. January 2016

Stayed for 9 days in January, 2016

Loved the condo and great location would rent in the future.

Response from Captain Cook Real Estate

21. January 2016

Mahalo, Terry! We appreciate the great review and also hope you are able to visit us in the future!

Heavenly Honolulu Holiday

Hamilton New Zealand, 07. January 2016

Stayed for 13 days in December, 2015

This is an amazing property. The location is perfect what ever you would like to do on vacation, be it shopping, swimming, snorkeling, sunset cocktails or just sitting back and watching the world go by. The beach is very handy and there are plenty of paths for walking or for jogging. Plenty of good restaurants close by or for those who want to do their own thing, several nearby food markets. All are available within a short 5 or 6 minutes walk from the Ilika's front door. We had a great vacation and are already planning a return trip.



Response from Captain Cook Real Estate

11. January 2016

Mahalo again, Marianna! We hope you all can plan another visit soon!

Family Wedding

Keith W. from Te Atatu Peninsula New Zealand, 25. October 2015

Stayed for 7 days in October, 2015

We were very impressed with the great service we received from Property Manager Paul Tucker who made us feel very welcome on arrival. The apartment was wonderful and catered for all our needs. We had a 9 month old baby in our group and the apartment was very suitable for our needs. Paul was very accommodating and helpful at all times. Would definitely stay there again.

Response from Captain Cook Real Estate

27. October 2015

Mahalo, Keith, for sharing your feedback from your recent stay! We're so glad you all enjoyed your stay! We will pass your comments on to your property manager, Paul; he's a real asset to the Captain Cook Resorts team!

Spectacular. Amazing. Special.

Ben R. from United States, 17. October 2015

Stayed for 9 days in October, 2015

We had an amazing stay at 1944. The room was perfection! The location was perfection and so was the service of the Captain Cook team! We felt welcomed and very comfortable. This was everything we expected! The Illikai is a major pick up point for all travel and day trips, the trolley stops right out the front and is so convenient. I wouldn't stay anywhere else when it comes to a self contained apartment, it really felt like home!!!

Response from Captain Cook Real Estate

20. October 2015

Mahalo for the great comments, Ben! Hope you come for another visit soon!

Home away from home with the best view

Hartley V. from AUCKLND New Zealand, 12. October 2015

Stayed for 9 days in September, 2015

Fantastic position with the best view. This apartment was a perfect size for our family of four. Everything we needed was in the room. great facilities .

Response from Captain Cook Real Estate

20. October 2015

Mahalo, Sandi! Hope you come for another visit soon!

Waikiki Wow

Bonnie W. from Casselberry United States, 07. October 2015

Stayed for 5 days in September, 2015

We loved the condo. It was exactly as pictured....couldn't have been nicer. The lagoon right outside was where we parked our beach chairs which were thoughtfully provided. We were on the balcony every morning and and evening enjoying the magnificent view. The was absolutely nothing we didn't like. We would absolutely stay there again. Didn't want to leave!!

Response from Captain Cook Real Estate

22. October 2015

Mahalo, Bonnie, for the great review and recommendation! We're so pleased you enjoyed this beautiful condo - and that view!!! Hope you can return for another relaxing vacation!

Nice Unit

Joe L. from Collegeville United States, 31. August 2015

Stayed for 4 days in August, 2015

Overall, we were pleased with this unit. It is very well decorated and has a ton of light. We enjoyed having the 2 balconies as well. I think it could have been cleaned a little better and the bed (queen in master), was pretty uncomfortable. The building calls itself a hotel, but each unit is privately owned with the "hotel" managing many of the units. As such, there are a wide range of people (from residents to guests) coming and going. We thought the hallways seemed a bit rundown. The location was pretty good, but not so nice a block or two away. Overall, especially when taking into consideration the price, I would recommend.

Response from Captain Cook Real Estate

07. September 2015

Mahalo, Joe, for taking the time to post a review of your recent stay. That's correct, the Ilikai is considered a condotel, and they are quite proactive with updating and renovations. With such a big property, these things can take time, however. We hope you contact us when you're ready to plan another visit!

Very Happy Customers!

Inverloch Australia, 10. August 2015

Stayed for 10 days in July, 2015

Views were spectacular!
Apartment was updated & very clean
Kitchen has everything you could possibly need
Furniture was comfy and clean
Will definitely be staying here on out next trip


Response from Captain Cook Real Estate

10. August 2015

Mahalo for the great review, Lisa! You picked a winner!

A great trip overall !!!

Bryan k. from snohomish United States, 28. July 2015

Stayed for 9 days in July, 2015

The check-in, the property and location were great. The only disappointment was that the washer and dryer were not in the units and were coin operated at the end of the hallway.

Response from Captain Cook Real Estate

28. July 2015

Mahalo, Bryan, for taking the time to post a review of your recent stay. We apologize you were disappointed about the washer and dryer. The unit description clearly states, "Laundry facilities are located on each floor."

Great to stay

Thor M. from Austin United States, 02. July 2015

Stayed for 3 days in June, 2015

We had a wonderful stay in the condo. It was clean, nicely decorated and well stocked with utensils and supplies in the kitchen.

Response from Captain Cook Real Estate

10. July 2015

Mahalo, Thor! We hope you can visit us again soon!

Love the Ilikai

Ginger R. from North Shore New Zealand, 27. June 2015

Stayed for 9 days in June, 2015

We had a great holiday . The weather was perfect. The shopping fantastic . We enjoyed loads of local restaurants...esp enjoyed Dukes. We hired a mustang from the car guy next to the Hilton. Great day touring the island. Recommend parasailing, snorkelling with turtles and climbing Diamond Head. Hopefully return next year ??

Response from Captain Cook Real Estate

28. June 2015

Mahalo for the positive comments and recommendation, Ginger! We're glad you all had a great time and look forward to your heading our way again next year!

Good Condo, As described

James C. from Perryville United States, 27. May 2015

Stayed for 7 days in May, 2015

The condo was in good condition, the Ilikai property could use a little updating. It was not bad, but seemed old in several ways. The condo needs a washer and dryer available in the room. It has a coin laundry down the hall, but then you have to take time out of your stay to watch your laundry. There weren't enough towels or wash cloths to last 3 days, so you have to wash and dry. The views from this unit are great. It is in a decent location to most of Waikiki, but can be a long walk to some. Parking is as tight as it gets with a small car. I would recommend this unit, with the exceptions of these few shortfalls. Overall nice unit!

Response from Captain Cook Real Estate

09. June 2015

Mahalo for your review, James. The Ilikai was state-of-art when it was built over 50 years ago and building management is to be commended for their ongoing public area renovation. It is unfortunate that the plumbing will not allow for washer/dryers in the condos (with a couple of exceptions which were grandfathered in). That said, we're glad you enjoyed your stay and hope you contact us again for your next stay!

First Time Hawaii Vacation

Marla M. from Calgary Canada, 07. April 2015

Stayed for 9 days in March, 2015

The view was amazing and the condo itself is beautiful. The condo is in the perfect location on Waikiki beach, at the end of the strip where you get to enjoy the fireworks from your lanai but don't have the business or crowded beach. No problems with the Management Company. All correspondence was excellent and if we had any questions, they responded immediately. The whole process was very smooth and you won't be disappointed with anything. Would have been nice to have washer/dryer in the unit, but that did not and will not stop us from renting this unit again. The washer and dryer units are available on each floor and for a reasonable price also. Thank you Captain Cook Real Estate for providing my family's first Hawaiian experience one we will never forget.

Response from Captain Cook Real Estate

07. April 2015

Mahalo for the positive comments and recommendation! We work hard to offer great accommodations and service, and we're so glad your stay was enjoyable. We look forward to seeing you on your next visit!

This is Hawaii sea view !!

MASAHIRO K. from TOKYO Japan, 26. March 2015

Stayed for 6 days in March, 2015

There are so many Ocean View Rooms in Hawaii... however!! The Ilikai #1944 is 180 degree ocean front sunset and fire work super wonderful view room !!!

Response from Captain Cook Real Estate

07. April 2015

Mahalo for the positive comments and recommendation! This condo truly has an incredible view! We hope you can return for another visit someday soon!

WONDERFUL

Hockessin United States, 28. February 2015

Stayed for 7 days in February, 2015

The apartment is exactly as pictured but the view is even more magnificent> Easily accommodated four adults> Would highly recommend> Loved it enough we hope to return>

Response from Captain Cook Real Estate

02. March 2015

Mahalo for the positive comments and recommendation! We work hard to offer great accommodations and service, and we're so glad your stay was enjoyable. We look forward to seeing you on your next visit!

Lovely, comfortable property

Mel T. from Portland United States, 18. February 2015

Stayed for 4 days in February, 2015

This home was absolutely perfect for our short stay in Honolulu. It is a nicely appointed, well maintained unit with a very comfortable layout for our family of 4. It looks just as you see in the images - so no surprises. It was very clean and well maintained. We really appreciated the wonderful service provided by the property managers (Captain Cook) and were very impressed by Paul who was very attentive and informative. We would definitely rent with them again. The location is close to beach at the north end of the Waikiki area, and an easy walk to Ala Moana (for those who wish to shop). Having the parking spot was great. The master has lovely views of the harbor and ocean, and the guest bedroom with two twins worked perfectly for our two young kids. The ac units work great and both ensuite bathrooms are fully upgraded (our kids loved the Toto toilets). It was quite windy one of the days/nights and the noise level was very reasonable. The sliding doors are a bit sticky to lock and unlock, but that was not bad for us since I knew the kids couldn't open them on their own! The only negative was that the kitchen lacked basics of Salt, Sugar, Oil and any spices. Not a big deal, but it would be nice not to have to buy those items (I sure hope they keep them for the next guest since we used so little of them). There are beach toys and chairs available as well. Overall a great property with fabulous views. We would highly recommend one particular restaurant: Chai's Waikiki just a block and a half down Ala Moana Blvd. Great staff and some of the best food for a casual meal. Also, if you have not eaten at Marukame Udon on Kuhio Ave, that is also a must. But get there early since there is always a line (they open at 11 for lunch).

Response from Captain Cook Real Estate

19. February 2015

Mahalo for choosing to stay with Captain Cook Resorts and the great review and recommendation! We're so glad your visit was enjoyable. We will pass your feedback on to your property manager, Paul; he's a great asset to the Captain Cook Resorts team!

Morning Sea Breeze

Roddy D. from Lincoln United States, 02. February 2015

Stayed for 7 days in January, 2015

Watching the world come alive around us from the balcony or retreating to quiet comfort at the end of the day, every second was rich with wonder. In the very hub of opportunity, this was also a haven of peace. Everything we needed was at our finger tips. Peace, beauty and comfort with all activity right outside the door.

Response from Captain Cook Real Estate

02. February 2015

Mahalo for taking the time to pen such a beautiful review! I feel like i'm relaxing on the lanai, the tradewinds gently blowing - just reading your comments! We're so glad your visit was so enjoyable - comments we regularly receive from guests in this beautiful condo.

Waikiki Beach llikai Hotel Suite 1944

Paul D. from Glen Haven Australia, 26. January 2015

Stayed for 7 days in January, 2015

Fantastic, from start to finish.
Property was "As Described", quality fixtures and fittings throughout, great views, located within close proximity to all popular restaurants and attractions.

Owners and managers provided high level of service.
We have already recommend the property to both family and friends. Look forward to our return trip shortly

Response from Captain Cook Real Estate

27. January 2015

Mahalo for taking the time to share your review of your recent stay - we appreciate it! And thanks for recommending this beautiful condo to your friends and family - we hope you're able to plan a return trip soon!

Awesome Condo

Tamara L. from Namaino Canada, 22. January 2015

Stayed for 14 days in December, 2014

"Awesome Condo"
We stayed as a family of four in this outstanding condo. The condo & view are just amazing and an added bonus a beautiful sunset every night !! The executive kitchen has everything you need and makes cooking meals a joy & for the rainy days a 60" smart TV !! The WIFI is super fast - a must for two teenage boys !! All we can say is 100% - We'll be back ! Mahalo , Harry , Tammy & Boys

Response from Captain Cook Real Estate

22. January 2015

Mahalo for the "awesome condo" review and recommendation! So happy to hear your family returned home with the best memories! We'll look forward to your next visit!

Waikiki Stay

Martin T. from Davie United States, 25. December 2014

Stayed for 4 days in December, 2014

The unit and location were great and the view was magnificient. Is a big convenient to have your own parking spot if you rent a car. Restaurants & the beach were walking distance.
We enjoyed our stay and would definitely recommend anyone who is visiting Honolulu.

Response from Captain Cook Real Estate

27. December 2014

Mahalo for the wonderful review and recommendation! We're so glad you enjoyed your stay in this beautiful condo. Yes, parking is certainly a plus! We look forward to your return visit!

Ilikia

Ann A. from Heatherton Australia, 22. December 2014

Stayed for 7 days in December, 2014

We had a fantastic stay, the location was perfect close to everything and easy walking around. The unit was very clean and big enough for the 5 of us. We met with Paul when we first arrived and he was very helpful and went through evrything for us. Would recommend to others and would we return.

Response from Captain Cook Real Estate

23. December 2014

Mahalo for the spectacular review! We're so glad you enjoyed your stay in this BEAUTIFUL condo! Hope it's available for your next trip!

Fabulous !!

Kawasaki Japan, 24. November 2014

Stayed for 4 days in November, 2014

We all had a good time!
Also assistant Paul was really nice to us.
We will choose this room again!
???4?????????????????????????
????????????????????????????????????????????????????

Perfect for our holiday

Karlsson J. from Newport United States, 17. November 2014

Stayed for 7 days in November, 2014

The unit is a beautiful end unit, with great views from all windows. There are balconies off of both bedrooms, and the main living area. The kitchen was adequately equipped - if you stay for a week, you may want to bring some extra dishwasher pods/paper towels from home. We loved it there.

Response from Captain Cook Real Estate

18. November 2014

So glad you enjoyed your stay! Mahalo!

Ilokai 1944

Omaha United States, 20. October 2014

Stayed for 7 days in October, 2014

Beautiful view, well-kept luxurious condo. Plenty of space for 4 adults. Easy beach access, good Honolulu location. Able to utilize kitchen with plenty of utensils, etc. Much better than just a hotel room.

Response from Captain Cook Real Estate

20. October 2014

Mahalo for your comments! We agree - "much better than just a hotel room!" Full kitchen, washer/dryer, parking, WiFi - it's your "home away from home!" Hope you can return for another visit soon! Your friends at Captain Cook Resorts

Best home away from home

Muskego United States, 15. October 2014

Stayed for 9 days in October, 2014

Loved the views,weather perfect,best fire-works display from the balcony. Yes, the property description was accurate. Property clean and well -maintained. Good customer service. Recommend ? Yes. Activities. And restaurants close and conventient.

Response from Captain Cook Real Estate

22. October 2014

Mahalo for sharing your comments about your recent stay - and for the recommendation to your friends! So glad you enjoyed your time in this beautiful condo - and we hope you can return soon! Your friends at Captain Cook Resorts

waikiki llikai apartment 1944

Lake Munmorah Australia, 20. September 2014

Stayed for 5 days in September, 2014

very clean, great view, everything worked and in good condition and the escalator was fast and never had to wait long for it to arrive, reception area very nice and staff friendly, easy to get cab and very convenient location to beach and stores

Fantastic Condo

Mark M. from Worksop United Kingdom, 12. September 2014

Stayed for 6 days in August, 2014

Excellent location, everything in Waikiki in walking distance. IlIkai building is a classic, its the oldest high rise in the area but has certainly stood the test of time and has some superb history attached to it. The condo is beautifully fitted to a very high standard and has everything you need.

Excellent in every way!

Katrina E. from Merewether Australia, 30. August 2014

Stayed for 10 days in August, 2014

The Ilikai was in a great location with lovely views over the harbour, the Hilton lagoon and within walking distance of Waikiki and the Alo Moana shopping areas and restaurants. The apartment was very clean, comfortable and well- appointed and Paul was a great help.

Fabulous Ilikai

Christchurch New Zealand, 10. July 2014

Stayed for 7 days in June, 2014

Our Ilikai 1944 apartment provided everything we needed for a wonderful holiday. The location was superb - adjoining the Hilton Hawaiian Village with its lagoon, and in a perfect position to watch the Friday night fireworks. Fabulous day and night views from both lanais, great kitchen facilities and blissful air conditioning. A short trolley ride away from the busy end of Waikiki beach, the apartment was in fantastic condition and we couldn't fault it. Neither could we fault the customer service from Captain Cook Resorts.

Response from Captain Cook Real Estate

11. July 2014

Mahalo for the great review! We're so glad you enjoyed your stay in this beautiful condo! The location is great and is matched by the fabulous view! We hope to see you again for your next visit! Your friends at Captain Cook Resorts

Our Stay

Sydney Australia, 08. July 2014

Stayed for 9 days in June, 2014

Good location for July 4th fireworks. easy access to everything. clean, comfortable.

Response from Captain Cook Real Estate

08. July 2014

Mahalo for the great review! We're glad you enjoyed your stay! Your friends at Captain Cook Resorts

Family Vacation

Anthony L. from Salt Lake City United States, 16. June 2014

Stayed for 10 days in May, 2014

Recently stayed at this property on a family vacation with my wife, 2 young children and my in laws. Beautiful views, plenty of space and accessibility to all that Waikiki has to offer. We will going back!

Response from Captain Cook Real Estate

16. June 2014

Aloha and Mahalo for the review! We're so glad your family enjoyed your stay and we look forward to your return! Your Friends at Captain Cook Resorts

llikai 1944 April 2014

Luis C. from FPO AP United States, 18. April 2014

Stayed for 7 days in April, 2014

Overall a great condo with fantastic views, the place was recently renovated with new furnishings. The amenities were great especially like the touch of having beach chairs and an sun umbrella. Maybe adding a small ice cooler would enhance things.

The WIFI connection kept dropping off line but eventually would connect. the 2nd day of our stay someone from the Ilikai staff knocked on our door saying their was a leak going downstairs. It resulted in a plumber having to spend several hours repairing it. Other than that we had a wonderful stay the building itself is old but the condo was great. I would stay there again for sure!

Response from Captain Cook Real Estate

18. April 2014

Aloha and thank you for your review! We're glad you enjoyed your stay and hope you're able to return for another visit soon! Your friends at Captain Cook Resorts

Perfect Vacation Condo

Regina Canada, 01. March 2014

Stayed for 12 days in February, 2014

The condo and the views from the condo were just as it appears in the photos...spectacular! The condo is brand new with top quality furnishings and accessories. It is comfortable and functional. We thought the location was perfect. We were close to the beach and all amenities, shopping etc., but away from the noise. We walked many places, but also took Thebus and charters, and these services stop right outside the front door. We felt very safe in this area too. The unit was very quiet except of course for the fireworks! The management company was also excellent. Our flight was very late in arriving and Paul still met us at the condo and showed us around. The on site bar and grill offers very good and affordable meals with great service. In short, the condo offered everything we could possibly want for a vacation home.

Response from Captain Cook Real Estate

12. May 2014

Aloha and mahalo for the review! We're so glad you enjoyed the condo and it's location, and hope you're able to come back and visit us again soon! Your Friends at Captain Cook Resorts
Check in / out
Check in time
Check in after 3pm - 3:00 PM (- )
Check out time
Check out by 11am- 11:00 AM (- )
Personal check in
...
More info on check-in/out
Amenities
Amenities
Amenities
List of amenities in this specific property
List of amenities in this specific property
Business

Near Restaurants and Shops, Nearby ATM, Nearby Golf Course, Nearby Post Office, Restaurants and Shops

Convenience

Coffee Shop on Site, Convenience Store Nearby, Medical Services Nearby, Nearby Bus Stop, Nearby Grocery, Outlet Shopping, Restaurant on location, Shopping, Supermarket Close By

Culture

Dance, Football Stadium, Lighthouse, Military Base, Museums, Symphony Orchestra, Theatre

Entertainment

DVD Player, Flat Screen TV , Flat screen TV in Master Bedroom, Flat screen TV in second bedroom, Free US Mainland/Local LD, Satellite / Cable

Family

Kapiolani Park and Beach, Library, Movie Theatre, Near Beach, On or Across Street from Beach, Surfing Lessons, Waikiki Aquarium

General amenity

Air Conditioning, Elevator, Free Wi-Fi, Hair Dryer, Internet, Iron & Board, Linens Provided, Living Room, Parking, Telephone, Towels Provided, Wifi, Wifi Speed 100+ Mbps

Geographic

At Yacht Harbor, Close to Beach, Exceptional Sunsets, Exceptional Views, Near Ala Moana Park Tennis Court, Near Ala Moana Shopping Center, Near Best Surfing in Waikiki, Ocean View, Short Walk to Beach

Health and safety

Clean with disinfectant, Enhanced cleaning practices, High touch surfaces cleaned with disinfectant, No-contact check-in and check-out, Towels and bedding washed in water that's at least 60sC/140sF
Kitchen

Blender, Coffee Maker, Convection Oven, Cookware, dishes, utensils, Dishes & Utensils, Dishes & Utensils for Kids, Dishwasher, Kitchen, Microwave, Oven, Refrigerator, Rice Cooker, Stove, Tea Pot - Kettle, Toaster

Leisure activities

-, beachcombing, luaus, scenic drives, whale watching

Living

Access Bathroom from Living Area, Balcony/Lanai, Bed linens, towels, beach towels, Central Air, Clock Radio, DVD, FREE Onsite Parking, FREE Wi-Fi / High Speed Internet, Flat Screen TV, Full kitchen with dishwasher, Hair Dryer, Hand-Held Shower, Iron and Ironing Board, Ironing Board and Iron, Lanai / Balcony, Laundry Facilities on Each Floor, No Smoking, Parking Included, Queen Sleeper Sofa, Split Air Conditioning, Toto Washlet, Vacuum Cleaner

Location type

Beach, Ocean View

Outdoor

-, Beach Walking, Beachcombing, Biking, Boogie Boarding, Convenience Store, Fishing, Heated Pool, Hiking, Snorkeling , Surfing, Swim at Ocean Beach, Swimming, Swimming Pool, Tennis Courts in Park, Walkway to Water, Wind Surfing

Pool spa

Communal Pool

Safety

Fire extinguisher, Smoke detectors

Suitability

non smoking only, pets not allowed

Suitability

Minimum Age Limit for Renters
Other Info
Additional information you might be interested in.
Parking

Not all condos include free parking. Please see description for details.

Transfer

For more info about transfer from Honolulu Airport.
Advice

For other useful advice.