Search
Property detail & price proposal
Reserve
Thank you
Waikiki Banyan #3605 T-2
Views of mountains & Ala Wai Canal - Waikiki city lights sparkle at night
1 Bedrooms for 4 guests (max. 4)
201 Ohua Avenue, Honolulu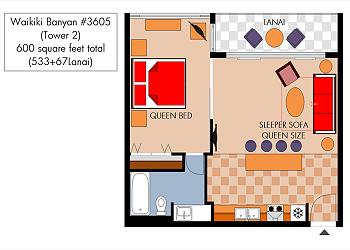 Description
Waikiki Banyan #3605 (3-night minimum)

Enjoy sweeping views of the Ko'olau Mountains by day and city lights by night from this deluxe, 36th floor, air-conditioned one-bedroom suite (533 sq.ft. plus lanai with table and chairs). Freshly painted and newly decorated, there are laminate floors throughout. The living room includes a 48" Smart flat screen TV and DVD player and queen sleeper sofa (new mattress 2016) and laminate flooring throughout.

The renovated (2015) full kitchen (no dishwasher) has porcelain flooring, oak cabinets and island, and blue pearl granite counters, and breakfast bar with 4 bar stools. Sliding doors separate the living area from the bedroom with Queen bed and 28" TV. The bathroom (with tub) has a hand-held shower wand.

Waikiki Banyan's 6th floor recreation deck includes a large heated pool, 2 hot tubs, sauna, BBQ area, lighted tennis court, and children's play area. Coffee shop on premises. Coin operated laundry facilities on located on each floor and there is public transportation at the corner.

All this and just a short 2-block walk to the best swimming and surfing beach in Waikiki, plus shops, restaurants, the Honolulu Zoo, Waikiki Aquarium, and Kapiolani Park!

This non-smoking accommodation sleeps 4.

30+ night stays may include a discount (not available in all seasons)!

YOUR RENTAL INCLUDES: FREE PARKING for one vehicle, WiFi, local calls and long distance to U.S. mainland and Canada. NO RESORT FEES!

During our Holiday Season (12/20-1/4) there may be a 10 night minimum. Please check with our Reservation Department for details.

FOR SAME-DAY RESERVATIONS, CHECK-IN TIME IS GUARANTEED FOR 5PM.

Hawaii Tax ID: TA-109-681-2544-01

Captain Cook Resorts will never ask you to wire funds via Western Union, Moneygram or PayPal.
Address

201 Ohua Avenue, Honolulu

Parking

See unit description and icons -

Floor

36

Elevator

Yes
Bathroom

1

Area

553 ft2

Beds

1 Queen, 1 Sleeper
Reviews
recommended by
Trip Advisor
--
Waikiki Information
Waikiki Guide
Reviews for this property
Banyan Condo

Prince Albert Canada, 11. May 2017

Stayed for 7 days in May, 2017

Excellent property rental. Clean and well maintained. Beautiful view at night.

Response from Captain Cook Real Estate

18. May 2017

Mahalo, Dawna, for the wonderful 5 star review and recommendation! Hope you are able to plan a return trip soon!

Nice place, has everything you need!

Kirkland United States, 02. January 2017

Stayed for 6 days in December, 2016

Our family of 4 enjoyed our stay at this condo. It was clean and had everything you would need. My daughters were impressed with the quality of the sofa bed and how comfortable it was! :)
I would add more dish towels, a dust pan and more cutleries.



Response from Captain Cook Real Estate

03. January 2017

Mahalo, Bahram! We appreciate the feedback and will look forward to your next visit!

Great rental

Janette R. from Oceanside United States, 02. December 2016

Stayed for 5 days in November, 2016

Great place, location, amenities . No complaints :)

Response from Captain Cook Real Estate

02. December 2016

Mahalo for the positive comments and recommendation! We hope you're able to return for another visit soon!

Perfect Location!

Fort Wayne United States, 26. September 2016

Stayed for 14 days in September, 2016

The condo was perfect - just a 2 minute walk to Waikiki Beach. The view from the balcony was beautiful. The condo was in great condition and the bed was very comfortable. The only downside was I called twice about a small issue and each time I was told someone would come by today to look at it and no one ever did. But, it was small so it didn't effect my stay. I would definitely stay here again and rent from Captain Cook!

Response from Captain Cook Real Estate

29. September 2016

Mahalo, Karen, for posting a review of your recent stay. Although we're happy to hear it didn't affect your stay, we sincerely apologize that your calls for service were not followed through. Hope you can enjoy a return trip to our beautiful islands soon!

great stay

Matt T. from Glendale United States, 19. June 2016

Stayed for 5 days in May, 2016

Booked this place last minute and it was just as great as the pictures make it look.

Response from Captain Cook Real Estate

20. June 2016

Mahalo for the great review, Matt!

Great Condo

Grant H. from Sherwood Park Canada, 20. May 2016

Stayed for 8 days in May, 2016

Excellent communication with captain Cook.
The Condo was updated and very clean.
Our only issue would have been that the pool was closed for the week and we were not advised, but not a big deal for us as we go to the beach anyway.
We will use Captain Cook in the future.

Response from Captain Cook Real Estate

20. May 2016

Mahalo, Grant, for the great review! We do apologize about the pool closure - we notify guests as soon as we are told - but sometimes the communication is last minute! Hope you're able to plan a return visit soon!

Great Condo!

Darlene G. from Vacaville United States, 13. March 2016

Stayed for 9 days in March, 2016

We had never stayed in a vacation rental previous to this one. This is such a fabulous property! It had everything we would have received in a hotel and so much more! The location was great and the view was awesome! We didn't close the curtains the whole ten days we were there! Can't wait ti stay at this property again! It was exactly how it was advertised!

Response from Captain Cook Real Estate

14. March 2016

We're so happy to hear you enjoyed your stay, Darlene! More and more people are learning what a great advantage it is renting a vacation rental over a hotel! Still grinning from your comment about not closing the curtains for the whole ten days! Love it! Mahalo and we hope you're able to return for another visit soon!

Waikiki Banyan Rental 36th floor renta

David P. from Mississauga Canada, 23. February 2016

Stayed for 7 days in January, 2016

Excellent location - 1 block from Waikiki beach and close to so many amenties - restaurants, shopping transportation. We we greeted by out Captain Cook rental representative and escorted to our condo and shown our apartment and explained all that we needed to know about our stay. Everything worked out as well as we could have wished for. The on-line site described the facility to a tee!
Incredible view of the mountains and the canal - from dawn through the night
Thank you Captain Cook Rentals!!

Response from Captain Cook Real Estate

24. February 2016

Mahalo for the great feedback, David! It is reassuring to know that our effort at making our guest's stay welcome and comfortable is being accomplished! We hope you can visit us again soon!

Spectacular view

St.Albert Canada, 09. January 2016

Stayed for 9 days in December, 2015

The unit was nice and the view spectacular. Basic needs were met for sure.
We had an issue with the sofa bed, it was very old and run down. I called Byron and he had it replaced with a new mattress the very next day, which I appreciated. The bed in the bedroom needs to be changed as well. Overall good.

Response from Captain Cook Real Estate

11. January 2016

Mahalo, Danesse, for the review! We value your comments and are happy to hear the sofa bed mattress was replaced during your visit. Bed comfort is so subjective - the bedroom mattress is just 5 years old and we haven't had any other complaints.

Great Stay in Waikiki

Bill K. from Burnaby Canada, 31. December 2015

Stayed for 14 days in December, 2015

Had all the comforts of home, walking distance to everything, 1 block to the beach,have stayed at this rental for the past 3-4 years and would definitely recommend it,its been always a pleasure to deal with Byron and his son James!

Response from Captain Cook Real Estate

31. December 2015

Mahalo, Bill, for the great review! Great to hear the positive feedback on property managers Byron and his son, James, too! We look forward to your next visit!

Priceless view from the Condo!

Franklin Park United States, 14. December 2015

Stayed for 4 days in December, 2015

I don't usually do reviews but it WAS the reviews that made me take this property. On budget? Rent a condo! Save your Hotel miles for other trips. To start, the pictures of the condo don't do much…yes, Ocean views are nice but the Mountain View is simply breathtaking! We watched the sunrise over Diamond Head daily.
The condo had everything we needed…even what we didn't realize we needed. Wardrobe malfunction? It had a sewing kit! It's accessible to virtually everywhere in Waikiki and is 2 blocks from the beach. The condo comes with free parking but I decided against renting a car 'cos buses stop right around the corner. Get a bus map and you are good to go. A quick trip to the store and we had the refrigerator stocked.
Byron is truly awesome, multiple kudos to him. We had some trouble with the keyless door, he came immediately and made us keys without disrupting our schedule.
We were VERY comfortable throughout our stay. Will I come back? Absolutely. If this condo is unavailable I'd definitely find another using Captain Cook.They are organized and very professional! Very satisfied customer. 5 Stars!

Response from Captain Cook Real Estate

14. December 2015

Mahalo for the wonderful review and recommendation! So happy to have you stay with us and we will look forward to your next visit! We'll also pass your compliments on to Byron, the property manager!

Beautiful rental, perfect location!

Fremont United States, 28. September 2015

Stayed for 5 days in August, 2015

First time using VRBO to rent a place to stay and I was thoroughly impressed and very satisfied with our stay. I was looking for a property that had a full kitchen because we were traveling with my 6mo old, and thought it would be nice to have a large sink to wash bottles etc.

The property was a perfect size for our family of 3, and the room had enough space for us to fit a pack n' play. There's a lanai that gives you a stunning mountain view. The property was really clean and well stocked with the basics. Location was perfect; very centralized, quick walk to Waikiki beach and amazing food in the area.

Property management was super friendly and helpful as well. Byron was assisting us throughout the stay and was very responsive whenever we called. The garbage disposal was having issues while we were there and he had someone come fix it within a day. We also asked for a pack n' play when we got there and he had it dropped off within hours.

I couldn't have asked for a better place to stay, and would love to come back on my next trip to O'ahu! If i had to nitpick, I would say the bathroom can use a tad upgrading and cleaning. But other than that, I am so glad we booked this place!

Response from Captain Cook Real Estate

29. September 2015

Mahalo, Louisa, for sharing comments about your recent stay - your FIRST VRBO experience! We're so glad it was such a good one and if you're able to return for another visit, please give us a call!

Family Time Vacation

Glenview United States, 10. August 2015

Stayed for 6 days in July, 2015

Great location.Parking space was a plus.Had 3 issues/complaint:1) Our TV didn't work. Got it fixed 3 days after reporting.2)Divider between living space and bedroom not properly installed. Property manager could not fix it. Worried it would fall on someone.3) Garbage disposal not working. Got it fixed when new tv was delivered/installed.

Response from Captain Cook Real Estate

10. August 2015

Aloha Maria, and thank you for posting a review of your stay. We apologize for the delay in replacing the living room TV. The first replacement was not functioning, but fortunately, a new 48" Smart flat screen was installed the next day (which supplemented the 2nd TV in the bedroom). The divider was installed correctly, but needed an adjustment the property manager was unable to make. Our repairman made the correct just a couple of hours after it was reported. We appreciate your patience through the repairs and hope you'll be able to return for another visit soon!

What a find...

Ramona M. from Riverside United States, 02. August 2015

Stayed for 6 days in July, 2015

This condo was absolutely perfect and fit my needs 100%. It was for myself and my two granddaughters. The description online was accurate and the pictures were horrible surprises. There were even some pleasant surprises such as new large flat screen television and DVD player in living room for all those Disney movies we watched in the evening and a boogie board and shade tent for the beach. The process for renting online, checking in and checking out were fast, simple and efficient, thanks to Byron who provided great service and was available to answer any questions I had, as this was my first time ever renting a condo. I've been to Honolulu several times but always stayed in hotels. Never again...this will be my new "go to" accommodations going forward. Thank you for a wonderful experience!

Response from Captain Cook Real Estate

04. August 2015

What a wonderful review, Ramona - mahalo! We're happy and honored to be your new "go to" accommodations for your next visits!

Waikiki Banyan

Woongarrah Australia, 17. June 2015

Stayed for 8 days in June, 2015

Excellent location, great Condo, had everything plus more. Captain Cook Resorts were wonderful to deal with. Amazing mountain views, with sparkling night lights. Highly recommended. Good facilities. We would go back to this apartment in a heart beat. I was concerned it wasn't close enough to the action, it was so close it took 5 mins walk to get into the heart of it all, or one minute walk to the Trolley ride which was so very convenient. Everything was exactly as the pics and description provided.

Response from Captain Cook Real Estate

19. June 2015

Mahalo for choosing to stay with Captain Cook Resorts and the great review and recommendation! We're so glad your visit was enjoyable!

Another Great Stay with Captain Cook!

Alexia L. from Norfolk United States, 15. May 2015

Stayed for 6 days in May, 2015

This trip was my second time using the Captain Cook private vacation rental. This time, I also recommended the company to my father. My last stay was so good that I had him cancel his reservations at a hotel in the Waikiki area so that he could go through Captain Cook. My entire family LOVED the Waikiki Banyan! The room was phenomenal with a breathtaking view of the mountains and my school, Chaminade University. Although we had a slight issue with our electronic door lock malfunctioning, our property manager handled it in a timely and professional manner. I would like to thank Captain Cook for making my college graduation trip a dream vacation for my family. We will definitely be using you guys for all of our stays in beautiful Hawaii. Mahalo!!

Response from Captain Cook Real Estate

10. June 2015

Mahalo, Alexia, for the positive comments and recommendation! We work hard to offer great accommodations and service, and we're so glad your college graduation trip turned into a dream vacation for your family! We look forward to seeing you on your next visit!

Mahalo

San Diego United States, 21. January 2015

Stayed for 6 days in January, 2015

Excellent facility, comfortable room with all necessary amenities, can't beat the location. Great time!

Response from Captain Cook Real Estate

26. January 2015

Mahalo for the positive comments and recommendation! We look forward to your next visit!

First Class

William W. from Wellington New Zealand, 27. December 2014

Stayed for 5 days in December, 2014

From my introduction to Byron...the agent ..until I left the was fantastic.
Lovely apartment..well kept and stocked....everything one could wish for, the agents....Captain Cook ...were outstanding.
Byron could not have been more friendly or helpful...10 out of 10.
Many thanks from a delighted customer.
William wotherspoon

Response from Captain Cook Real Estate

27. December 2014

Thank you so much for the wonderful comments! We'll be sure to share your comments with Byron (Property Manager). We're delighted YOU are delighted and look forward to your return visit!

Waikiki Banyan, Recharging Base.

Tamami T. from Chigasaki-shi Japan, 17. September 2014

Stayed for 14 days in May, 2014

My second step to Hawaii was 33 years from first step in 1981 and I had no idea of the stay at mountain view side of the condo instead of popular ocean view side room.

However, the room offered us was immediately attracted us by equipped with well and quiet furnished in addition to marvelous landscape view of mountain with wide spread houses along the ridge as well as in the valley.

We did enjoy our 2 weeks stay through favorable environment by best use of good location and by the results, I could recharge my battery during the stay.

Hopefully we are able to return again shortly and I appreciate your comprehensive arrangement and thanking you in advance for your similar service in the near future.

M.Abe & family

Great Location

PB N. from Florence United States, 25. December 2013

Stayed for 5 days in December, 2013

I really enjoyed my stay here. The unit was clean and very conveniently located. The city views, both at night and at sunrise were nothing short of spectacular. I would definitely stay here again! And the people with Captain Cook were most helpful and professional. Very nice stay!

Response from Captain Cook Real Estate

26. December 2013

Mahalo for your feedback! We look forward to your return visit! Captain Cook Resorts

Perfect

Gustavo F. from Sao Paulo Brazil, 10. May 2013

Stayed for 13 days in April, 2013

Everything was perfect, since beginning, when Byron received us at the Lobby and explained the terms and rules of the building.
I was with my wife and my 3 years old daughter, so the kitchen was very useful to prepare some meals to my child.
The apartment looks exactly like the picture, no surprises.
Great location, great view from 36th floor, free wifi and parking lot.
I highly recommend this property.

Great Stay

Lee C. from New Braunfels United States, 17. April 2013

Stayed for 9 days in April, 2013

Being on Waikiki put us close to the action and beach. Being up 36 floors kept us away from the noise. Beautiful view of the mountains and golf course. Byron was super. The ony real issue we had was the antenna on the rental car scraped the cieling of teh parking garage. A totally carefree week!

Nice view, clean, well prepared room

Tri N. from Sydney Australia, 07. March 2013

Stayed for 7 days in February, 2013

Nice view of diamond head, close to waikiki beach, shops, and helpful friendly check in staff; Byron. Spotless room, equipments available, however sauna facility needs an upgrade as well as the swimming pool &spa

noisy but nice

Leon & Elaine S. from Buena Vista Canada, 24. January 2013

Stayed for 7 days in January, 2013

Nice clean unit, close to Waikiki. Unfortunate that the construction is still going on which led us to a couple of earlier than expected wake up times but overall a nice place.

Definitely recommendable !!!

YOKOHAMA Japan, 19. January 2013

Stayed for 8 days in December, 2012

My parents and I stayed at Waikiki Banyan #3605 T-2 from December 24, 2012 to January 1st, 2013. The room was spacious enough to accommodate the three of us. My parents used the master bedroom, while I slept on the sofa bed in the living room. The room was kept very clean and we enjoyed the mountain view from our lanai.

Location was great. It was 1 block away from the beach, located behind Marriott. The trolley bus stop was very near so we found no difficulty moving around in Waikiki.

The greatest part was that we were able to view the fireworks behind the tail of Diamond Head from our own lanai on New Year`s Eve !!
Of course, we did go down to the beach for the Countdown as well !! The fireworks were beautiful and I was amazed to see so many people there.

I would definitely love to stay at Waikiki Banyan again. Thank you very much for a wonderful stay !!

Cheers,
Yuka



I would like to stay here again

San Diego United States, 13. July 2012

Stayed for 7 days in July, 2012

We spent a week at this condominium. It was all as expected. Clean and in good condition. There were enough number of towels and others. Very well equipped.

Captain Cook rocks

Dan C. from NO Vancouver Canada, 23. May 2012

Stayed for 9 days in May, 2012

After just one night at the Marriott Waikiki, we decided to look for something that represented a much better value for the dollar. Waikiki Banyan, situated just one block away, was not only cheaper by around 25%, but much better in virtually every way: one bdrm apartment, two TVs, full kitchen, full-size fridge (this was critical for us), playground, parking and Internet included etc.

Captain Cook Real Estate was very prompt in answering our rental inquiry on a Saturday morning (8 AM) - we wanted to avoid paying any extra nights at the hotel. By lunchtime, we found a property we liked, viewed it, signed the contract and received the keys.

Denise (Reservations) was very helpful and reliable - while Byron (Property Management) was by far the most accommodating, genuine and friendly professional we have had a chance to meet in an awfully long time. He really took an interest in ensuring that we had everything we needed for an awesome vacation. Have absolutely no hesitation in highly recommending their services; when we go back, we know who to call.

OUR BEST VACATION

ROBERT C. from ST ALBERT Canada, 02. April 2012

Stayed for 30 days in March, 2012

WE REALLY ENJOYED OUR STAY AND HAVE BOOKED THE WAIKIKI SUNSET FOR THE SAME TIME PERIOD NEXT YEAR THROUGH CAPTAIN COOK. SEE YOU IN 333 DAYS.
THANKS AGAIN
JUDY & BOB CHRYSLER

Nice view of Ko' olua Mountain and Golf Course

Sonoma United States, 03. March 2012

Stayed for 45 days in January, 2012

The location is great: close to bus stop, a mile to Safeway, 2 blocks to beach, walking distance to golf course, next door to Community Center. The view is spectacular to enjoy from balcony and being high so that no other buildings are in the way. Beach chairs are handy. The recliner was comfortable. Byron was very helpful and took care of our concerns (cleaning supplies, replacing scratched up rice cooker, fixing the vacuum, etc)

Condo is basic, no frills, and under 600 sq. ft. For a stay over a month, it is a little small.

Guest review

Andrei H. from Mountain View United States, 30. November 2011

Stayed for 8 days in November, 2011

Good condo!

Robert G. from Wollongong Australia, 15. May 2011

Stayed for 4 days in April, 2011

heaven on the 36th floor

United States, 13. March 2011

Stayed for 11 days in February, 2011

It has a wonderful view especially at night. Clean flooring,great TV and nice new fridge. Nice to have the beach chairs and umbrella. Thank you.

Awesome Holiday

Darwin S. from Melita United States, 30. December 2010

Stayed for 30 days in November, 2010

Clean & comfortable suite, with a beautiful view. Great location, all the comforts of home. Looking forward to another visit.

great location

Pierre D. from Mississauga Canada, 08. December 2010

Stayed for 7 days in November, 2010

suite located walking distance to the beach in waikiki. nice suite, nothing fancy just perfect. would recommend to anyone!
Check in / out
Check in time
Check in after 3pm - 3:00 PM (- )
Check out time
Check out by 11am- 11:00 AM (- )
Personal check in
...
More info on check-in/out
Amenities
Amenities
Amenities
List of amenities in this specific property
List of amenities in this specific property
Business

Nearby ATM, Nearby Golf Course, Nearby Post Office, Near Restaurants and Shops

Convenience

Coffee Shop on Site, Shopping, Convenience store on site, Medical Services Nearby, Nearby Bus Stop, Nearby Grocery, Outlet Shopping, Convenience Store Nearby

Culture

Free Concerts in Parks, Lighthouse, Military Base, Museums, Theatre, Dance

Entertainment

Cable Television, CD Player, DVD Player, VCR, TV in Bedroom, Flat Screen TV

Family

Library, Movie Theatre, Playground, Sunset on the Beach Movies, Surfing Lessons, Waikiki Aquarium, Near Beach, Near Zoo and Kapiolani Park

Geographic

Near Waikiki Aquarium, Near Zoo and Kapiolani Park, Short Walk to Beach, Near Ala Moana Shopping Center, Kapiolani Park Tennis Courts, Near Ala Moana Park Tennis Court, Close to Beach, Exceptional Sunrises, Near Beach, Near Best Surfing in Waikiki, Near Sunset on the Beach

Kitchen

Microwave, Oven, Four Burner Glass Cook Top, Tea Pot - Kettle, Cookware, dishes, utensils, Blender, Refrigerator, Coffee Maker, Rice Cooker, Stove, Toaster
Living

DVD, Flat Screen TV, Hair Dryer, Vacuum Cleaner, Hand-Held Shower, Queen Sleeper Sofa, Laundry Facilities on Each Floor, Balcony/Lanai, Parking Included, Full kitchen without dishwasher, Bed linens, towels, beach towels, Air Conditioning (Window), Clock Radio, No Smoking, Ironing Board and Iron, Window A/C, Lanai / Balcony, FREE Onsite Parking, FREE WiFi / High Speed Internet, Coin Operated Laundry, Iron and Ironing Board

Outdoor

Swimming Pool, Heated Pool, BBQ, Boogie Boarding, Swimming, Beach Walking, Beachcombing, Biking, Children's Play Area, Hiking, Hot Tub, Ocean Kayaking, Recreation Area - BBQ Grill, Sauna, -, Snorkeling , Surfing, Swim at Ocean Beach, Tennis, Wind Surfing, Convenience Store, Deep Sea Fishing, Fishing

Suitability

pets not allowed, non smoking only
Similar properties:
Other properties you might be interested in.
Other Info
Additional information you might be interested in.
Parking

---

Transfer

For more info about transfer from Honolulu Airport.
Advice

For other useful advice.