Search
Property detail & price proposal
Reserve
Thank you
Waikiki Park Heights #1012
Ocean View with central A/C and just a 5-10 minute walk to beach! Sleeps 4
1 Bedrooms for 4 guests (max. 4)
2440 Kuhio Avenue, #1012, Honolulu
Contact a rental agent
Call us
US 808-738-5507
Canada 1-800-854-8843
or use Contact Us form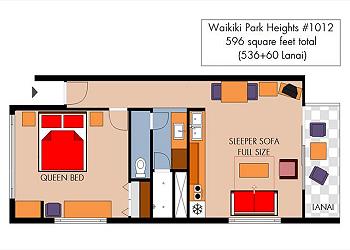 Description
Waikiki Park Heights #1012 (3-night minimum)

Enjoy the comforts of home in this fresh one-bedroom condo (536 sq.ft. plus balcony/lanai with table and chairs), OCEAN VIEWS and central A/C.

LIVING AREA:
- NEW (Feb 2019) Full size convertible sleeper sofa (sleeps for 2 children or 1 adult)
- 32" Smart flat screen TV
- Black-out Drapes
- Remodeled kitchenette with quartz counters, cherry cabinets, and new appliances including full-size refrigerator, convection/microwave oven, and a two-burner glass cook-top.

A long hallway and bathroom with large walk-in shower and hand-held shower wand (no bathtub), separate the bedroom from the living area. The bedroom has a comfortable Queen bed and black-out curtains.

YOUR RENTAL INCLUDES:
- FREE free local calls
- FREE WiFI
- TV has Digital Variety Pack, & Showtime.

Parking, subject to availability, is $20/day plus tax.

WAIKIKI PARK HEIGHTS:
- Located in central Waikiki, just a 5-10 minute walk to the beach, blocks to the supermarket, and near public transportation!
- 24-hour Security; secure elevators
- Famous Hy's Steakhouse on site!
- Laundry facilities on site
- 4th floor Sundeck has: heated saline pool, lounge chairs, tables and umbrellas.

Sorry, no pets. This non-smoking accommodation sleeps 3-4.

During our Holiday Season (12/20-1/4) there may be a 7 night minimum. Please check with our Reservation Department for details.

FOR SAME-DAY RESERVATIONS, CHECK-IN TIME IS GUARANTEED FOR 5PM.
30+ night stays may include a discount (not available in all seasons)! During our Holiday Season (12/20-1/4) there may be a 7-night minimum. Please check with our Reservation Department for details.

CHECK-IN IS 3 p.m. – CHECK-OUT IS 11 a.m.
Since another guest may check out the same day you check in, to guarantee an earlier check-in, you must reserve the condo for the night prior to arrival.

ALL CAPTAIN COOK RESORTS RENTALS INCLUDE:
- Bed linens, bath, beach & kitchen towels
- Dishes, silverware, cookware (including tea kettle & rice cooker)
- Hair dryer, iron & ironing board
- Start-Up Supplies: coffee filters, laundry detergent, dish soap, dishwasher soap, bar soap, 2 oz. each of shampoo, conditioner, body wash and body lotion, paper towels, toilet paper, tissue, and basic cleaning supplies
- NOT provided: beach umbrellas, beach toys, aluminum foil, zip-Lock baggies, coffee, condiments, seasonings, cooking oil, fabric softener, and bleach.

Hawaii Tax ID TA-01
Address

2440 Kuhio Avenue, #1012, Honolulu

Parking

Not all condos include free parking. Please see description for details. -

Floor

10

Elevator

Yes
Bathroom

1

Area

536 ft2

Beds

1 Queen, 1 Sleeper
Reviews
recommended by
Trip Advisor
--
Waikiki Information
Waikiki Guide
Reviews for this property
Great experience

Lidia S. from Merced United States, 15. March 2019

Stayed for 7 days in February, 2019

Loved the place. Perfect walking distance to the beach.

Response from Captain Cook Real Estate

15. March 2019

Mahalo, for the wonderful review! Hope you are able to plan a return trip soon!

Great viws

David B. from Rosetown Canada, 24. January 2019

Stayed for 14 days in January, 2019

This condo has great views but condo is worn out needs new flooring the futon is terrible you can't even sit on needs a complete cleaning .It would be nice to have some cleaning supplies for shower to wash walls after you shower .The building itself is very clean and in a great area yes I would stay here again if some changes were made the views are great.

Response from Captain Cook Real Estate

24. January 2019

Thank you for sharing your comments about your recent stay. We are very happy that you appreciated the location, and views of Waikiki Park Heights 1012. We apologize that you found the unit dated; owners are always encouraged to update their condos. We are replacing the futon with a new sofa in the immediate future. We are also so sorry to hear about your negative experience with your check-in and the cleanliness of the condo. Please accept a full refund of your cleaning fee. We do value you as a customer and hope you will keep us in mind for your future vacation rental plans.

Great position, but sadly needs updating.

Sonia B. from Auckland New Zealand, 20. January 2019

Stayed for 11 days in December, 2018

Apartment was in a great spot, close to everything. But it felt very old and needs updating, furniture looked like it came out of an op shop. there was a futon couch/bed but it was the worst thing to sit on, really need another couch to sit on.

Response from Captain Cook Real Estate

24. January 2019

Thank you for sharing your comments about your recent stay at Waikiki Park Heights 1012. We are pleased that you appreciated this condos great location. We apologize that you found the unit dated; owners are always encouraged to update their condos. We are replacing the futon with a new sofa in the immediate future. We do value you as a customer and hope you will keep us in mind for your future vacation rental plans.

Makai or Mauka?

LITTLETON United States, 24. June 2018

Stayed for 32 days in April, 2018

Usually in Waikiki condos or hotels one gets a sea view of a mountain view. With this property you get makai (the sea) from the living room and mauka (mountain) from the bedroom. And a lot of backyards in between.

The single best thing about the apartment was the very large shower stall. Very nice.

The one annoying thing was the futon in the living room doubling as a couch. Might be fine if you have a small child and need the kid's bed but as a couch for sitting. Not as pleasant.

But it is easy to get outside and walk the beach and beach parks.

Response from Captain Cook Real Estate

29. June 2018

Mahalo, for the lovely review and for choosing to stay with Captain Cook Resorts during your recent visit to Hawaii. We're so glad you enjoyed your stay and pleased that you appreciated the location and views of this great condo! We apologize that you found the futon uncomfortable; we will investigate the concerns you have raised with the owner. I will pass your feedback onto the team, and we look forward to your next visit!

Excellent place to stay for the cost

Britni R. from United States, 22. June 2018

Stayed for 4 days in June, 2018

I had to work for 25 days in Ohau. I had to extend my trip several times without having opportunity to plan where to stay. Captain Cook has the best customer service I have ever dealt with. This unit was the third one of my journey and was clean and everything was above my expectation for the price

Response from Captain Cook Real Estate

29. June 2018

Aloha and mahalo for taking the time to post a 5 star review and recommendation of this fabulous condo. We're delighted you enjoyed your stay! It makes our day to know our dedicated staff was able to make your work stay from start to finish a wonderful experience. We look forward to welcoming you back in the near future.

A Bright Sunny Suite with a large Lanai

Bob C. from Victoria Canada, 27. February 2018

Stayed for 17 days in February, 2018

Simply a great suite. Easy check-in and nothing to figure out. Suite has lots of airy windows, simple furniture and a beautiful kitchen. Nice outdoor corridors lead to all the suites.

Response from Captain Cook Real Estate

27. February 2018

Thank you for choosing Captain Cook Resorts and posting this great 5 star review and recommendation! We are dedicated to offering great accommodations and service, and we're so glad your visit was enjoyable. We look forward to welcoming you back on your next visit!

Overall great place

Rhiannon N. from Bundoora Australia, 03. May 2017

Stayed for 8 days in April, 2017

The location was good for us. We did a lot of walking but we enjoyed it. It was good that we had a pool to use if we didn't feel like going to the beach. Shops to do some food shopping weren't far either. I also liked that we could see the ocean from our room for a reasonable price. Futon as a couch was a bit annoying as it kept sliding down

Response from Captain Cook Real Estate

03. May 2017

Mahalo for choosing to stay with Captain Cook Resorts and the great review and recommendation! We're so glad your visit was enjoyable. We hope your future travels do include another visit! See you then!

Waikiki

Gina F. from St Petersburg United States, 17. March 2017

Stayed for 4 days in March, 2017

Very convenient, clean, would recommend this place if you want to be close to Dukes

Response from Captain Cook Real Estate

20. March 2017

Mahalo for the 5 star review and recommendation! We look forward to seeing you on your next visit!

February in Waikiki

Roger M. from Vancouver Canada, 08. March 2017

Stayed for 30 days in February, 2017

very good, although expensive

Response from Captain Cook Real Estate

08. March 2017

Mahalo, Roger! We appreciate the feedback and recommendation. We will look forward to your next visit!

November 2016 WPH #1012

Torrance United States, 30. November 2016

Stayed for 7 days in November, 2016

The unit was in a convenient location. It was well-priced and clean. The large converted shower was very convenient, as was the door on the lavatory. The windows on the side in the living room and bedroom of this corner unit made it bright and airy. Barbara was helpful and professional. The only suggestion we have for the unit is that the kitchen could use a few more food storage containers and some additional microwave-safe cookware.

Response from Captain Cook Real Estate

30. November 2016

Mahalo, Karen, for taking the time to share your recent experience at Waikiki Park Heights 1012! It's always great to get this kind of feedback - we're so glad you enjoyed your stay! We will pass your feedback on to your property manager, Barbara; she's a real asset to the Captain Cook Resorts team!

Great condo, perfect location!

Fitchburg United States, 22. October 2016

Stayed for 4 days in October, 2016

Clean, up-to-date, perfect location. Would absolutely stay again. Room for improvement, in our opinion, futon cushion was VERY firm and too much so for our daughter with back problems to use. Toilet area reminiscent of airplane, and zero privacy for taking shower in shared company. But these were bumps in the road for us and, overall, very happy. Bus line right there, many good, reseasonabke restaurants in walking distance. Grocery store also walking distance.

Response from Captain Cook Real Estate

24. October 2016

Mahalo ,Robert, for taking the time to share your recent experience at Waikiki Park Heights 1012! We are glad that you were happy with your overall experience. and thank you for your positive review and recommendation.

Very Satisfied

Amy S. from Santa Barbara United States, 21. August 2016

Stayed for 4 days in August, 2016

The condo is very conveniently located a couple blocks off Waikiki beach. There is a nice view of the ocean from the balcony. For the price, this is a great bargain. The kitchen is stocked with everything you need, and the condo has beach chairs and beach towels available. The place was very clean and comfortable. It's nothing fancy or deluxe, but more than adequate for a comfortable stay. The furniture in the condo is quite a bit older and not as nice as the advertising pictures on VRBO, but we didn't care at all. There is no television in the bedroom and there is only a small TV in the living area. We didn't spend time watching TV, so that was no matter, but for some people, that might be a drawback. We have stayed in several medium priced hotels on Waikiki and this condo was much more comfortable and cleaner than we have experienced before. The property manager was very helpful and friendly, and the check in was easy. If you want to stay on Waikiki beach and don't have a car or don't want to rent a car, this condo is a good choice in this price range. We rented a car and explored Oahu, and this condo was a great place to return to each evening. There are lots of great restaurant choices nearby within walking distance. The location is very convenient to the U of H Manoa campus. Our son attends U of H so we will be staying in this condo again!

Response from Captain Cook Real Estate

21. August 2016

Mahalo, Amy for the great review! This condo is a great find for those searching for a bargain. Many of our other Waikiki Park Heights condos do have a TV in the bedroom. Glad you enjoyed your stay and look forward to your next visit!

1012 Waikiki Park Heights

Didier H. from OAKLAND United States, 12. August 2016

Stayed for 8 days in July, 2016

Perfect location.
Barbara was very nice and helpful for check in and out.

Response from Captain Cook Real Estate

22. August 2016

Mahalo!

Small but great unit

Rick R. from Sandpoint United States, 28. June 2016

Stayed for 20 days in June, 2016

We had a great stay at Waikiki Park Heights. Aside from small inconveniences like coin op laundry and an outdated key fob system to use the elevator it was great. The futon wasn't great or comfortable but did the job for our 7 year old daughter. It has a good view and a lanai that looks over the pool. Captain Cook was very professional and were always available to help if any issues came up. We'll definitely be using them again.

Response from Captain Cook Real Estate

28. June 2016

Mahalo! We look forward to your next visit!

ANOTHER AMAZING BREAK IN HAWAII

Julie S. from West Launceston Australia, 09. June 2016

Stayed for 11 days in May, 2016

This property is vey well maintained, clean and quiet. great views and close to beach and shops.We always stay at WAKKIKI PARK HEIGHTS.
this unit is the best so far. SO I;LL BE BACK THERE THIS TIME NEXT YEAR.

Response from Captain Cook Real Estate

10. June 2016

Mahalo for the great review, Julie and Karen! We'll look forward to seeing you next year!

Excellent location, very safe building.

Julie S. from Port Coquitlam Canada, 29. March 2016

Stayed for 16 days in March, 2016

Our stay was great. High security 24 hours, friendly people around the building, very convenient location and the suite was in perfect condition.

Response from Captain Cook Real Estate

07. April 2016

Mahalo for the great review, Julie! Hope you're able to come back and visit soon!

convenient and comfortable

San Francisco United States, 03. February 2016

Stayed for 5 days in January, 2016

This unit is well maintained and in a good central location. There are views from every window and its well equipped. We visit Oahu frequently and would recommend this.

Response from Captain Cook Real Estate

03. February 2016

Mahalo, Louise! We hope you can visit again soon!

Relaxing end to a Month long trip to the US

Jody M. from Christchurch New Zealand, 17. January 2016

Stayed for 5 days in January, 2016

Family of 4 with 2 teenage boys - good location to the main beach at Waikiki. Very reasonable at around half the cost we would have paid for a resort. They were very accommodating with the supply of a roll away bed.
Although not serviced extra towels were provided for our 5 night stay.
Would recommend this accommodation especially if you planned to spend most of your time on the beach

Response from Captain Cook Real Estate

19. January 2016

Mahalo, Jody! We hope your family can return again sometime soon!

very comfortable room!

Shingo Y. from Hiratsuka Japan, 31. July 2015

Stayed for 10 days in July, 2015

We stayed 10 nights here.
The location is very comfortable. Beach, shopping, driving, whatever you can do.
You'll like it!


Response from Captain Cook Real Estate

31. July 2015

Mahalo!

Waikiki

Matthew A. from Portland United States, 01. June 2015

Stayed for 5 days in May, 2015

Everything was fantastic.

Response from Captain Cook Real Estate

01. June 2015

Mahalo! We hope to see you on your next visit!

Excellant once again!

Linda S. from Coquitlam Canada, 06. May 2015

Stayed for 7 days in April, 2015

I booked it for my daughter and boyfriend for a week and they had the best time. Location is the best compared to her other visit. Suite was perfectly clean and very quiet building.
So far my 2 daughter as well as myself will be returning to one of your locatins for sure.

Response from Captain Cook Real Estate

06. May 2015

Mahalo for the positive comments and recommendation! We work hard to offer great accommodations and service, and we're so glad your stay was enjoyable. We look forward to seeing you on your next visit!

Very nice view to wake up too

Jamie B. from Seattle United States, 01. May 2015

Stayed for 7 days in April, 2015

Great location, short walk to the beach and everything is near by!

Response from Captain Cook Real Estate

03. May 2015

Mahalo for the positive comments and recommendation!

Great place to Stay!!

Danny M. from Fort Mcmurray Canada, 04. March 2015

Stayed for 8 days in February, 2015

We loved the location! Room perfect for a couple and maybe small family. We have teenagers and found the sleeping arrangements a bit tight as the sofa bed is small and not very comfortable. This was really the worst comment about this rental, as everything else was great. Condo is clean and newly renovated, shower was HUGE and lots of water pressure.pool area was nice too and not over crowded! Would reccomend this Stay to anyone, not super fancy by any means but served the purpose! :)

Response from Captain Cook Real Estate

05. March 2015

Mahalo for posting a review of your recent stay and for the recommendation. In addition to the living room's double sleeper sofa, a futon mattress provided for your teens. We apologize you did not find that adequate. Perhaps a two bedroom for your next visit?

Great experience

Kazuya H. from Tama-ward Japan, 28. January 2015

Stayed for 13 days in January, 2015

The room was beautiful, clean, and bright. My son really loves it. The residents there were mostly friendly. The agent (owner) was friendly and kind (actually, she quickly handled my requests).

Response from Captain Cook Real Estate

28. January 2015

Mahalo for the positive comments. We work hard to offer great accommodations and service, and we're so glad your visit was enjoyable. I will pass your feedback on Barbara, your Property Manager, and will look forward to seeing you again soon.

What a wonderful experience our family enjoyed!

Huntsville United States, 17. January 2015

Stayed for 8 days in December, 2014

The condo was very clean and spacious. It is located close enough to the beach, stores and restaurants so we did not have to hire a taxi. We enjoyed eating breakfast on the patio while watching the ocean. We bought a trolley pass which enabled us to see different parts of the island. Trolley stops were close to our condo. We thought our trio to this beautiful island would be a once in a lifetime trip but we are already planning our next trip!

Response from Captain Cook Real Estate

19. January 2015

Thank you very much for the positive comments! We're so glad your visit was enjoyable and are happy to hear you're planning your next visit already! We look forward to seeing you again soon.

Waikiki condo

Coronado United States, 12. January 2015

Stayed for 4 days in December, 2014

Absolutely perfect! The condo was large and clean. It was very conveniet to everything. We were able to walk to the beach, dinner etc. The balcony was lovely. We would sit out in the evening and take in the view and the beautiful warm air. We particulatly loved that this was a corner apartment. The price was very reasonable. We were extremely happy and wish we had known about Captain Cook rentals before. We absolutely will be back again!

Response from Captain Cook Real Estate

12. January 2015

Aloha and mahalo for the wonderful review and recommendation! We're so happy to hear you had a great stay and hope to see you again next visit!

good value for the price

Canton United States, 02. April 2013

Stayed for 7 days in November, 2012

The unit worked well for a small family of 4 - beds were comfy and location was convenient to beach and main roads.
windows need to be cleaned and it would be nice to have blinds that block out the lights in the bedroom

Perfect location in Waikiki...

Rob J. from Fort McMurray Canada, 08. February 2013

Stayed for 7 days in January, 2013

This is the third time we have stayed in this building. The security guards are very friendly and always open the door for us. This is the perfect location in waikiki. Close to everything and great view of the beach. Love how only people staying in the building have access to the condo floors. The pool is great and spent many mornings there. Would highly recommend this property to everyone. Barb is very professional and great to deal with. Will be staying again in the future. Thanks so much......

Great place

Susan M. from Encino United States, 21. September 2012

Stayed for 7 days in August, 2012

Everything was wonderful. We definetely will be back there and we will also recommend the place to our friends.

Great stay experience

San Jose United States, 28. August 2012

Stayed for 3 days in August, 2012

we decided to rent a car at last minute and the manager was able to get us a parking spot! clean apartment. has everything you need.

Thoroughly enjoyable, will go there again

Brian S. from Maitland Australia, 21. July 2012

Stayed for 6 days in July, 2012

Great experience, great location, great food, great sightseeing, great holiday.

very good location. clean and resnable price.

Mohsin Q. from Scarborough Canada, 14. April 2012

Stayed for 5 days in April, 2012

When I reach there. I was really service that location was great and very clean property. Management really help full to us. If any one visiting Honolulu. Please stay here. You will like it and your money worth as well. You can go down any time at the beach or shopping. All the shopping stores,nice resturant and food store are just walking distance.

Only six days.

Victoria Canada, 19. January 2012

Stayed for 6 days in January, 2012

It was limiting to be restricted to the use of only 1 electrical item at one time.
We appreciated the amenities that were provided.

Waikiki Park Heights stay.

Chris D. from Glenroy Australia, 05. October 2011

Stayed for 22 days in August, 2011

Very happy with Captain cook resorts, answered every questions promptly and professionally. Unit was a little dated and a little disappointing, but it didnt deter from our holiday, very happy with spaciousness of unit as well. Would stay again. Thank you so much.

Great stay

Laurence H. from Laurieton Australia, 12. May 2011

Stayed for 13 days in April, 2011

Great stay at the Waikiki Park Heights

Bill A. from Nanaimo Canada, 08. March 2011

Stayed for 30 days in February, 2011

Great location, helpful staff, very clean,but condo needed a little up dating. Would recommend this property.

Response from Captain Cook Real Estate

09. March 2011

Will speak to the owner about updating this unit.

Wonderful location, but the rate is a kind of high.

Alhambra United States, 16. December 2010

Stayed for 13 days in December, 2010

Everything was good, except the smell of condo and the look of old sofa. It would be better if they put in an air re-freshener. That what I did, it costs only $1+ at Wal-Mart, and it lasts for almost 2 weeks.
We both enjoyed staying there, good location, good security, very quiet when you want to rest, good view and good ocean breeze. The condo stocked up everything you need. The service from Barbara is very good. Keep up the good work Captain Cook. Thanks for the lovely memory.
DWP
Check in / out
Check in time
Check in after 3pm - 3:00 PM (- )
Check out time
Check out by 11am- 11:00 AM (- )
Personal check in
...
More info on check-in/out
Amenities
Amenities
Amenities
List of amenities in this specific property
List of amenities in this specific property
Amenity

queen, shower, toilet

Attractions

botanical garden, churches, cinemas, coin laundry, duty free shops, library, live theater, marina, museums, reefs, restaurants, zoo

Business

Near Restaurants and Shops, Nearby ATM, Nearby Golf Course, Nearby Post Office

Convenience

Convenience Store Nearby, Medical Services Nearby, Nearby Bus Stop, Nearby Grocery, Restaurant on location, Shopping, Supermarket Close By

Culture

Dance, Football Stadium, Lighthouse, Military Base, Museums, Theatre

Dining checkbox

Dining

Entertainment

CD Player, Cable Television, DVD Player, Flat Screen TV , Television

Family

Ala Moana Beach Park, Ala Moana Shopping Center, Kapiolani Park and Beach, Library, Near Beach, Near Zoo and Kapiolani Park, Surfing Lessons, Waikiki Aquarium

General amenity

Air Conditioning, Elevator, Hair Dryer, Internet, Iron & Board, Linens Provided, Living Room, Telephone, Towels Provided

Geographic

Close Walk to Beach, Close to Beach, Exceptional Sunsets, Exceptional Views, Kapiolani Park Tennis Courts, Near Ala Moana Park Tennis Court, Near Ala Moana Shopping Center, Near Beach, Near Best Surfing in Waikiki, Near Diamond Head, Near Kahala Mall, Near Sunset on the Beach, Near Waikiki Aquarium, Near Zoo and Kapiolani Park, Ocean View, Short Walk to Beach
Kitchen

2-burner cook top, Blender, Coffee Maker, Convection Oven, Cookware, dishes, utensils, Dishes & Utensils, Kitchenette, Microwave, Refrigerator, Rice Cooker, Tea Pot - Kettle, Toaster, Toaster Oven

Leisure activities

luaus, outlet shopping, paddle boating, photography, scenic drives, walking

Living

Access Bathroom from Living Area, Air Conditioning, Air Conditioning (Central), Balcony/Lanai, Bed linens, towels, beach towels, Central Air, Clock Radio, Coin Operated Laundry, DVD, FREE WiFi / High Speed Internet, Flat Screen TV, Full Sleeper Sofa, Hair Dryer, Hand-Held Shower, Iron and Ironing Board, Ironing Board and Iron, Kitchenette, Kitchenette (no dishwasher), Lanai / Balcony, Laundry Facilities on Site, No Smoking, Non Smoking, Parking for fee may be available, Parking may be available for fee, Vacuum Cleaner

Local services and businesses

ATM/bank, fitness center, groceries, hospital, laundromat, medical services

Location type

Ocean View

Outdoor

-, Beach Walking, Biking, Boating, Boogie Boarding, Deep Sea Fishing, Heated Pool, Heated saline pool, Hiking, Lanai/Balcony, Pool on Property, Snorkeling , Surfing, Swim at Ocean Beach, Swimming, Swimming Pool, Tennis Courts in Park

Outside

Balcony, Golf

Room subtype

bedroom, shower

Sports and adventure activities

cycling, deepsea fishing, golf, hiking, sailing, scuba diving or snorkeling, snorkeling, surfing, swimming, tennis

Suitability

children welcome, non smoking only
Other Info
Additional information you might be interested in.
Parking

Not all condos include free parking. Please see description for details.

Transfer

For more info about transfer from Honolulu Airport.
Advice

For other useful advice.