Search
Property detail & price proposal
Reserve
Thank you
Waikiki Skytower #2102
Renovated 21st floor one bedroom with new kitchen and bath!
1 Bedrooms for 4 guests (max. 4)
2410 Cleghorn Street, #2102, Honolulu
Contact a rental agent
Call us
US 808-738-5507
Canada 1-800-854-8843
or use Contact Us form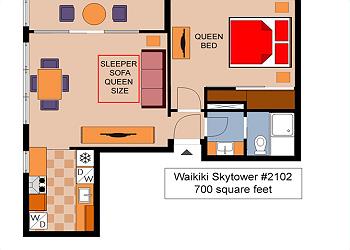 Description
(3-night minimum)

You'll enjoy the majestic Ko'olau Mountain landscapes and the partial Pacific Ocean and Diamond Head views from this modern 21st floor one-bedroom condo! With just four condos per floor in this quiet, secure building, each unit is a corner unit!

The brand new full kitchen has granite counter tops, natural stone tile flooring, a deep industrial sink, and new appliances, including dishwasher, ice maker, and washer/dryer. The enclosed lanai has natural stone tile flooring, a table and two chairs, a built-in drying rack for your towels and swimwear, and partial ocean and Diamond Head views.

The living room and bedroom have wood laminate flooring. Windows in both rooms have solar shades and UV-blocking anti-glare film, which keeps the unit cool throughout the year. The total living space is 692 sq ft. The living room is furnished with a dining table and 4 chairs, queen sleeper sofa with gel memory foam mattress, 48" flat screen TV, and window air conditioner.

The bedroom has a window air conditioner, queen bed with memory foam mattress, and a 40" flat screen TV. The bathroom has natural stone tile floors, granite counters, and a shower (no tub) with hand-held shower wand.

It's a short walk to the best swimming and surfing beaches in Waikiki! Grocery store and bus stop are just one block from condo; restaurants and shopping all around. The recreation deck includes heated saline swimming pool, sauna and BBQ area. This non-smoking accommodation sleeps 4.

YOUR RENTAL INCLUDES:
- FREE secured, covered parking for one vehicle (Please Note: stall is narrow and best suited to mid-size vehicle)
- FREE local, US mainland and Canadian calls
- FREE WiFi
- NO RESORT FEES!

During our Holiday Season (12/20-1/4) there may be a 7 night minimum. Please check with our Reservation Department for details.

FOR SAME-DAY RESERVATIONS CHECK-IN TIME IS GUARANTEED FOR 5PM.

CHECK-IN IS 3 p.m. – CHECK-OUT IS 11 a.m.
Since another guest may check out the same day you check in, to guarantee an earlier check-in, you must reserve the condo for the night prior to arrival.

ALL CAPTAIN COOK RESORTS RENTALS INCLUDE:
- Bed linens, bath, beach & kitchen towels
- Dishes, silverware, cookware (including tea kettle & rice cooker)
- Beach chairs
- Hair dryer, iron & ironing board
- Start-Up Supplies: coffee filters, laundry detergent, dish soap, dishwasher soap, bar soap, 2 oz. each of shampoo, conditioner, body wash and body lotion, paper towels, toilet paper, tissue, and basic cleaning supplies
- Sorry, we do not provide: beach umbrellas, beach toys, aluminum foil, zip-Lock baggies, coffee, condiments, seasonings, cooking oil, fabric softener, and bleach.

Hawaii Tax ID: TA-01
Address

2410 Cleghorn Street, #2102, Honolulu

Parking

Not all condos include free parking. Please see description for details. -

Floor

21

Elevator

Yes
Bathroom

1

Area

694 ft2

Beds

1 Queen, 1 Sleeper
Reviews
recommended by
Trip Advisor
--
Waikiki Information
Waikiki Guide
Reviews for this property
Great accommodation with everything you need!

Elizabeth D. from Taree Australia, 09. December 2018

Stayed for 7 days in November, 2018

Good location, right in the centre of Waikiki. Very convenient with a quick walk to the shops, beach and buses. Apartment is well equipped with plenty of linen, towels etc and love the fact that it had a washing machine and dryer within the unit. Highly recommend!

Response from Captain Cook Real Estate

10. December 2018

Mahalo for the positive comments and recommendation! We look forward to seeing you on your next visit!

Perfect Location and Great View

ATLANTA United States, 31. October 2018

Stayed for 7 days in October, 2018

This apartment was exactly as described. The views of the mountains were beautiful. The apartment was well stocked with all the kitchen necessities, laundry detergent, bath and beach towels, and beach chairs, coolers, and an umbrella. The bed was firm but comfortable. The pull out bed was also comfortable with no bars or springs. The free parking spot and wifi were also very convenient to have. We had plenty of space to sleep three adults. This is a great deal and perfect for vacation. Highly recommend!

Response from Captain Cook Real Estate

02. November 2018

Mahalo, for the wonderful review and recommendation! We're delighted to have provided all of the needs you required for an enjoyable stay! It makes our day to read such an enthusiastic review and we're so glad that you appreciated the convenient location, views and free parking of the fabulous condo! We look forward to welcoming you back on your next visit!

Amazing

United States, 21. August 2018

Stayed for 6 days in August, 2018

Amazing

Response from Captain Cook Real Estate

22. August 2018

Mahalo for choosing to stay with Captain Cook Resorts and the great review and recommendation! We're so glad your visit was enjoyable and look forward to seeing you again.

Perfect apartment

Vancouver Canada, 17. January 2018

Stayed for 6 days in January, 2018

This suite was well set up, neat, clean, quiet and in a great location. The building is secure and also well maintained. The pool/patio/bbq's on the 5th floor were great to use.

Response from Captain Cook Real Estate

23. January 2018

Mahalo, for the wonderful 5 star review and recommendation! We are delighted that your stay was enjoyable in this beautiful condo. We are glad you appreciated the great location and pool area. We look forward to seeing you are your next visit.

Not an A, more like a B-

Hensley United States, 04. December 2017

Stayed for 7 days in November, 2017

Let me first talk about the good things about this rental... great location, modern/updated feel, kitchen and bathroom were wonderful, very clean, quick service from the management company.

Needs work - the air conditioning in the bedroom did not work properly and was VERY noisy. If you had it on anything more than low, it would blow a fuse which we would have to reset in the trash room. Dealt with this many times during the stay. The windows need better insulating as it was very loud when the wind blew - sounded like howling outside. In fact, when it rained, there was condensation on the inside of the windows by the dining table.

Overall, we would give the rental an average rating - not bad - just needs some work to move it to the A category. I would recommend the property to a friend just would hope some of the items above would be addressed.



Response from Captain Cook Real Estate

04. December 2017

Aloha, and thank you for sharing your comments about your recent stay. We appreciate the positive review and recommendation. Thank you for alerting us to the problems you encountered with the air conditioning and window noise. After speaking with the owner we agree a new bedroom air conditioner is needed and are replacing it, along with repairing the window with sealant. Your feedback helps ensure we keep doing things right and correct those things that have fallen below our standards. We look forward to seeing you on your next visit!

Very Comfortable

Yamada C. from Bunkyo-ku Japan, 19. January 2017

Stayed for 8 days in December, 2016

This condo is very comfortable and the location is very convenience. We can see the beautiful mountain view. I want to stay at this condo again.

Response from Captain Cook Real Estate

21. January 2017

Mahalo, Chie! We appreciate the feedback and will look forward to your next visit!

Great Location and Very Nice Unit

Jim S. from Orinda United States, 25. November 2016

Stayed for 8 days in November, 2016

Normally we stay at the Ilikai with a beautiful harbor and sunset view; this time we decided to try a mountain view, larger updated unit. We were not disappointed with the accommodations and the location. We did miss sitting on a lanai overlooking the water but we enjoyed the golf course and mountain was different for us but surprisingly pleasant. The location was definitely a plus, closer for us to walk towards Kapiolani Park and the new International Marketplace shops and amenities and The Bus stops. The pictures of this unit are very accurate. The kitchen is well equipped, above average in my opinion; I brought a lot of things I did not have to since it had all kitchen tools one would need. The bedroom is adequate, bathroom had shelves for storage. One thing, if windy, you will hear the wind and can be noticeable initially. We used the air conditioner part of the time, was a tad noisy, not all day as weather was quite moderate during our stay. One mistake we made that caused us late access to the unit is we called the incorrect no. for the property manager contact. I made many a call to the unit tel. no.; consequently, we waited many hours before we noticed our mistake and to actually catch up with Byron who was very professional and diligent. Once settled in, we enjoyed the week in this unit.

Response from Captain Cook Real Estate

28. November 2016

Mahalo, for taking the time to share your recent experience and recommendation of the Waikiki Skytower #2102. We work hard to offer great accommodations and service, and we're so glad your stay was enjoyable. We look forward to seeing you on your next visit!

Excellent property, excellent value!

Cupertino United States, 30. July 2016

Stayed for 4 days in July, 2016

My family (me, husband, 2 teens, one infant) stayed here for 4 nights in July. Based on the very affordable price, I was expecting the property to just be "a place to sleep." Wow, was I wrong! This unit is better than it even looks in the pictures! The kitchen is completely updated, with beautiful, full-size appliances. It was fully stocked with everything that you need--you just need to bring the food! The bathroom was also renovated and stocked with plenty of beach and bath towels. In most hotels the pull out couch is usually springy and uncomfortable--not here! The pull out bed was a super comfy foam mattress and was large enough for our two teen boys. The furniture was simple, but functional. We were especially happy about the AppleTV -- we were able to stream videos and watch movies after a long day at the beach! The unit also came with a decent amount of beach gear--some beach chairs, snorkles, umbrella--this was great because it meant we didn't have to buy or rent it! Having an assigned free parking space was another plus because parking in Waikiki can run you about $25 a day, so it was a major money saver. The property manager was super helpful checking us in, and the reservation process was a breeze. For the same price I've paid for staying in crummy motels in Waikiki, I was able to stay in this beautiful unit. Will definitely reserve this unit again next year.

Response from Captain Cook Real Estate

01. August 2016

What a great review, Andrea, mahalo! We really appreciate the feedback! We work hard to try to exceed our guests' expectations and it sounds like we're on the right track! We hope you are able to visit us next year!

Hawaii Holiday

Robert G. from Hastings New Zealand, 11. July 2016

Stayed for 11 days in June, 2016

We enjoyed our stay at Skytower appartments. It was great to have good kitchen facilities with washing and drying machines and good space.

Response from Captain Cook Real Estate

11. July 2016

Mahalo for the great review, Robert! Hope you can return for another visit soon!

Great Proprty

Charles H. from Oceanside United States, 19. June 2016

Stayed for 6 days in June, 2016

We have stayed in Waikiki Skytower previously and have always been very pleased. The unit was perfect with all the amenities you need and the view was great. The free parking and wifi is an added bonus.

I would recommend this unit and Captain Cook Resorts for any of your vacation rental needs.

Response from Captain Cook Real Estate

20. June 2016

Mahalo, Charles! Hope you'e able to plan another trip back soon!

Skytower Vacation

Cary B. from Mooresville United States, 28. May 2016

Stayed for 5 days in May, 2016

The view was fabulous, the condo was remodeled and immaculate. All amenities were awesome. I will definitely book with captain cook again!

Response from Captain Cook Real Estate

13. June 2016

Mahalo, Cary, for the great review and recommendation! We'll look forward to planning your next stay!

Just like home

Castro Valley United States, 30. September 2015

Stayed for 11 days in September, 2015

Wonderful condo with everything needed for an extended stay. Enjoyed the views, location, parking and amenities in the kitchen. Very minor items, all of which were easily resolved. For example, the arrival email indicated an internet id and password, however no id was located. Fortunately, a binder in the condo had a current network id and password listed. Also being a corner unit, the trade winds provide a great natural A/C, but need to play with he various windows to get the right flow through the unit.

Very quiet neighborhood, as we slept with the windows open each night. Easy walking distance to beaches and shopping areas. Newer appliances made for easy meal prep and cleanup. Will definitely stay again on a return trip.

Response from Captain Cook Real Estate

01. October 2015

Mahalo for the feedback, Brian! We're glad you enjoyed this Waikiki Skytower unit. Our free smartphone app now has the updated internet ID and password - thanks for the heads-up! Hope to see you on your return trip!

Waikiki Skytower - Great Value

Garden Grove United States, 18. July 2015

Stayed for 4 days in June, 2015

I stayed here with my husband and 2 adult nephews. This was a great place to stay in Waikiki and was a very good value. The property management team provided excellent service. The unit is newly renovated. The kitchen was well stocked. The unit had Apple TV which was great for my nephews. They even had beach towels and chairs!

Response from Captain Cook Real Estate

18. July 2015

Mahalo for the great review and recommendation! Hope you will visit us again!

Couldn't ask for more

Katrina E. from New Gisborne Australia, 02. July 2015

Stayed for 10 days in May, 2015

The booking and checking in process were hassle free with a personal welcome at the unit from Byron who took time to show us through the unit and it's amenities.
The unit is in a good location,a couple of minutes walk from Waikiki beach. There is a Food Pantry and ABC store just around the corner. Car rental companies are close by (see Chuck at Alamo) and the bus and pink trolleys also stop just around the corner. Having a car park available within the building was also much appreciated.
Great views from the 21st floor with a balcony to sit and admire the view. With only 4 units on each floor we rarely saw our neighbours. Very quiet, with minimal outside noise.
The unit has everything you could need for your stay in terms of cooking, cleaning, including a decent supply of cleaning detergents, toilet paper, soaps etc. There are beach chairs, umbrella and boogie board to take to the beach. We added some snorkel gear to the collection.
The bed was firm but comfortable, as was the couch. There were plenty of pillows, clean linen and towels ready for use.
We appreciated the quality of the TV's and the fact that there were two, one in the living room and another in the bedroom. All of the equipment in the unit was practically brand new and great quality – we used everything except the dishwasher!
The pool located on the 5th floor of the building with it's lovely warm water, was nice to have the option to go there if you didn't want to go to the beach.
The only improvement we can suggest would be installation of a second air conditioning unit for the living areas and block-out curtains on all windows. We found that if we were in the unit during the day it heated up quite a bit even with the air-con going in the bedroom. Byron was very helpful and had a couple of pedestal fans available for our use.
Overall, a great place to stay. I would certainly stay here again and would definitely recommend this apartment to fellow trav

Response from Captain Cook Real Estate

27. July 2015

Mahalo for the thorough (and great!) review and recommendation! We hope you're able to plan a return trip soon! Hawaii calls!

Excellent

Sarah L. from Minneapolis United States, 19. January 2015

Stayed for 8 days in December, 2014

Super easy, professional.

Response from Captain Cook Real Estate

20. January 2015

Mahalo for the great review and recommendation!
Check in / out
Check in time
Check in after 3pm - 3:00 PM (- )
Check out time
Check out by 11am- 11:00 AM (- )
Personal check in
...
More info on check-in/out
Amenities
Amenities
Amenities
List of amenities in this specific property
List of amenities in this specific property
Business

Near Restaurants and Shops, Nearby ATM, Nearby Golf Course, Nearby Post Office

Convenience

Convenience Store Nearby, Nearby Bus Stop, Nearby Grocery

Culture

Football Stadium, Lighthouse, Military Base, Museums, Symphony Orchestra, Theatre

Entertainment

Cable Television, DVD Player, Flat Screen, Flat screen TV in Bedroom, Free US Mainland/Local LD

Family

Near Beach, Near Zoo and Kapiolani Park, Sunset on the Beach Movies, Waikiki Aquarium

Geographic

Close to Beach, Near Ala Moana Park Tennis Court, Near Ala Moana Shopping Center, Near Best Surfing in Waikiki, Near Diamond Head, Near Sunset on the Beach, Near Waikiki Aquarium, Near Zoo and Kapiolani Park, Short Walk to Beach
Kitchen

Blender, Coffee Maker, Cookware, dishes, utensils, Ice Maker, Microwave, Oven, Refrigerator, Rice Cooker, Stove, Tea Pot - Kettle, Toaster, Washer & Dryer

Living

Air Conditioning (Window), Balcony/Lanai, Bed linens, towels, beach towels, Clock Radio, Coin Operated Laundry, FREE Onsite Parking, FREE WiFi / High Speed Internet, Full kitchen with dishwasher, Hair Dryer, Iron and Ironing Board, Ironing Board and Iron, Lanai / Balcony, No Smoking, Parking Included, Washer/Dryer, Window A/C

Outdoor

BBQ, Beachcombing, Boogie Boarding, Deep Sea Fishing, Heated Pool, Ocean Kayaking, Saline Swimming Pool, Sauna, Swimming, Swimming Pool

Suitability

non smoking only
Other Info
Additional information you might be interested in.
Parking

Not all condos include free parking. Please see description for details.

Transfer

For more info about transfer from Honolulu Airport.
Advice

For other useful advice.