Search
Property detail & price proposal
Reserve
Thank you
Waikiki Skytower #2602
OCEAN VIEW with A/C, washer/dryer, full kitchen, WiFi, pool & parking!
1 Bedrooms for 4 guests (max. 4)
2410 Cleghorn Street, Honolulu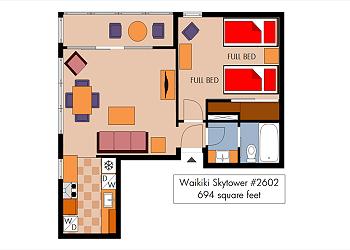 Description
Waikiki Skytower #2602 (3-night minimum)

Enjoy Ko'olau Mountain AND ocean and Diamond Head views (from lanai)! This clean one-bedroom condo is 694 sq.ft. (plus lanai with table and chairs). There are just 4 condos per floor in this secure building, so every condo is a corner unit!

The fully-equipped kitchen has new stainless steel appliances (refrigerator, stove, dishwasher) and washer/dryer. The living room has wood laminate floors, 42" flat screen TV, DVD player, dining table with 4 chairs and window AC unit. The bedroom has two full beds, 32" flat screen TV and ceiling fan. The bathroom (with tub) has hand-held shower wand.

Conveniently located, it's just a short walk to Waikiki Beach, restaurants and shopping and the grocery store and bus stop are just one block from condo. The building's recreation deck includes heated saline swimming pool, sauna and BBQ area. This non-smoking accommodation sleeps 4.

YOUR RENTAL INCLUDES: FREE secured, covered parking for one vehicle, local, US mainland and Canadian calls, and WiFi.

During our Holiday Season (12/20-1/4) there may be a 7 night minimum. Please check with our Reservation Department for details.

FOR SAME-DAY RESERVATIONS, CHECK-IN TIME IS GUARANTEED FOR 5PM.

Hawaii Tax ID: TA-176-716-3904-01

Captain Cook Resorts will never ask you to wire funds via Western Union, Moneygram or PayPal.
Address

2410 Cleghorn Street, Honolulu

Parking

See unit description and icons -

Floor

26

Elevator

Yes
Bathroom

1

Area

692 ft2

Beds

2 Double/Full Bed
Reviews
recommended by
Trip Advisor
--
Waikiki Information
Waikiki Guide
Reviews for this property
Great January in Waikiki

Jon B. from Madras United States, 16. February 2017

Stayed for 28 days in January, 2017

Skytower 2602 is a very nice unit. Upgraded appliances and very comfortable. Secure building and close to grocery store, farmer's markets and bus stop. Just a couple blocks from the beach.

Response from Captain Cook Real Estate

17. February 2017

Mahalo for the positive comments and recommendation! We hope you're able to return for another visit soon!

happy hawaii holiday

Omaezaki-city Japan, 07. November 2016

Stayed for 4 days in October, 2016

so good location!
amazing view from room.
very comfortable!!


Response from Captain Cook Real Estate

07. November 2016

Mahalo for the positive comments and recommendation! We hope you're able to return for another visit soon!

Wonderful stay

Jun S. from Kobe-city Japan, 23. August 2016

Stayed for 7 days in July, 2016

We had wonderful time with this vacation rental.
Byron was very kind to us.
Room located on very convenient area on Waikiki.
I saw cockroach in the kitchen,but other was O.K.
I'd like to stay here next time too.

Response from Captain Cook Real Estate

23. August 2016

Mahalo for the great review, Jun. Here in the tropics, it seems whenever we have an especially heavy rainy season (like this year), we see more pests, regardless of regular treatments! In any case, we're glad you enjoyed your stay!

Beautiful view

Elizabeth G. from Mayfield Australia, 18. August 2016

Stayed for 7 days in January, 2016

My friend and I stayed at the beginning of this year. Everything was great. The apartment has modern furnishing and is very clean. The property manager Byron was a pleasure to deal with. I would highly recommend to stay there, it is a block or two from the main strip of Waikiki and it was very handy having parking there too. Will definitely stay again, Mahalo :)

Response from Captain Cook Real Estate

26. August 2016

Mahalo, Elizabeth! We look forward to your next visit! The view awaits!

Excellent Unit and Stay

Hubert V. from Houston United States, 02. August 2016

Stayed for 3 days in July, 2016

The overall experience at the Skytower was an excellent one! All the way from communicating with the property manager to being received by him at the unit, and the unit itself - was all a very positive experience. The unit was clean, well equipped with all the amenities, bright and comfortable. Yes, the curtains could do with some thicker material, and the AC could be a bit stronger, but otherwise, it's certainly a place worth consideration. Location-wise, it's convenient to Waikiki beach, many restaurants, and many other attractions - all within walking distance. The park space provided was plenty.

Response from Captain Cook Real Estate

02. August 2016

Mahalo for the great review, Hubert! We appreciate your feedback. Hope you can return for another visit one day!

Wonderful and private condo minutes away from the Waikiki Beach

Ekaterina S. from San Jose United States, 12. July 2016

Stayed for 7 days in July, 2016

I loved how clean this property is, how close it is to all the main streets with little shops and the Waikiki Beach. The property manager was excellent and handled all of my requests very promptly and professionally. The condo is upgraded with the modern appliances and has a private corner location. It is very bright with lots of light and wonderful views from all of the windows. Aside from a minor issue with one of the bedroom windows (it was not closing all the way, hence a bit of the street noise was noticeable, we loved our stay and will be back one day! Very clean with ample space and privacy! My only wish is that there was a convertible couch in the living room, so that if needed, one can sleep there.

Response from Captain Cook Real Estate

12. July 2016

Mahalo for the wonderful review, Ekaterina! We're happy to hear all the details that contributed to the enjoyment of your stay! Don't forget our repeat guests get up to a 5% discount on their next stay!

Amazing stay!!!

Anchorage Unknown, 15. June 2016

Stayed for 10 days in June, 2016

This vacation rental exceeded all my expectations and it was in a great location. It was really close to everything.

Response from Captain Cook Real Estate

15. June 2016

Mahalo for the great review and recommendation, Allan! We appreciate the feedback!

A Great place to stay

Charlie J. from Liberty United States, 10. May 2016

Stayed for 8 days in April, 2016

Captain Cook Real Estate did a great job in taking care of us during the check in and making sure we had everything that we needed. The condo was in great shape.

Response from Captain Cook Real Estate

12. May 2016

Mahalo for the great review Charlie! Hope you can visit us again soon.

Waikiki Skytower 2602 - January 2016

Jon B. from Madras United States, 05. February 2016

Stayed for 29 days in January, 2016

This condo was very nice and comfortable. As described on Capt Cooks website. Nice view - upper floor of a secure building within 3 blocks of Waikiki Beach. Close to food store, farmer's markets, bus stop and rental car agency. The condo has good cooking facilities, dinnerware and utensils. Newer appliances, etc.

Response from Captain Cook Real Estate

11. February 2016

Mahalo, Jon! Hope to see you next year!

Satisfied

Shinya T. from Yokohama-shi Japan, 07. November 2015

Stayed for 7 days in October, 2015

Cleanness, location, view, security, equipment and correspondence of a company are satisfactory.

Response from Captain Cook Real Estate

10. November 2015

Mahalo!

Very Convenient Location, Nicely Furnished and Great to Stay

Nerima-ku Japan, 12. October 2015

Stayed for 6 days in September, 2015

The condo is located at the very convenient location with a view of Diamond Head, Arawai Canal and partial Ocean. It was very good to have a full kitchen and a washer/dryer. Having WiFi helps to search places to go around with a smart phone. We had a good time in Hawaii and really reccommend visitors to stay this condo.
On the other hand, bed linen for one of twin beds was not changed. It looked the bed making was nicely done, but the linen smelled so bad. It wasn't changed or wasn't washed. We had to change it with spare one at the first night.
The window is facing to the East, therefore, the living room gets lots of sunshine in the morning. It might be very good if a blackout curtain is used for East side of window.
But overall, this is a nice place, and I would like to stay next time as well.

Response from Captain Cook Real Estate

20. October 2015

Mahalo for the review! We hope you're able to plan another visit soon!

It was comfortable

setagayaku Japan, 09. September 2015

Stayed for 8 days in August, 2015

It was convenient near the beach

Valuable stay in Hawaii

Minato-ku Japan, 30. August 2015

Stayed for 4 days in July, 2015

I was very lucky that I could find this condo.
I'm satisfied with location, room, facilities, service...everything!!

Response from Captain Cook Real Estate

01. September 2015

Mahalo! We're happy you enjoyed your stay and hope you will be able to visit again soon!

Very nice stay in this condo in march 2015

1602 SE Enkhuizen Netherlands, 03. April 2015

Stayed for 31 days in March, 2015

Very nice condo. Good equipped and a nice vieuw.

Response from Captain Cook Real Estate

07. April 2015

Mahalo for the positive comments and recommendation!

Wonderful Holiday Home

Robyn W. from Bundaberg Australia, 04. November 2014

Stayed for 41 days in September, 2014

Having stayed here before we chose to return, this time in a rear condo and had an ocean and canal/golf course view. The mountain views at night are pretty spectacular with the lights so we were really pleased. The property managers are professional, friendly and very helpful. Our stay was for six weeks and we intend coming back again.

Response from Captain Cook Real Estate

06. November 2014

Mahalo for the great review - and recommendation! Please let us know when you're ready to plan your return trip!

Very comfortable

Setagauali Japan, 02. December 2013

Stayed for 7 days in November, 2013

We used Captain Cook Resorts every year, and the Waikiki skytower was the 2nd stay.
We really enjoyed our stay this year also, and the night view on the mountain side was very beautiful.
Mahalo!

Response from Captain Cook Real Estate

03. December 2013

Aloha and thank you for your comments! We look forward to your return next year! Mahalo, Guest Services - Captain Cook Resorts

Very Comfortable place to stay.

Front Royal United States, 17. November 2013

Stayed for 16 days in October, 2013

A great place to stay. Very comfortable. The property management staff is terrific to work with. We would like to stay there again on our next trip.

Response from Captain Cook Real Estate

19. November 2013

Aloha Claude and thank you for taking the time to provide feedback regarding your recent stay! We'd be delighted to have you stay with us again! Mahalo, Guest Services - Captain Cook Resorts

Very comfortable

Maki F. from Phoenix United States, 30. June 2013

Stayed for 7 days in June, 2013

We really enjoyed our stay and would love to come back to stay there when we come back again to Hawaii.

Great stay

Jenny G. from Morayfield Australia, 09. May 2013

Stayed for 14 days in April, 2013

What a great place to stay. If there is more them two of you going to Hawaii or just would like the space,this is the place to stay as its very quite. It's only a short walk to the beach or shops. Would stay there again.

Great location

Carol P. from Windsor Canada, 17. April 2013

Stayed for 59 days in February, 2013

Close to the Ali Wai Canal, Bus service on Kuhio, ABC stores, the Food Pantry, main street Kalakaua & Waikiki beach. Captain Cook service was great (especially Ingrid in reservations & Byran our contact). The condo was secure with fob entry, a good size
kitchen, nice living room, a home away from home. We had a view of the canal, mountains, partial view of ocean & beautiful sunrises & several awesome rainbows.

We will return.

Hawaii condo

Rancho Cordova United States, 23. January 2013

Stayed for 6 days in January, 2013

the only things I thought needed work were the blow dryer in the bathroom didn't work, the bathtub was slow to drain, and the check out with leaving the key should be improved by a drop off box, so you don't have to go back up after getting your car out.

Response from Captain Cook Real Estate

24. January 2013

We always tell our guests to call us if they experience any kind of trouble. The drain is clear and the hairdryer has been replaced.

Vacations in paradise

Julie B. from Longueuil Canada, 17. January 2013

Stayed for 1 days in December, 2012

We had a great time in waikiki! This property was super clean, fully furnished with all convenient items - even more! I was pleasantly surprised to find the sand toys, boogie boards, all required pots and pans, even soap for laundry and dishwasher! It felt like using a good friend's place for a couple of weeks. Management was professionnal and always quick to return calls. Will recommend this property to friends and family without hesitation!

Thank you!

Kita-ku Japan, 31. December 2012

Stayed for 10 days in December, 2012

We had wonderful time with vacation rental.. Room located on very convenient area on Waikiki. We will request same room when next time we come back to Hawaii!

It was wonderful stay

Yasuko S. from Samakee rd Pakkret Thailand, 26. July 2012

Stayed for 38 days in June, 2012

The room was clean but there were cockroaches in the kitchen so it would be appriciated do often pest control for keeping property clean. Anyhow we will definitely coming back for next visit!! Thank you very much for making our staying memorable and relaxed each days of our staying!!!

Response from Captain Cook Real Estate

27. July 2012

The unit has been treated for roaches and other pests by a professional pest control company and it is scheduled to be treated periodically to ensure it remains pest free.

Byron, Representative and condo recomendations (ideas)

Heather K. from New West Minster Canada, 19. April 2012

Stayed for 10 days in April, 2012

My family and I truly enjoyed the apartment. Byron was so professional, helpful, accomondating and funny. I would recommend a bigger tv in living room and all wall, put the little one in bedroom a paint job, fix the window leaks, when there's high winds and raining, the ant problem, get rid of carpet in bedroom, hardwood throughout,have glass shower doors instead of curtains and maintain the drain so it drains quicker. Also have a better coffee maker, more then 2 tablespoons, replace the worn teflon frying pan, maybe have a radio available. We lweft the condiments, because I could not bare to through good stuff out, also left some oranges to be eaten. I also lost a earring that means the world to me, can you tell me if housekeeping found it in the bathroom. Really, all in all, it was a great location, very quiet, hardly ever ran into neoghbours, very clean, people were very friendly also. We were going to rent a car, but ended up not, but thank you again for everything, I will and have recommended this place to my friends and family and I will be back also. Thanks Byron and keep up the good work! Mahalo!!! I want to come back so bad!!!!

Waikiki Skytower #2602, Honolulu, HI, USA Review

Judith S. from Saint Louis United States, 29. January 2012

Stayed for 9 days in January, 2012

The property management company, Captain Cook, was very professional and easy to work with. Reservation process was smooth and simple. Representative was pleasant and helpful and met us at condo as planned. We were able to check in earlier than the designated time. Representative responded relatively rapidly to our problems...broken shower head and burnt out lightbulb. Did not need to meet with representative to check out; however, one did have to plan ahead carefully when leaving the condo for the final time as it was necessary to use the key fob to operate the elevators and open the parking garage gate. If not thought out ahead of time, one might find oneself unable to use the elevators or unable to get one's car out of the parking garage. I'm not sure an individual person could do it by himself. It might be possible if one used a suitcase to hold open the elevator door.
Overall, the condo building was in a convenient location, allowing one to walk all around Waikiki. Although, there were a few old, questionable looking apartments close by, the area seemed to be safe. The initial supply of
amenities were adequate. Furniture could definitely be updated as could bath towels and kitchen dish clothes...they were relatively worn. Curtain backing was torn and portions of curtain hems were hanging.
The full kitchen, washer and dryer free wifi and internet and free local and long distance service, and free parking were appreciated convienences. There was also a very nice pool and access to barbecues which we, unfortunately, did not have time to make use of. We have rented other condos in the area. In spite of the negatives at this one, we would rent again.

A great condo in Honolulu

Klaus O. from Malmoe Sweden, 09. January 2012

Stayed for 5 days in December, 2011

A nice place to stay with a spectacular view.

Great Location, Great Views

Lawrence H. from Victoria Canada, 31. December 2011

Stayed for 9 days in December, 2011

We loved staying at Waikiki Skytower. The location is central to amenities, off the busy streets, and the views out the large windows to the north and east are exceptional. We lost count of the rainbows we saw over the mountains.

Captain Cook was great through the entire process, and we would recommend them.

Nice condo, nice view

Rotterdam Netherlands, 22. November 2011

Stayed for 17 days in November, 2011

A very nice condo with a beautiful view! It's a 5 minute walk to the beach and the shop are around the corner. We've had a great time here!
Check in / out
Check in time
Check in after 3pm - 3:00 PM (- )
Check out time
Check out by 11am- 11:00 AM (- )
Personal check in
...
More info on check-in/out
Amenities
Amenities
Amenities
List of amenities in this specific property
List of amenities in this specific property
Business

Nearby ATM, Nearby Golf Course, Near Restaurants and Shops, Nearby Internet Cafe, Nearby Post Office

Convenience

Shopping, Area Fitness Center, Medical Services Nearby, Nearby Bus Stop, Nearby Grocery, Outlet Shopping, Convenience Store Nearby

Culture

Dance, Free Concerts in Parks, Lighthouse, Military Base, Museums, Theatre

Entertainment

Cable Television, DVD Player, High Speed Internet Connection, Wireless High Speed Internet, Near Restaurants and Shops, Free US/Local/Canada calls, Flat Screen TV

Family

Honolulu Zoo, Kapiolani Park and Beach, Library, Movie Theatre, Surfing Lessons, Waikiki Aquarium, Sunset on the Beach Movies, Near HNL Zoo & Kapiolani Park, Near Beach

Geographic

Near Ala Moana Shopping Center, Near Ala Moana Park Tennis Court, Kapiolani Park Tennis Courts, Close to Beach, Exceptional Sunrises, Near Beach, Near Best Surfing in Waikiki, Near Waikiki Aquarium, Near Zoo and Kapiolani Park, Short Walk to Beach, Near Sunset on the Beach
Kitchen

Rice Cooker, Stove, Toaster, Utensils, Flatware, Blender, Coffee Maker, Cookware, Microwave, Dishes, Dishwasher, Glassware, Oven, Refrigerator, Tea Pot - Kettle, Washer/Dryer in Condo

Living

Non-Smoking, Full kitchen with dishwasher, Ironing Board and Iron, Washer & Dryer, Bed linens, towels, beach towels, Air Conditioning (Window), Hand-Held Shower, WiFi, Balcony/Lanai, Parking Included, Access Bathroom from Living Area, Clock Radio, Dishes-Silverware, DVD, Flat Screen TV, Hair Dryer, Vacuum Cleaner

Outdoor

Sight-Seeing, Snorkeling , Surfing, Swim at Ocean Beach, Tennis, Tennis Courts in Park, Wind Surfing, Lanai/Balcony, Heated saline pool, BBQ, Swimming Pool, Swimming, Beachcombing, Biking, Boating, Boogie Boarding, Convenience Store, Deep Sea Fishing, Beach Walking, Fishing, Hiking Trails, Internet Coffee Shop, Ocean Kayaking, Recreation Area - BBQ Grill
Similar properties:
Other properties you might be interested in.
Other Info
Additional information you might be interested in.
Parking

---

Transfer

For more info about transfer from Honolulu Airport.
Advice

For other useful advice.